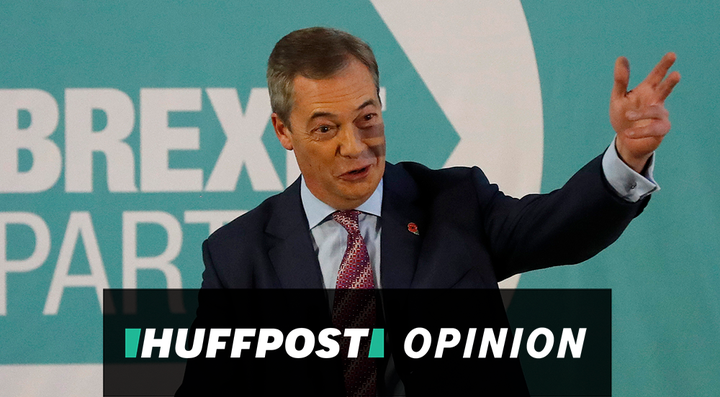 Once upon a time the Conservative party was a broad church which embraced a range of views.
It's morphed into a narrow Brexit sect, virtually indistinguishable from the Brexit party itself, both harking back to the days of empire and a socially rigid society, riven with racism and bigotry, which looked nothing like 21st century Britain.
No wonder former Conservative MPs and Cabinet ministers like Amber Rudd, David Gauke, Philip Hammond, Justine Greening, Rory Stewart and others want nothing more to do with it.
Justine Greening criticised her party in September for morphing into the Brexit party and she was right. You can't tell the difference between them.
There will be plenty of Conservative candidates cheering this Farage decision. But they won't be the only ones. This is exactly the strategy urged on Farage by his friend and ally across the Atlantic – Donald Trump.
"What I'd like to see is for Nigel and Boris to come together," he told reporters at the White House. "I think that's a possibility."
He's now got his wish – which leaves open the question: "How much Trump was manipulating events behind the scenes?"
Farage has sold out his own dwindling band of supporters and some of his candidates, quite possibly to advance his own political career with a seat in the House of Lords delivered to him by Boris Johnson. These were candidates who each had to pay £100 to Farage's privately-owned Brexit Party Ltd for the dubious privilege of standing for the party.
We always knew that whatever party Nigel Farage led – first UKIP and then the Brexit party – was basically a vehicle for his own political self-glorification and now he's proved it.
Apart from his own self-aggrandisement, what lies behind Farage's decision is the fact that support for Brexit, and the hard no-deal Brexit he and the Tories are pushing, is dissolving. No-one voted for the regulation-wrecking no-deal Brexit that is now in prospect, and Farage is trying to shore up what support there is to try to get Brexit over the line.
Only weeks ago he was describing Johnson's Brexit deal as "ludicrous", "pointless" and not Brexit. He'd issued an ultimatum to Johnson to drop his Brexit deal or face Brexit party candidates across Britain. Johnson had publicly rejected a pact.
So what's changed? Reports indicate that the Tories-sect-within-a-sect, the ERG, have been working with Farage for a while and have capitulated to his demand that there would be no extension to the transition period after the UK leaves the EU.
Given that it is all but impossible for the UK to reach a free trade agreement with the EU by the middle of next year, that means leaving the EU without a deal.
This is the strategy opposed by manufacturers, farmers, the TUC, the CBI, the Bank of England, pharmaceutical companies and logistics companies because of the huge damage it would cause to the UK's economy. It now seems that it is the undeclared policy of the Conservative party which confirms my warnings last month that Johnson's "oven-ready deal" with the EU was just a delayed no-deal Brexit.
While Tory candidates are breathing a sigh of relief, Labour are paying the price for their own weakness on Brexit. They face losing votes to the Brexit party and pro-Remain parties.
Tactical voting around Brexit could be a defining feature of this election, which makes the Unite to Remain agreement between the Green Party, Lib Dems and Plaid Cymru even more important.
I do not share the Lib Dems' policy of revoking Article 50, which takes the clock back to June 22nd 2016 and pretends the referendum result never happened.
But I share the belief that our departure from the EU, especially under the terms now on offer, would do lasting damage to workers' rights, environmental protections and our ability to tackle the biggest challenge facing us all – the climate emergency.
That is the choice facing us on December 12th. A vote for Conservative-Brexit party chaos or a vote to protect the people of this country from the regulation-dumping-sellout-to-Trump that Farage and Johnson are planning.
Green party candidate for Brighton Pavilion.