A no-deal Brexit could provide a "rallying cry" for Irish republican terror groups, a senior Northern Irish police officer has said.
George Clarke, assistant chief constable of the police service of Northern Ireland (PSNI) stressed that violent dissident republicanism has been operating at a "severe threat level" for nine or 10 years.
Clarke also suggested the creation of border infrastructure in Ireland, in the event of no-deal Brexit, could provide opportunities "to carry out terrorist crime and activities".
He told the Commons EU Exit Committee: "I think the issue with Brexit as a generality or EU exit as a generality is that it can become a tool to hang, even using the terms Brexit, EU exit, can provide you with an opportunity to perhaps have a clarion call, a rallying cry.
"I think it's really important to remember however that these people have posed this very real, very significant and very dangerous threat against which we work extremely hard and with considerable success, although one has to be careful to never ever become complacent regarded that element.
"But they have a potential to rally, there is a potential for opportunities to exist to carry out for them terrorist crime and activities depending on what infrastructure for example would look like."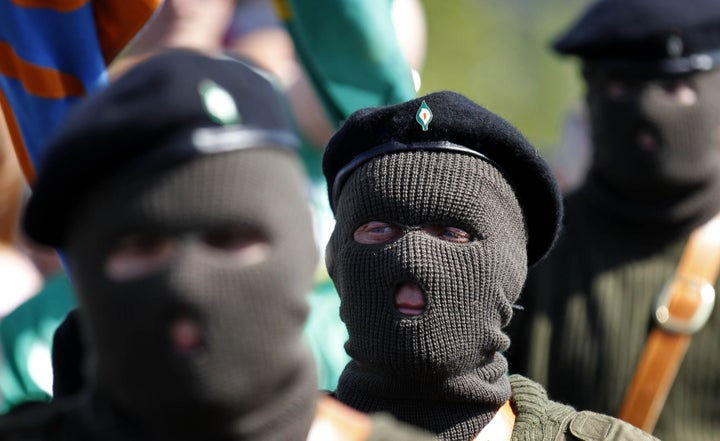 It came after Northern Ireland Secretary Julian Smith refused to deny suggestions that Boris Johnson became desperate to strike a Brexit deal after receiving security briefings about the potential situation on the island.
Asked about the suggestion on Channel 4 News on Monday, Smith said: "I'm not going to go into those sorts of briefings but what I do know is I support the prime minister fully in getting a deal - that's in the best interests of Northern Ireland and in my view the best interests of the United Kingdom."
The prime minister is however walking a tightrope as loyalist paramilitary organisations are predicting protests and campaigns of civil disobedience if the PM strikes a deal which aligns Northern Ireland and the Republic in a customs arrangement.
The Sunday Times reported the prospect of potentially violent demonstrations and protests from loyalists, such as the Ulster Volunteer Force (UVF).