Journalists have walked out of a planned Downing Street briefing in protest at "Trump-style" attempts by the PM's communications chief to restrict it to selected media outlets.
The incident happened after No.10 invited political journalists to a "technical briefing" on Boris Johnson's plans for a trade deal with the EU.
The briefing was set to be conducted by the PM's lead Brexit negotiator David Frost in Downing Street itself. Paid for by the taxpayer, he is obliged to behave in a neutral manner.
But when political editors from other newspapers and websites arrived with their colleagues, they were split up by a security guard into two groups in the foyer of No.10, directly behind its famous black door.
Make sense of politics. Sign up to the Waugh Zone and get the political day in a nutshell.
Those on No.10's favoured list were told to stand one side of a carpet, while everyone else – including HuffPost UK – was told to stand the other side and then ordered to leave.
Following objections from the journalists, communications director Lee Cain then arrived to declare: "Those invited to the briefing can stay – everyone else, I'm afraid, will have to leave."
When asked directly what grounds he had for selectively briefing to some political editors and not others, Cain said: "We're welcome to brief whoever we like, whenever we like."
After he was challenged again to give reasons, Cain lost his temper as the entire group said that they were walking out as one and would not agree to a briefing on such divisive terms. Cain walked off without giving any reply.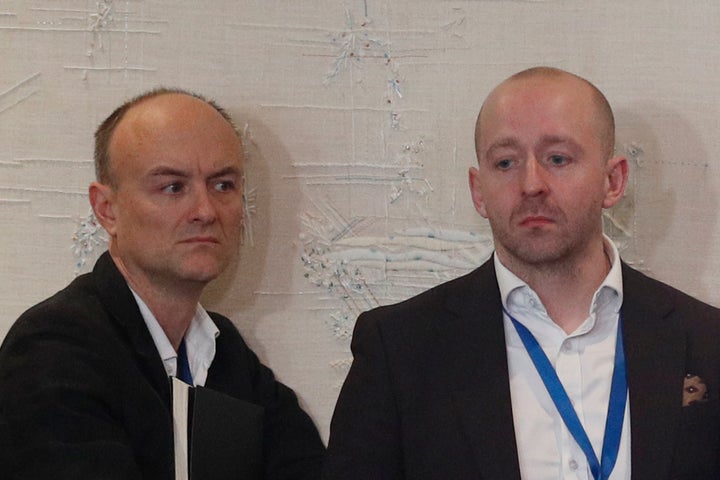 Cain, along with chief adviser Dominic Cummings (both pictured above), is the driving force behind moves in No.10 to undermine parts of the media.
Cain's £140,000 a year salary is paid by the taxpayer, though he is a politically appointed special adviser.
Shadow culture secretary Tracey Brabin raised the issue in an emergency point of order in the Commons on Monday.
"This latest deterioration in relations between the government and the Lobby [political reporters] is deeply concerning.
"Post-Brexit trade plans is an issue of great public concern and access to a high level briefing should not be hand picked by government political advisers."
Shadow Brexit minister Paul Blomfield also highlighted the incident. "We need reassurance that when [the government] conduct the next stage of negotiations, they do so in an open and accountable way – and not by banning journalists from their political briefings as they apparently did earlier this afternoon."
A senior Labour source told HuffPost UK: "Boris Johnson is using Trump-like tactics to avoid media scrutiny. If members of the cabinet truly believed in freedom of speech they would stand up to No.10 and call out this disgraceful behaviour."
Labour MP David Lammy said the move was "straight out of the Trump playbook".
SNP culture spokesman John Nicholson said: "Downing Street under Boris Johnson is now banning journalists from briefings if they're seen to be too critical of the prime minister. Boris Johnson already hides from interviewers he finds too tough.
"It's an approach to the press borrowed from Trump. It's sinister."
The incident was the second within a week when Cain had decided to hold a special briefing for selected political editors, while excluding key media such as the i newspaper, the Mirror, the Independent, PA Media, HuffPost UK and PoliticsHome.
Last week, he organised a similar "technical briefing" with senior intelligence chiefs and FCO and DCMS civil servants on the Huawei decision being made by the government.
The briefing ensured that those present had crucial background information before Johnson announced he was going ahead with 5G access for the Chinese firm, and could publish informed accounts immediately after an embargo was lifted.
Senior intelligence officials had not been told that they would be taking part in a selective briefing decided by politically-appointed special adviser Cain.
It's the latest in a series of rows between Johnson's No.10 and the media, including his decision to order ministers to boycott morning programmes like Today on Radio 4 and ITV's Good Morning Britain.
On Brexit Day on Friday, broadcasters agreed not to use an in-house video clip message of the prime minister's words due to be aired at 11pm. The BBC and ITV decided not to air the clip, but Sky News did.
Cain has also organised a shake-up of traditional "lobby briefings", ending the practice that parliamentary journalists host the PM's official spokesperson on weekday afternoons.
Trade association the Society of Editors has written to complain about the possible hindrance caused to journalists, including regional reporters in particular.
A No.10 source said that the 'technical briefings' had been run for months "with smaller numbers to allow us to go deeper" into a subject with officials, who they claimed preferred smaller groups.
"This is an additional service on top of two daily Lobby briefings, to allow a greater understanding of a technical subject," they said.
They insisted that selected media outlets had not been "banned". "They're not banned, they are just not invited."
"This is the most open and transparent government for decades" the source said.
Those left out were not singled out on party political grounds, they added.