Households in the north-east of England are to be banned from mixing in any setting, Matt Hancock has announced.
The health secretary said cases of Covid-19 in the region had reached 100 per 100,000 people and new restrictions were needed.
The ban include people meeting others from outside their household os support bubble in pubs, cafes, homes or "any setting", he said.
Covid-secure schools and workplaces are not included in the ban and a funding package is being agreed to support the region, the government said.
Restrictions will begin on Wednesday and be enforceable by law in the areas of Durham, Gateshead, Newcastle, North Tyneside, South Tyneside, Northumberland and Sunderland.
Making a statement in the House of Commons, Hancock said: "Today I must announce further measures for the parts of the north-east where we introduced local action a fortnight ago.
"Unfortunately, the number of cases continues to rise sharply. The incident rate across the area is now over 100 cases per 100,000.
"We know that a large number of these infections are taking place in indoor settings outside the home.
"And so, at the request of the local councils with whom we have been working closely we will introduce legal restrictions on indoor mixing between households in any setting."
He added: "We do not take these steps lightly, but we must take them, and take them now, because we know that swift action is more likely to bring the virus under control.
"And the quicker we are able to get this virus under control, the quicker we can restore the freedoms that we all enjoy in the north-east and across the country."
The government last week announced that pubs and restaurants will be subject to a 10pm curfew.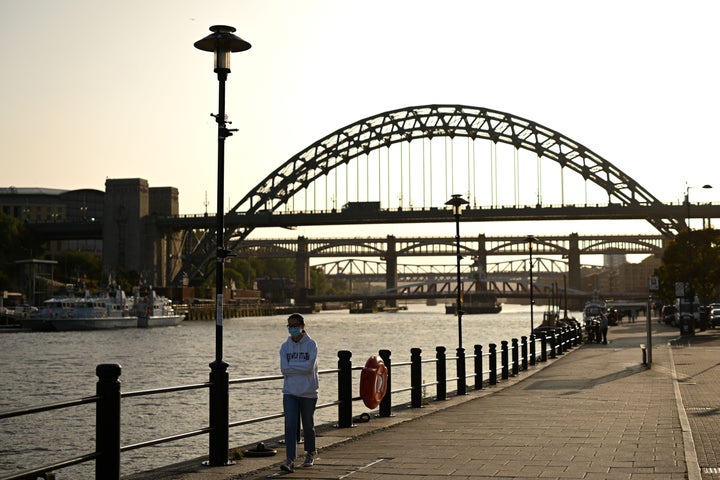 Downing Street has refused to rule out imposing other restrictions in local areas and sources say a two-week "circuit-breaker" national lockdown remains a "nuclear" option if cases do not begin to fall.
Hancock was also challenged to give MPs a say over new restrictions, amid concern from Boris Johnson's backbenchers that parliament is being sidelined.
The health secretary agreed to meet with concerned MPs but warned the government often needed to make quick decisions.
He added it is "not a simple trade-off" between keeping people safe and protecting their liberties.
He told MPs: "The central question about the control of the virus, without a doubt in my mind, and this is a question I ask myself every day: 'How do we best keep people safe from this virus whilst protecting liberty and livelihoods and the things that make life worth living?'
"And I believe that, in reality, there is not a simple trade-off between these things.
"Because the exponential growth of the virus means that there are in reality only two paths: either to control the virus or to let it rip.
"There is no middle option. Because once the virus is growing it accelerates."
He added that "letting the virus rip would leave a death toll too big to bear".
Labour's shadow health secretary Jon Ashworth, meanwhile, said Labour would be "extremely sympathetic" to proposals for better scrutiny of coronavirus restrictions, but added: "We won't support attempts to scupper restrictions that are clearly in the public health interest.
"Our priority will always be saving lives, minimising harm and keeping our children in school.
"And until a vaccine is discovered and distributed, that depends on driving the R value below one through containment measures, social distancing and an effective test, trace and isolate strategy."