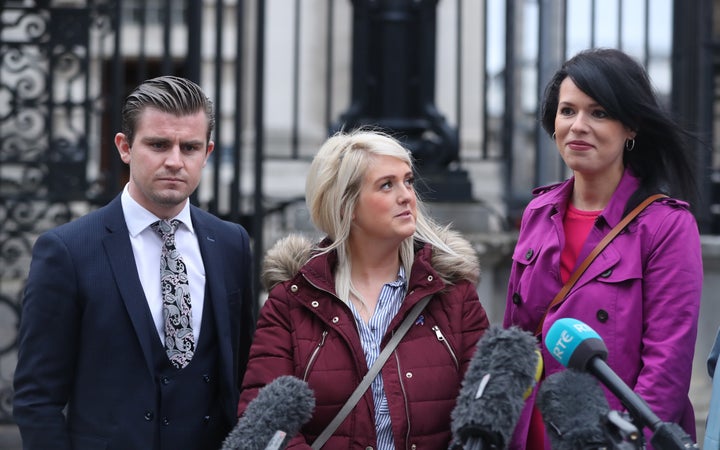 Northern Ireland's strict abortion law breaches the UK's human rights commitments, the High Court in Belfast has ruled.
Sarah Ewart, 29, was refused a termination in 2013.
Instead, she travelled to a London clinic to end her pregnancy after doctors said her unborn child would die in the womb or shortly after birth.
"It is a massive emotional relief," Ewart said following the court's ruling.
"This has not been an easy journey. It has been a massive stress emotionally on the family, but six years later let's enjoy today."
She added: "It is a massive victory."
Mrs Justice Siobhan Keegan said that Ewart's personal testimony in the case was compelling and that she would follow a previous Supreme Court ruling on the issue, which found that abortion law in Northern Ireland was incompatible with Article 8 of the European Convention on Human Rights.
The judge said the prospect that another young woman would be required to pursue litigation and face the same "trauma and pain" should be avoided in future.
She said: "I cannot see that this would serve any benefit or it would be right to ask another woman to re-live the trauma."
The judge will hear further submissions before deciding what action to take.
A British Pregnancy Advisory Service (BPAS) spokesperson said: "We welcome today's ruling which confirms that Northern Ireland's abortion law is in breach of the UK's human rights commitments. This is a hard won victory, and we applaud Sarah Ewart's bravery in pursuing this case over a number of years.
"Unless an NI Executive is reformed by 21st October the archaic legislation that criminalises abortion, denying Sarah Ewart and thousands of other women in Northern Ireland the care they need at home, will be repealed. After this date, clinicians will be able to provide safe, legal abortion care up to 24 weeks of pregnancy in Northern Ireland in line with existing medical law and regulations. We hope that today's ruling will empower doctors, nurses and midwives in Northern Ireland to feel able to provide abortion services after this date, knowing that in doing so they are doing the right thing for their patients."