Some brides are very sure about their wedding dress: they've thought about it in advance, mentally noting frocks for inspiration and building a checklist of the smallest details. But for others, the hunt for the perfect wedding outfit involves less of a targeted approach.
Do you fancy a dress? What about white? Is a veil really the thing? Are you still going to look like you? And that's before family and friends weigh in with their well intentioned advice, and everyone starts going on about how it's the most important piece of clothing you'll ever buy. (Really?)
So finding your perfect wedding outfit is never one-size-fits-all. For some of the brides taking part in HuffPost UK's 'Not The Royal Wedding' series, which celebrates couples getting married on 19 May and follows their journey towards tying the knot, it was love at first fitting. For others, choosing a dress didn't go quite as planned.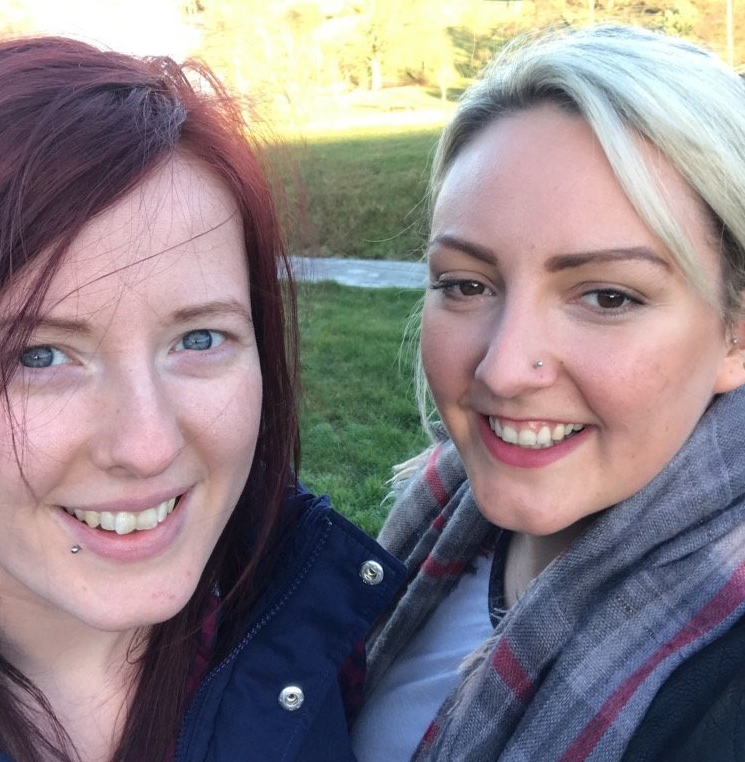 Emma Tretton, 26, and Rachel Sutton, 27, took very different approaches when it came to buying their gowns. The pair haven't told each other anything about their dresses – all they know is that they've both gone for white with a corset back, which covers a pretty large portion of the wedding dress market! – but Emma can at least rest easy that Rachel has actually picked a frock out. "I had to bug her to go as she was unsure of whether she even wanted to wear a dress," says Emma, who was ready for dress-shopping as soon as the couple had got engaged. "I arranged for her best man to take her shopping in November."
Emma, by contrast, took advantage of a closing down sale and bought her dress more than a year ago. Initially, she didn't glance twice at her dress - only persuaded into giving it a go by a member of staff who suggested she tried it on. "I just fell in love with it," she says. Rachel, also found herself smitten with a frock she wouldn't have considered. Her dress is a style she would not have thought of buying. "However I felt really pretty in it," she says. "I don't really wear dresses, I was surprised how girly they make you look."
For Monica Chauhan, 33, who is marrying Shailesh Patel in civil wedding on the same day as Prince Harry and Meghan Markle tie the knot, followed by an Indian wedding later in the summer, there are twice as many decisions to make. Growing up, Monica only imagined wearing an Indian wedding dress; she describes also wearing a white one as the "icing on the cake". Monica explains that her Indian gown is "more glamorous and elaborate with all the accessories", but on 19 May, she'll be donning a white dress from a boutique in Coventry.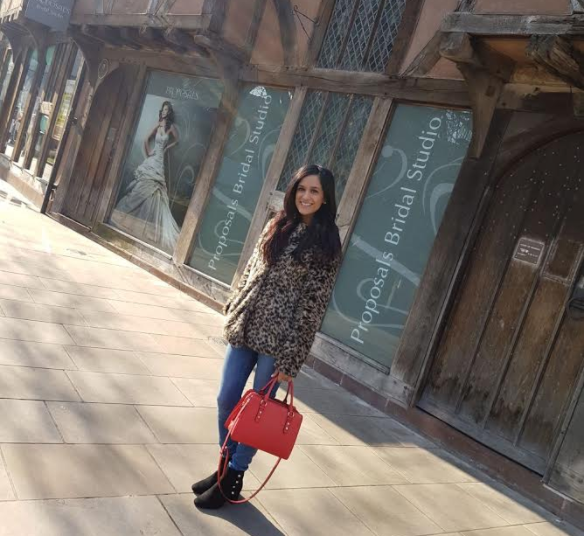 Monica tried on around 40 dresses before finding her favourite, she says. "I felt it was perfect for the look I wanted. Without giving too much a way, it's in keeping with my love of all things sparkly!" Despite being excited, the hard work still wasn't over. "The day I bought it was full of decisions: straps or no straps, belt or no belt, veil or no veil!" she recalls. "I'm so indecisive."
Alexia Zetty, 27, is also looking forward to wearing two dresses: one on 19 May for her traditional British wedding to 31-year-old Mike Yunus and a second handmade dress, which is white with lots of different colours incorporated, to wear to a smaller Eritrean ceremony on 20 May.
"It's absolutely beautiful and really stands out, it's very different from my first dress," she says. "It feels great to be able to dress up a second day to celebrate our wedding and Mike's culture. I love being able to embrace both of our backgrounds and celebrate our differences together with our families." Mike's outfit on the second day will match her dress. The groom-to-be will wear a white shirt, smart trousers and a colourful waistcoat.
Incredibly, her more traditional white wedding dress was the second gown she tried – it's "more fitted and not the super poofy style," she says. "It felt amazing! I was seriously so shocked [when I found it]." Just to be sure, Alexia tried on another 10 dresses, but none of them compared. She sent her mum, who lives in America, photos of herself in each dress (you can see the one she didn't end up buying below) and she loved the second dress too. It was meant to be.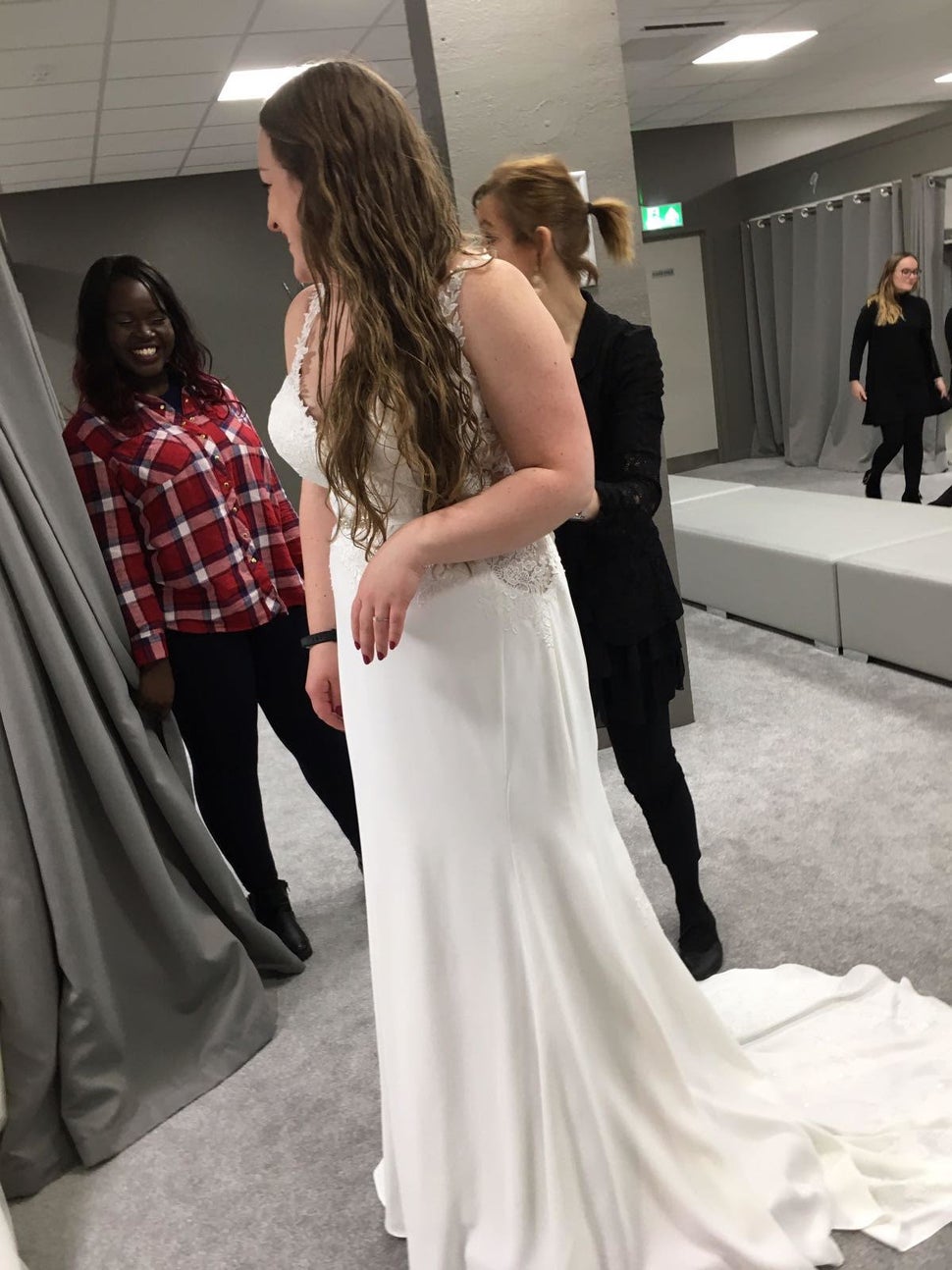 Emma took her mum, friends and sisters dress shopping - but it was her maid of honour and cousin Claire who helped her pick the dress: "Clare looked at me and said: 'I think that's the one, Emma'." For Rachel, it was best man Nick who helped make her final decision. "He said: 'Wow, you actually look like a lady!'."
Monica was searching on her own when she found her perfect dress – returning for a second look with her mum and sister. Reflecting on the first time she saw Monica in the dress, her sister, Smita, says: "I was completely blown away by how beautiful she looked and I couldn't take my eyes off her. I was in complete awe of how my sister had grown into the stunning lady in front of me. Monica was glowing with happiness to have found the perfect dress as well as the perfect partner."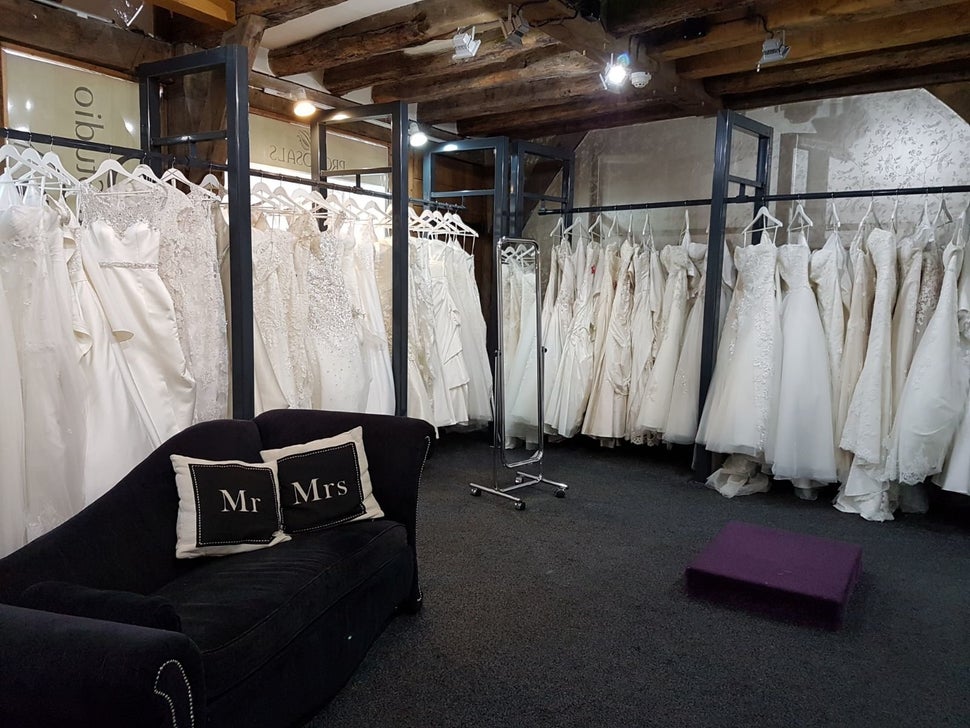 In the lead up to 19 May, the brides will now have several fittings to ensure their dresses are perfect. "I didn't want to take it off," says Alexia, who had a fitting this week ("It felt amazing!"). Both Emma and Rachel are a little hesitant about their future fittings, as they have lost weight since buying their dresses. Emma has lost five and a half stone, so her frock has already been to the seamstress several times for adjustments.
While the wedding dress is a big deal for many brides, our Not The Royal Wedding grooms are far more laid-back when it comes to what they'll wear on the big day. Mike found his suit just this week - despite telling Alexia he'd bought it a while back so she didn't worry. "I am really relieved to finally have it, and have my best man Moe to thank - because honestly without him, I would still be looking for a suit," he says. Shailesh, however, is yet to buy an outfit for either of his ceremonies. Although he's got his eye on a tweed suit for his traditional English wedding, he's thinking more "bling" for his Indian ceremony.
Let's hope he pins something down soon. As the big day is fast approaching, we'll be hearing more from these couples, along with Jo and Will, Julie and Gary, Dafydd and Ceri - who are also tying the knot on 19 May. You'll have to wait until then to see what they're each wearing. Next time, we'll be finding out how family and friends are taking part in their nuptials.