Day three was when things really began to heat up at the Rio games.
There were heartwarming moments, horrific injuries - and most importantly, lots and lots of medals.
Rio 2016 Day Two Highlights
Adam Peaty won Team GB's first gold medal of the games in the men's 100m breaststroke and smashed out yet another world record - but frankly it was his grandmother who stole the show. Mavis Williams became known as #OlympicNan thanks to her Twitter A-Game.
The reaction to his win in the Team GB holding camp was also brilliant...
Jazmin Carlin also brought home Team GB's first silver with an impressive performance in the women's 400m freestyle swim event.

There was disappointment for London 2012 silver medallist Lizzie Armistead, who came fifth in the women's road race. The cyclist was already racing under something of a cloud after it was revealed that she missed three drugs tests (which could have led to a ban but this was rescinded after a legal challenge) and coming fifth on day two will have topped off something of a nightmare fortnight.

Also in the women's road race, Dutch cyclist Annemiek van Vleuten came off her bike at high speed, a sickening fall that fractured her lower spine and put her in intensive care. Despite the fears of millions who watched the crash, she later took to social media to signal she was recovering.
Two sets of famous siblings crashed out of the tennis doubles: Andy and Jamie Murray lost out to Brazil's unseeded Thomaz Bellucci and Andre Sain the men's and Venus and Serena Williams in the women's were beaten by Czech Republic's Lucie Safarova and Barbora Strycova.

GB's women's rugby 7s team powered their way into the semi-finals. They will now face New Zealand at 2pm today.

All rowing events were cancelled because of strong winds. The Serbian men's coxless pair will be gutted, as they capsized in the difficult conditions the previous day. If the weather doesn't clear up in the coming days, we could actually see the Olympics run on significantly longer than planned.

On a Paralympic note, Russia's entire team has been banned from the games, which starts after the end of Olympics, over the doping scandal. The country's Olympics team saw 118 competitors eliminated in a review, leaving 271 able to compete - the smallest Russian team in over a century.
We're Not Pulling Your Leg But...
Despite some top-notch swimming on Saturday night, day two of the Olympics seemed to be bizarrely dominated by discussion of BBC presenters' legs.
Some Twitter users seemed to be distracted by the length of Helen Skelton's dress:
While others pointed out that Rebecca Adlington appeared to touch fellow former Olympic swimmer Mark Foster's leg:
Even today some of the tabloids were enjoying dissecting precisely what was going on with the presenters' limbs.
Heartwarming Moment Of The Day
She defeated Italy's Odette Giuffrida in the women's 52-kilogram judo division final on Sunday to claim the history-making title.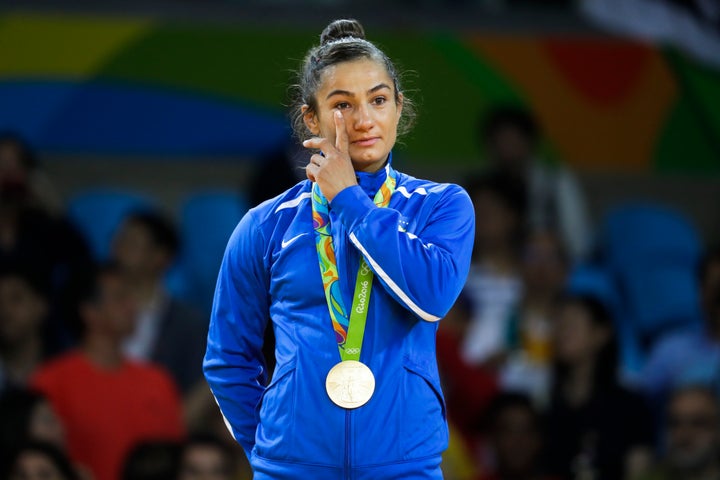 After claiming victory Kelmendi hugged her opponent, then walked off the mat in tears.
Kelmendi, who was Kosovo's flag bearer, entered the tournament as one of the top favourites in her division.
Read the full story here.
Best Tweet Of The Day
Came from none other than Samuel L. Jackson, following the men's 100m relay.
The event saw the USA power to victory, scoring swimming superstar Michael Phelps his 19th Olympic gold medal.
Moment That Made Us Wonder What Year It Is
It's 2016. Yet despite running countries and being cosmonauts, women are not getting the respect their achievements deserve as athletes at the Rio Olympics.
Take judo. Majlinda Kelmendi made history when she became Kosovo's first ever Olympic medallist - and a gold medallist to boot. Her triumph in the 52kg event against Italy's Odette Giuffrid marked a huge moment for a war-torn country that declared independence from Serbia eight years ago, and was only admitted into the International Olympic Committee in 2014.
And yet many viewers were taken aback as one BBC commentator described the contest - a sophisticated match-up of strength and guile - as a "catfight".
Then there was Corey Cogdell-Unrein, who won a bronze medal in the women's trap shooting - the second for the US shooting team in Rio and her second Olympic medal.
But this is how the Chicago Tribune reported the news:
For the full, eye-rolling story, click here.
Cringeworthy Injury Of The Games So Far
This is from day two but many were still reacting with horror on Sunday - you'll soon see why.
Samir Ait Said was taking part in the men's qualification during Saturday's games when he landed badly.
The French gymnast's leg crumpled below him and a snap was audible.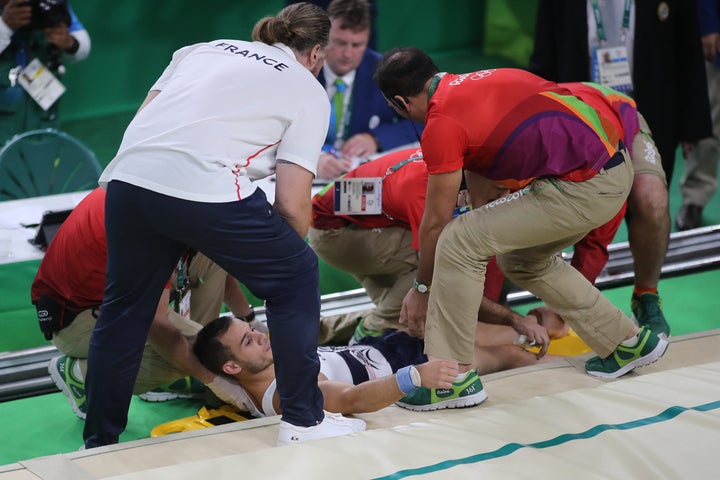 You can read the full story here (this article includes images which some readers may find distressing).
Medal Table At Close Of Day Two
Team GB Ones To Watch On Day Three
The very first rugby 7s Olympic final will be held today, with the women's teams meeting at 11pm this evening. Team GB are facing New Zealand in the semi-finals at 2pm to fight for a place in the final.

Tom Daley will be taking to the diving board for the men's 10m synchronised event, alongside new diving partner Dan Goodfellow from 10pm.

James Guy will be hoping for a medal in the men's 200m freestyle final at 2.21am tomorrow morning.

Commonwealth champion Nekoda Smythe-Davis will be taking part in the women's -57kg judo from 2pm.

The windsurfing events will be kicking off. This will include appearances from three-time world silver medallist Bryony Shaw and London 2012 silver medallist Nick Dempsey.
The Best Of The Rest
The men's gymnastics final will be taking place from 8pm.

Also taking place are : archery, artistic gymnastics, basketball, beach volleyball, boxing, canoe slalom, diving, equestrian events, fencing, handball, hockey, judo, rowing, rugby 7s, sailing, shooting, swimming, table tennis, tennis, volleyball, water polo and weightlifting.
We'll be rounding up the win, fails and funniest moments of each day at the Rio 2016 Olympics. You can find it online or sign up for the Daily Brief email here.