President Joe Biden departed for Israel on Tuesday evening on a high-stakes diplomatic visit amid ongoing Israeli-Palestinian bloodshed that has killed more than 4,000 people so far. As Biden grapples with the crisis, several U.S. officials told HuffPost it has become difficult to have a full debate within his administration about what's happening in Israel-Palestine ― and in particular that people who want to talk about Israeli restraint or humanitarian protections for Palestinians feel stifled.
Several staffers across multiple agencies, most of whom work on national security issues, told HuffPost they and their colleagues worry about retaliation at work for questioning Israel's conduct amid the U.S.-backed Israeli campaign to avenge an October 7 attack by Hamas, the Palestinian militant group, that killed more than 1,400 Israelis.
The fear is especially intense among staffers with Muslim backgrounds. On Sunday, presidential personnel office chief Gautam Raghavan organized a call with close to a dozen current and former high-level Muslim appointees to discuss their concerns. Some staffers said they felt unsafe voicing their opinions around colleagues, according to a person on the call, which has not been previously reported.
And officials tracking the escalating fighting are quietly sharing dark predictions about the ultimate toll of Israel's operation in Gaza, Hamas's base, along with pessimism about their ability to influence the situation and Biden's commitment to reducing tensions.
The period since the Hamas attack represents "the first time in the administration that there was a real culture of silence," one official said. "It feels like post-9/11 where you feel like your thoughts are being policed, and you're really afraid of being seen as anti-American or an anti-Semite."
A career civil servant described tension between their commitment to challenging rights abuses and their job.
"I'm trying to educate people about Palestine through social media, but I'm worried I'll lose my security clearance for criticising the president or blaming the U.S. for civilian massacre," they told HuffPost. "I feel like there's no place for me in America anymore, and I'm on thin ice with my clearance because of my heritage and because I care about my people dying."
The seemingly stifled internal debate undercuts Biden's narrative that his administration is historically diverse and open to perspectives from traditionally marginalized groups, including on questions of global affairs.
"It feels like post-9/11 where you feel like your thoughts are being policed, and you're really afraid of being seen as anti-American or an anti-Semite."
In a region where America's traditional foreign policy-making processes have so far yielded dubious results, some officials say the administration is now falling back into bad old habits rather than taking advantage of the personnel it recruited.
"One reason to want a diverse staff is to have a variety of inputs into your decision-making, not just to check a box on a little quota sheet — you want to benefit from the more informed decision-making that happens from a broader set of experiences having a seat at the table," a person in the administration told HuffPost. "The inner, inner circle on these issues is not at all diverse. Does that completely explain the monstrous disregard for innocent Palestinian lives? No, but it's hard to think these things are entirely disconnected."
White House officials say the Biden administration is making a concerted effort to elicit a range of views from officials on Israel-Palestine. In the coming days, White House chief of staff Jeff Zients plans to hold a "listening session with Muslim, Arab, and Palestinian staff to hear from them directly," as well as ask Cabinet secretaries to do so at their own agencies, a White House official told HuffPost via email.
Zients has also overseen a "thorough internal and external outreach strategy to Muslim, Arab, and Palestinian American communities," the official added.
"President Biden and Vice President Harris have been unequivocal: there is no place for hate in America ― not against Muslims, not against Arab Americans, not against Jews ― not against anyone," Robyn Patterson, a White House spokesperson, told HuffPost via email. "He's assembled the most diverse presidential administration in history and is proud of the open, collaborative role his appointees play in advising on policy and strategy ― including Muslim and Arab American team members. He will continue to use all available tools to combat hate against Muslim and Arab Americans."
But with many Biden staffers already deeply demoralized, that outreach could be perceived as window dressing if there's little proof it creates a more inclusive decision-making process.
Describing "a chilling effect," one of the officials said their chief concern "as a policy person is that America is not going to get the good policy idea."
"I don't want us dragged back into another Middle East war," they added.
A Distorted Debate
One official described the first few days of the current crisis as "extremely hard." The Biden administration launched a strategy focused on showing solidarity for Israel ― while the country pummeled residential neighborhoods in Gaza and cut off electricity and water supplies for the region.
U.S. government agencies tackling a flare-up abroad normally develop a step-by-step plan to support American partners, the official said. "We built Ukraine aid with, 'What does Ukraine need?'"
Yet it was clear to them the White House wanted to send a dramatic show of assistance to Israel as soon as possible. The official initially felt unable to highlight concerns about the consequences for Palestinians in policy discussions.
"It took me till Wednesday or Thursday to have the courage to say, 'I don't think it would be good for America if we are seen as responsible for killing Palestinian children,'" they said. "There was awkward silence like a pin could drop, and I'm like, 'Are they going to report me to the House Un-American Activities Committee?'"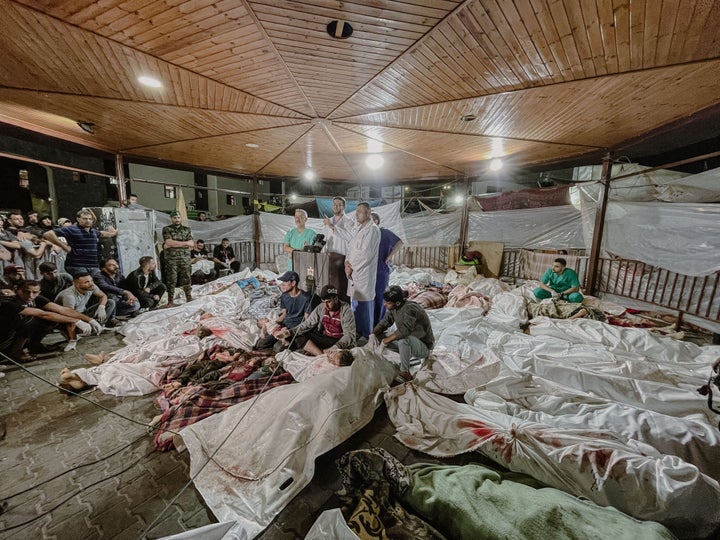 Some officials said they felt there was little interest in perspectives that were not primarily about Israel's losses. One pointed to an internal White House message from Zients after the Hamas attack that expressed solidarity with Jewish staff and those with Israeli ties but did not mention how Israel's response was affecting Gazans. Another cited the State Department's internal counseling program for employees affected by the situation, which referenced Israel but not the occupied Palestinian territories.
Calling the period "disillusioning," the person who works in the administration said: "There is a sense that the administration's policy decisions show stunning disregard for innocent Palestinians ― and that same dehumanization is also reflected in how staff are being treated."
"It's jarring for people because there is so much care for some lives, both abroad and in terms of thinking about how certain staff must be feeling," the person continued.
Officials told HuffPost that some staffers did not feel the administration's stated support for people on both sides was genuine.
A White House official noted that on Sunday, after the Islamophobia-inspired murder of a child in Illinois, Zients emailed all White House staff condemning the "the horrific act of hate" and adding: "The events of the last week have been challenging for all of us ― and I wanted to take a moment to acknowledge how difficult it has been for our Palestinian, Arab, and Muslim American colleagues ― in addition to our Jewish colleagues."
U.S. officials, including Biden and Secretary of State Antony Blinken, also publicly mentioned humanitarian concerns in Gaza with increasing frequency over the past week and repeatedly said they expect Israel to abide by the laws of war in its campaign against Hamas.
Still, one national security official cited an incident from recent days as emblematic of how the U.S. is not doing enough to help vulnerable people.
On Sunday, Blinken said the Rafah Crossing out of Gaza ― which leads into Egypt and is the only exit point from the strip that does not lead into Israel ― would reopen. Egyptian officials echoed that message, and on Monday the U.S. embassy to Israel told the hundreds of Americans trapped in Gaza to head to the crossing. Then Israel bombed it for the fourth time this month, and it remained closed all day.
"You basically asked a bunch of Americans ― most of whom have very young children ― to risk their lives to go to a border crossing that they then couldn't cross. That's an embarrassment to us," the official said. "As American citizens, they went and they trusted their government, and they're waiting in the hot sun all day for the border to not open."
"The events of the last week have been challenging for all of us ― and I wanted to take a moment to acknowledge how difficult it has been for our Palestinian, Arab, and Muslim American colleagues."
In crafting its policy, the Biden administration would benefit from "connecting the dots" of Israeli officials' statements around revenge and how aggressive their campaign has already been, another official argued. On Tuesday, far-right Israeli minister Itamar Ben-Gvir declared that the only thing that should be allowed into Gaza until Hamas and allied militants free their nearly 200 hostages captured on October 7, are "hundreds of tons of explosives… not an ounce of humanitarian aid."
A number of staff at national security agencies have passed around a Jewish Currents essay from a scholar who suggested Israel is seeking to carry out a genocide, the U.S. official said.
The officials want high-level Americans to acknowledge past analyses that estimate tens of thousands of deaths in the kind of ground invasion of Gaza that Israel is preparing to launch. Many more people will likely be permanently displaced.
"The inter-agency is now patching band-aids and not thinking in a structural way," they argued.
In multiple statements, Biden has drawn a distinction between Hamas and the Palestinian people in general. The militant group has not held an election in Gaza since 2006 and permits little dissent there.
Asked whether they see that as a strong enough or even honest message, the official said: "I take [the White House's] word on it ― but there's a bit of cognitive dissonance."
"Collective punishment of 2.3 million people is in no way, shape or form consistent with, 'We believe Hamas and the Palestinian people are separate,'" they continued. "You need an action to show that you're separating these two things."
'A Reckoning Moment'
When Raghavan invited current and former Muslim officials in the administration to a weekend call, a person involved in the session told HuffPost that attendees spoke to him about two main themes: the risk of increased Islamophobia nationwide and a sense that Muslim staff in the administration were in danger.
The person said Raghavan called the policy process around Israel-Palestine "broken." Raghavan denied saying that in an email to HuffPost, writing: "That is false. I only talked about how we could support and affirm our team members."
Republican lawmakers and right-wing media outlets have spent years targeting Biden administration officials with links to the Muslim-majority world and suggesting they are not truly loyal to the U.S.
The administration has "a long-term structure in place to fully defend staff" facing such attacks, a White House spokesperson told HuffPost. They noted that the administration has increased funding to shield religiously affiliated institutions and will dispatch Small Business Administration deputy chief Dilawar Syed to this week's vigil for Wadea Al Fayoume, the Palestinian-American child murdered on Saturday, with a letter from Biden.
A Muslim American former official who recently left the administration told HuffPost the White House "made clear our voices were respected and wanted."
"My sense from folks who have been involved in the crisis response is that this remains the case today," the former staffer continued, contrasting Biden's repeated condemnations of Islamophobia with former President Donald Trump calling for a renewed Muslim ban amid the uptick in Israeli-Palestinian fighting.
Yet the combination of feeling implicated and vulnerable in alarming U.S. policy simply on the basis of identity could end up driving away some talented staff.
One official described hearing from peers that they were considering leaving their posts.
Another official ― a career bureaucrat who has worked on foreign policy for more than a decade ― said people are more alarmed about the situation in Gaza than they have been during past flare-ups in the region. The official described a culture of "self-censorship," particularly among younger staff; they said those staffers appear to be "shocked" by how the administration's response to what's happening in Gaza differs from Biden's campaign rhetoric about prioritizing human rights and his emphasis on protecting civilians in the Ukraine war.
"It's fully in [the Biden administration's] hands to say there's not going to be mass atrocities," the official said.
Current conditions are forcing "a reckoning moment," the person in the administration said.
"There's a deep, deep sorrow and pain for people as they're seeing the death count rapidly mount and a panicked and alarmed sense of, 'How are we allowing this to happen?'" they continued. "The pride I felt serving in President Biden's administration has given way to deep shame. May God forgive us."