The journalist and vocal anti-gun campaigner said that Orlando was "awash" with guns, yet if this atrocity occurred in Paris, firearms advocates would call for citizens to carry weapons.
His comments come hours after a suspected terrorist opened fire at gay nightclub, Pulse Orlando, at about 2am.
The 51-year-old also said that the person responsible for the mass killings was a terrorist "whether the shooter's white, black or Islamic".
Orlando police chief John Mina described how his force entered into a shoot-out with the attacker, resulting in one of his own officers getting shot.
The officer's life was saved by his helmet.
The gunman was killed following a standoff with SWAT officers.
A post on the nightclub's Facebook page immediately after the event read: "Everyone get out of pulse and keep running."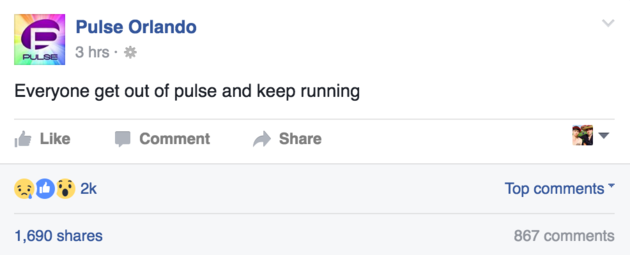 Florida Department of Law Enforcement Special Agent in Charge Danny Banks said during a news conference on Sunday that the mass shooting is being investigated as an act of terrorism.
He said that authorities are looking into whether this was an act of domestic or international terror, and if the shooter was a lone wolf.
"This is an incident, as I see it, that we certainly classify as domestic terror incident," said Orange County Sheriff Jerry Demings, the Associated Press reports.
Police Chief John Mina also said the shooter had some sort of "suspicious device."
He said the suspect exchanged gunfire with an officer working at the club around 2am, then went back inside and took hostages among more than 300 people inside.
This latest attack in the US is likely to add fuel to anti-gun lobby's fire.
Morgan tweeted a graph showing that Orlando was the 173rd US mass shooting of 2016 - on average this equates to more than one shooting a day.
Witness Ricardo Negroni, who was at the club when the shooting started, said the attacker had aimed his gun at the ceiling, which sent glass crashing to the floor.
He told Sky News: "At around 2am someone started shooting. People just dropped on the floor.
"I guess the shooter was shooting at the ceiling because you could see all the glass from the lamps falling."
Club-goer Rob Rick said the shooting started just before closing time.
"Everybody was drinking their last sip," he said.
He estimated more than 100 people were still inside when he heard shots, got on the ground and crawled toward a DJ booth.
A bouncer knocked down a partition between the club area and an area in the back where only workers are allowed. People inside were able to then escape through the back of the club.
Christopher Hansen said he was in the VIP lounge when he heard gunshots. He continued to hear shooting even after he emerged, where police were telling people to back away from the club. He saw injured people being tended to across the street.
"I was thinking, 'Are you kidding me?' So I just dropped down. I just said, 'Please, please, please, I want to make it out,'" he said. "And when I did, I saw people shot. I saw blood. You hope and pray you don't get shot."
Grimmie was a YouTube sensation and former contestant on "The Voice."