A group campaigning for the UK to leave the European Union has been attacked for its "shameful" decision to use the murder of 49 people in a gay club in Orlando in a pro-Brexit advert.
Leave.EU, backed by Ukip donor Aaron Banks, tweeted on Monday that leaving the EU was a way to prevent an "Orlando-style atrocity" happening in the UK.
It was later deleted following a raft of criticism from politicians and others. A Leave.EU source told The Huffington Post UK the decision to create the poster was "a cluster fuck".
Home secretary Theresa May condemned the poster as "utterly reprehensible".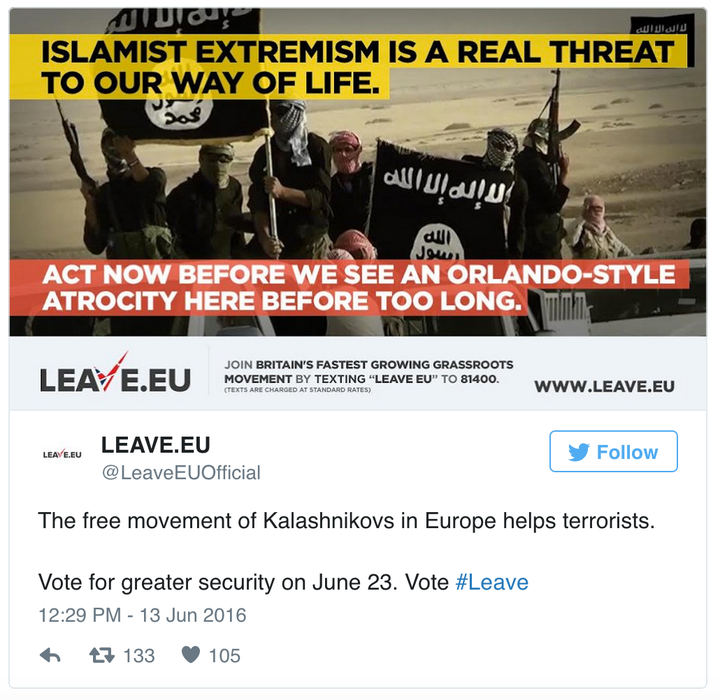 The advert was quickly condemned by politicians on both sides of the referendum campaign.
May told MPs following a minute's silence in the Commons to mark the Orlando attack attempts to link the killings to the EU referendum should be "rightly condemned".
"I was shown a picture of this just before I came in to this chamber, I think it is utterly irresponsible. This is a terrible and horrific homophobic terrorist attack that is taking place," she said.
Labour shadow home secretary Andy Burnham warned of the rise in "hate" and "inflammatory language" in the political discourse.
He said it was "highly offensive" for Leave.EU to use the shooting for "propaganda".
Conservative education secretary Nicky Morgan and Labour shadow foreign secretary Hilary Benn, who are backing EU membership, were quick to attack Leave.EU.
In a statement, Benn said it was "a shameful and cowardly" poster. "It takes courage to stand by your principles and your friends when they are attacked, whether in Orlando, Paris or Brussels," he said.
"Doing so makes us stronger and shows our resolve to stand up for our values and our way of life in the face of those who hold both in such murderous contempt."
Iain Duncan Smith, one of the leading pro-Brexit Conservatives, told BBC Radio 4's World at One "I abhor anybody that tries to make capital" out of the Orlando shooting.
Mateen, who was killed in a shootout with police, was armed with an AR-15 assault type rifle, a handgun and an explosive device.
It is the deadliest mass shooting in modern US history.
In a statement, Leave.EU's Banks told The Huffington Post UK: "We have studied at length what the prime minister himself has said about Islamist attacks in this country and we are all in agreement.
"We need to tackle ISIS and its exploitation of our good, Muslim communities. We stand side by side with everyone wants to bring security to our world."
Leave.EU is campaigning for Brexit, but is separate from the official Vote Leave campaign headed by Boris Johnson and Michael Gove.
Duncan Smith told the BBC: "I have no idea about that. You know that we're nothing to do with that organisation; there are lots of organisations out there as there are on Remain and others that put up their own tweets.
"All I would say to you is that Europol has made a point to the Home Secretary quite recently that unless we control migration there are threats to security, that's a fact of life. But I'm not going to get involved in peculiar tweets that go out from other organisations that I don't sign up to.
"I think it's completely pointless to try and make something out of what is a tragedy in America that has nothing to do with this debate at all. And I abhor anybody that tries to make capital out of that."