Thousands of people are calling on Google to "reinstate" Palestine after reports the state was deleted from its maps service, but it turns out their campaign is rather misinformed.
A journalism group in Gaza claimed the region has been removed from Google Maps, calling it an attempt to "falsify history" and a "crime" against the area's 4.5 million residents.
But it's not actually the case that Palestine has been deleted from Google Maps.
Middle East media outlets reported users could no longer see a label for Palestine, after the Forum of Palestinian Journalists started a campaign demanding it be re-added to the map.
The group condemned the "crime" carried out by Google "to delete the name of Palestine". It called for the tech giant to "rescind its decision and apologise to the Palestinian people".
It claimed: "The move is designed to falsify history, geography as well as the Palestinian people's right to their homeland, and [is] a failed attempt to tamper with the memory of Palestinians and Arabs as well as the world."
The petition calling for Palestine to be added was started in March but only picked up momentum in the last few days after the claims that Palestine had been deleted.
Campaigners tweeted hashtags like #PalestineIsHere and #BoycottGoogle, and some said they would switch to Microsoft's Bing maps service that labels Palestine as a discrete place.
The petition reads: "The country of Palestine does not appear on Google maps. Why not? Israel, established on Palestinian land, is clearly designated. But there is no mention of Palestine. According to Google, Palestine does not exist."
It claims Google is "making itself complicit" in what it called the Israeli government's "ethnic cleansing of Palestine".
But no 'Palestine' label has been deleted, Google has confirmed, as it never appeared in the first place.
Searching for Palestine on the service brings up a dashed line around an unlabeled region, while Israel is clearly marked: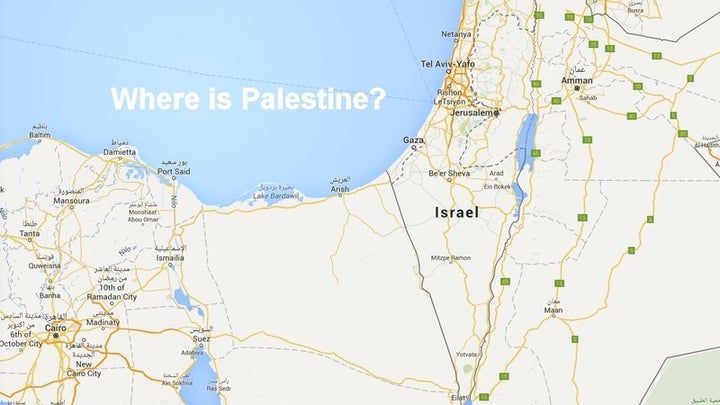 An adjacent information box names Palestine and calls it a "de jure sovereign state," following the current description from the UN.
Google did, however, find a glitch that led to something being removed from the map, and could explain the concerns of the journalists in Gaza.
"We discovered a bug that removed the labels for 'West Bank' and 'Gaza Strip,'" the Google spokesperson said. They claimed a technical problem was to blame and that they were "working quickly to bring these labels back to the area."