Update: Since this article was published, South Ayrshire Council has confirmed to HuffPost UK that there will not be a ban on parents in the playground.
There were reports that a school in Scotland intended to "ban" some parents from entering the playground at drop-off in the morning because it can make children "extremely overwhelmed and upset".
Troon Primary School in South Ayrshire said pupils had been negatively affected by the number of adults in the playground – so they had tried to come up with a solution.
Headteacher Aileen Roan said it would help provide children in Years 2 to 7 with a "settled start", so they could "line up quietly and start their day well". She also said it would allow kids to become "more independent".
However since news of the supposed "ban" came out, a spokesperson for South Ayrshire Council told HuffPost UK that parents would be able to come into the playground – but they'd need to settle their children quickly.
"Starting a new school in P1 is an exciting time for children," the spokesperson said. "We recognise too that, for a few, it can be a bit overwhelming. P1 parents are welcome to accompany their child into the playground until they are more confident. At Troon Primary, when high numbers of parents with older children come into the playground it becomes quite congested.
"As a result, we are asking parents with children in P2-7 to drop off or settle their children quickly in the playground and then allow them to line up independently with the help of support staff."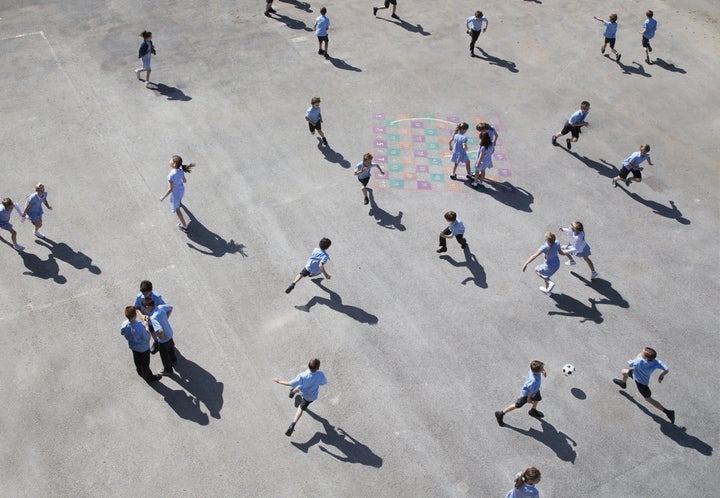 Some parents of children at the primary school believed many would "rebel" against the request if a "ban" came in – and here's the thing: I would, too.
Ever since my daughter started school, I've taken her to the door of her classroom on the days I don't have to rush to work. We hug, kiss and I tell her I love her before she disappears, waving, through the door. She kisses and hugs her little brother, too. We do exactly the same when I pick her up.
It's a vital, connected part of our day, and I'd miss it terribly if it disappeared.
But I wanted to be as impartial as possible, so I asked her what she thought. After all, if schools say their kids are stressed and overwhelmed by too many parents thronging in the playground, it would be remiss to ignore that as a possibility.
My 7-year-old acknowledged it is "quite crazy" in the playground, at pick-up after school time particularly, but said it was "important" for us to be there.
"How would you tell my teacher if I felt upset or had a tummy-ache from the gate?" she said to me. "Or if someone else was going to pick me up? I'd never get to go on any playdates!"
And when I asked her how she would feel about it, her eyes grew wide and serious. "I wouldn't like it," she said immediately, shaking her head. "Because I love you and I want a cuddle."
That's the thing. No matter what year they're in, kids need cuddles and an "I love you" – reassurance that you're going to miss them, and that they're safe and loved.
You can do that from home, of course, or at the door when you drop them off at breakfast club – many parents simply can't make the morning drop-off at all – but in the middle of a crowd of hundreds of parents queuing up at the same time at the same, tiny, gated entrance? Not so easy.
Even if it's just the few, extra, precious seconds I get walking hand-in-hand with my little girl to see her into her classroom.