Turn up to a kids' birthday party and it can be overwhelming just how much effort (and cash) goes into one. Of course we all want our children to enjoy their big day once a year, but have things got too extravagant when parents are actually being charged for their child to party?
One mum revealed on Netmums that she'd been instructed to pay £25 for her 10-year-old daughter to attend a friend's do."There's about 10 of them going and we've only been given two days notice," she wrote. "The mum messaged me and asked if she could go to which I said yes, she then replied with a price it would cost. Altogether, I'm going to be expected to pay around £25."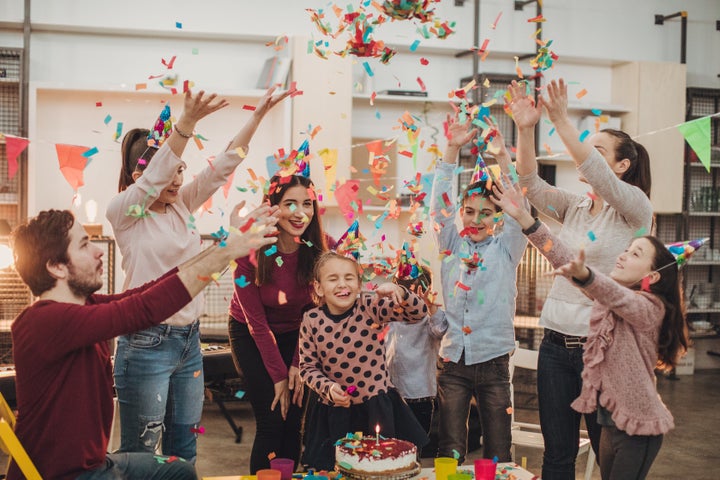 The mum didn't go into details of what she was paying for, but was frustrated she was told about the price after she accepted the invite.
"Maybe this is a done thing but I personally wouldn't dream of inviting my daughter's friends to a party and asking for a contribution," she added. "If I couldn't afford for her to do something with that many friends we wouldn't do it or we'd cut the guest list down. Opinions? Maybe I'm just being unreasonable."
Other mums commenting on the Netmums thread assured the original poster she wasn't. "If I was inviting other kids to go out with my son for his birthday, then I would fully expect to foot the bill," one mum wrote. "If it was a case of one child being invited but you were going to take the other as it was somewhere like soft play, then it would be reasonable to pay for that child but as an invited guest, I wouldn't expect to end up with a bill."
Another agreed, commenting: "This was my thinking too! I've done huge parties and smaller gathering for my daughters and paid the whole bill every time."
And a mum wrote: "My son's party is tomorrow and the cost is £18 per child. I would never dream of asking the parents to pay for there child – that's bad in my opinion."
Perhaps it's unsurprising that parents are asking each other to contribute, given research from Barclays earlier in the year revealed that the average parent will spend nearly £5,000 on celebrating birthdays during the ages of four and 11. Typically, the research found adults spent £433.39 on birthday parties and another £164.65 on presents.
"The consumerist race to put on ever flashier and more expensive birthday bashes won't necessarily make your child happier and it piles on the pressure for the parents."
Siobhan Freegard, founder of ChannelMum.com, said it's easy to see why some parents might be tempted to charge children to attend. "However, it's missing the point," she told HuffPost UK. "The party is about your child and making them happy by celebrating with their friends.
"The consumerist race to put on ever flashier and more expensive birthday bashes won't necessarily make your child happier and it piles on the pressure for the parents. It's also teaching kids that we have to spend to be happy, and that's not a good lesson for life. If you've been invited to a party where you have to pay, it's your decision whether or not to pay up and go ahead. But most mums and dads aren't comfortable with it."
Freegard said it's far better to hold a simple party where you concentrate on the children and put the effort into something they really enjoy. "Money can't buy happiness and children's best memories always tend to be something simple they've loved," she added. "So let's end the 'pay to play' parties and go back to remembering what birthdays are really about."
What do you think? Is it too much to ask parents to foot the bill for your kids' birthday party? Let us know in the comments below or email ukparents@huffpost.com.