The parkrun at the centre of a row over charges to use a park has been cancelled.
Organisers of the weekly fun run have said they will appeal against a parish council's decision to charge for use of its grounds.
More than 300 people take part in the timed 5k parkrun on the path at Little Stoke Park in Stoke Gifford, South Gloucestershire, every Saturday.
But now organisers say they have called off this weekend's event over safety concerns, the BBC has reported.
Stoke Gifford Parish Council initially proposed a charge of £1 per runner, but has now asked the organisation to apply for a grant to cover "increased wear", the Press Association reported.
It said it has recently paid £55,000 to resurface the car park, while the path will soon need to be replaced at a cost of £60,000.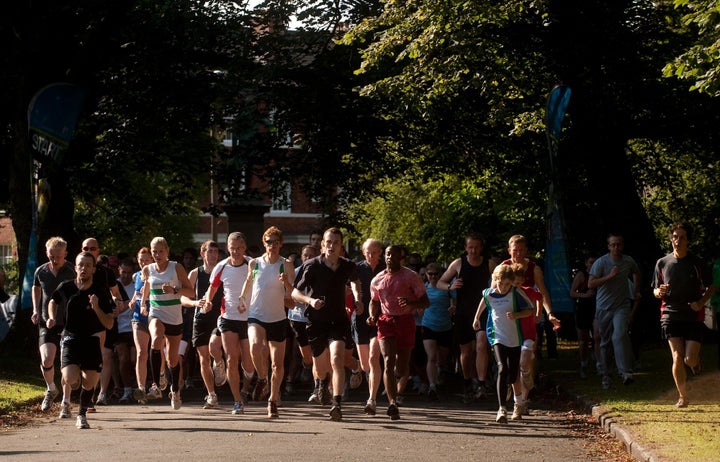 The decision has prompted a fierce backlash, and more than 44,000 people have signed a Change.org petition in protest.
Gold medal-winning runners Paula Radcliffe and Kelly Holmes have also condemned the plan, along with sports minister Tracey Crouch.
In a statement, parkrun said it intended to appeal against the decision and was "investigating whether there is a legal basis to do so".
Tom Williams, chief operating officer for parkrun, said: "As we look towards opening our 1,000th location later this year it is clear that a per-event or per-runner charge simply would not be sustainable and would threaten our free-to-participate ethos.
"By agreeing to a charge in relation to use of the land at Little Stoke Park we would be establishing a precedent that would put the future of parkrun at risk."
Parkrun has more than 850 weekly events in 12 countries, all delivered by volunteers and free to take part in.
Chrissie Wellington, head of participation for parkrun, said the council has "never quantified what the so-called wear and tear of the park is" and had not been clear about where the money would be used.
She said parkrun could help the council through community volunteering, by repairing damage, promoting a car parking scheme or helping to run a cafe.
"We can't set a precedent by which parkrun or parkrunners are asked to pay for use of the park," she said.
"If the council persist with this course of action the event will have to close but we don't want that to happen so we are going to try to find a solution to it."
The sports minister tweeted:
Paula Radcliffe tweeted: "Am totally against this short sighted decision. I fully support the right for this event for children to be free."
She later clarified that the event, which is open to adults, children and dogs at most locations, should be "free for everyone, always".
Dame Kelly Holmes also criticised the council, tweeting:
The London Marathon also said it would "stand behind" Little Stoke parkrun as "free to all".
But Stoke Gifford Parish Council described parkrun as an organisation with paid directors and staff - meaning it should contribute towards the park's upkeep.
"The parish council has only recently paid out £55,000 from public funds for resurfacing the car park and with the additional 300-plus runners per week, will shortly need to replace/repair the path at an estimated cost of £60,000, so as parkrun are significant users of the path on a regular basis they should contribute towards the upkeep," it said.
Council chairman Ernest Brown told the BBC: "The football club pay £60 to hire the pitch.
"We're not proposing to charge £60, no way, but at the same time, as an organisation they should contribute towards the upkeep.
"That's the reason - it is not to charge people for running. People can come to this park and we welcome it - they can run any time they like."
Parkrun has been given until May 28 to apply for a grant, which the council has offered to fill out for them, he said.
Graham Evans MP, chairman of the all-party parliamentary group for running, said he had written to the council to suggest alternative ways of fundraising towards the maintenance of the park.
He added: "I am a huge fan of parkrun and regularly take part with my family – the children love it, and my wife and I love being out in the fresh air using our beautiful parks and countryside with them.
"I sincerely hope that a solution will be found to enable Little Stoke parkrun to continue."