You're reading The Waugh Zone, our daily politics briefing. Sign up now to get it by email in the evening.
Tricky Vallancing act
For a while back in the Brexit wars, we kept being told that leaving the EU was "a process not an event". But was the government's coronavirus lockdown in March also a process, not an event? That's the implication of Matt Hancock's bold declaration in the Commons today, when he tried to shoot down suggestions there had been a deadly delay in following scientific advice.‌
Boris Johnson's live televised address on March 23 was watched by 27 million Britons. That's when he told the public to stay at home, closed all non-essential shops and warned the measures would be enforced by the police. The word "lockdown", which No.10 had fought shy of using, suddenly seemed apt.‌
Today Hancock told MPs that actually March 16, when he advised the public against "all unnecessary social contact with others and all unnecessary travel", was the date "precisely when the lockdown was started". Of course, "lockdown" suggests compulsion rather than strong advice. That's a major difference already cited by his critics.‌
The health secretary was probably more focused on the word "started" as much as the word "lockdown". His case was that a week before the formal crackdown ordered by the PM, he had in fact signalled the beginning of what was a process of a steady ratcheting up of restrictions, not a one-off event.
And it's true that Hancock's sombre words in the Commons on March 16 did suggest sweeping changes. As well as ending unnecessary social contact and travel, he said: "We need people to start working from home if they possibly can. We should steer clear of pubs, clubs, cinemas and restaurants. We should use the NHS only when we really need to."‌
Two days later on March 18, the government announced schools would close the following week. Another two days later on March 20, Johnson ordered pubs, clubs and restaurants to close. But it was on March 23 that the PM made plain that everyone had to stay at home and only two people at a time could gather in public. Instead of advice there was instruction.
There is in fact a growing body of evidence that the public had started to stay at home in the week before Johnson's big announcement. Many big companies had ordered staff to stay away. This graph from Bristol University's statistics professor Oliver Johnson uses mobility data to show a sharp fall in London even before Hancock's statement and certainly after it. The televised "lockdown" sealed the deal to keep it right down.
The reason any of this matters is that chief scientific adviser Sir Patrick Vallance told the Commons science and tech committee that it was on March 16 (or 18, he was surprisingly unclear) that the government's Sage committee of advisers said all remaining lockdown measures should be introduced "as soon as possible". "We were further ahead in the pandemic than had been thought," he said.
With many having already pointed out that if the actual full lockdown had started even a week earlier, thousands of lives could have been saved, Vallance's words naturally caught the eye. When the independent public inquiry does finally meet (and this week at least Johnson confirmed such an inquiry would happen), it will have to go through exactly who said what and when.
The health secretary is so confident that he even today told Liaison Committee chairman Bernard Jenkin that he was "very happy" to make a written ministerial statement next week on "lessons learned" from the pandemic so far - an exercise that the PM has strongly resisted to date. Let's see if No.10 allows it to happen.
Hancock is clearly ready to defend his corner, but it was perhaps Vallance's other words today that ought to worry ministers. Reminded of his infamous line that 20,000 deaths would be a "good outcome", he said: "It's clear that the outcome has not been good in the UK. There are many factors that are going to play in this….and there will be decisions made that will turn out not to have been the right decisions at the time."‌
That flatly contradicted Johnson's mantra that he had taken "the right decisions at the right time", a mantra he has of late stopping using. To make things even worse for the PM, who is expected tomorrow to urge more people to go back to work, Vallance added that it remained his view and Sage's that staying home should remain the default position for many workers.‌
"For many companies working from home remains a perfectly good option, because it's easy to do. A number of companies think it's not detrimental to productivity and in that situation, absolutely no reason I can see to change it." That's a hell of a quote. And it could prove very difficult for Johnson's efforts to get what he calls "bustle" back into our city centres. Will Vallance be alongside him at the No.10 briefing on Friday? Don't bank on it.‌
The fact is that what is driving the officer worker stay-at-home shift is not just reluctance among staff to use public transport, but also the brute corporate reality that employers are finding it much, much cheaper not to pay huge city centre office rents. Public transport in its current form is still not a viable option for getting into work either.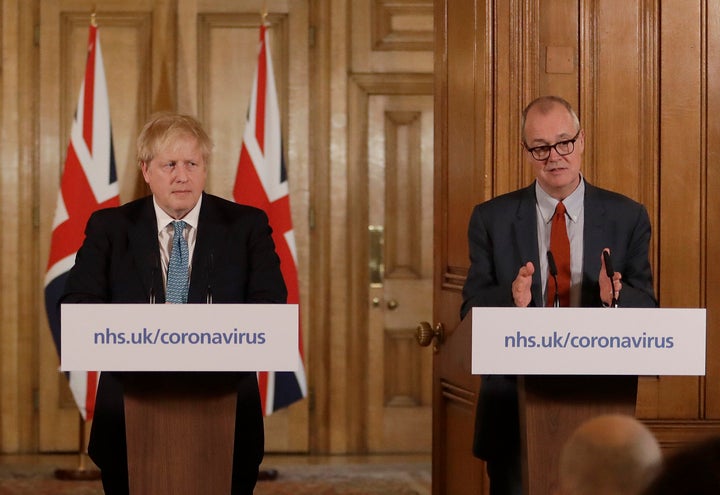 Staff who save on travel have got an effective pay rise as well as the chance to see their families. Companies get as much productivity for lower rental costs of much smaller floorspace. Going to the office for one day a week for special in-person meetings or training may become the norm, especially as many employers have no plans for a mass return this winter and may even sit it out until next spring.‌
That's very bad news for developers, landlords and all those restaurants, bars and shops that rely on passing office trade. Like many apocalyptic events, coronavirus has just accelerated the tectonic plates that were already shifting against the high street from online shopping and against office working from remote-access computer working.
As a financier friend of mine puts it: the City of London is deserted but billions of pounds of trades take place every day, stocks are sold and bought, markets function. Margaret Thatcher's Big Bang now has an even bigger bang. But for those on furlough, the winter will be especially cold financially, as their bosses simply can't afford to keep them on without any cashflow. The inequality in the job market between the precariat and the protected is set to widen further than ever.‌
In theory, the demise of big cities ought to provide filip to all those towns in the Red Wall that voted Tory last year. Instead of commuting and then spending near the office, workers could spend locally. But in the real world, the sheer economic dynamism of big cities will be hard to replace quickly. And no matter how many times the PM says 'Go to work', he can't order a return to normal as he can in schools this September.
It's hard to see how any government would cope with these deep structural changes in the workplace even in a pre-corona era of low unemployment. Johnson has promised voters he will intervene to help them through this pandemic, but ultimately he may well have to admit what many of his colleagues think: you can't buck the market. The political consequences of the longterm "lockdown" on employment could be severe indeed.
Lisa Nandy is our special guest on this week's podcast. Hear us chat through Chris Grayling's ISC failure, China, Bame impacts of coronavirus and Starmer's first 100 days (he passed 'the mum verdict' on a Call Keir event in Bury attended by Nandy's mother). Click here to listen on Audioboom or below for iTunes.‌
Search for Commons People wherever you listen to podcasts and subscribe.
Quote Of The Day
"It is almost certain that Russian actors sought to interfere in the 2019 General Election through the online amplification of illicitly acquired and leaked government documents."
Thursday Cheat Sheet
Hackers linked to the Russian intelligence services tried to access UK coronavirus vaccine research, the government revealed.
New ISC chairman Julian Lewis said he did not reply to a whips' text asking him to vote for Chris Grayling for the post, saying he considered it "an improper request". Jacob Rees-Mogg refused to rule out a motion removing Lewis from the job.
Matt Hancock was unclear if mask wearing will be needed for takeaway sandwich shops. "If people go to a shop then it will be mandatory to wear a mask. If they go to a hospitality venue then it will not," he said.‌
Tony Sewell was confirmed as the chair of the newly-established Commission on Race and Ethnic Disparities, but had to swiftly apologise after the Guardian discovered he talked about "tortured queens" just after footballer Justin Fashanu disclosed he was gay in 1990. Sewell has also said evidence of institutional racism is "flimsy".
Labour frontbencher Lloyd Russell-Moyle stepped down from his post, citing "right wing media" bullying over his previous remarks about anti-Semitism.
Jeremy Hunt told an Institute for Government event that paying for properly funded elderly social care "is going to mean an increase in taxes and I think we have to be honest with people about that".
The government will extend proxy voting in the Commons until Monday 28 September 2020.
What I'm Reading
Got A Tip?
Send tips, stories, quotes, pics, plugs or gossip to waugh.zone@huffpost.com.