Paul Manafort indicted on 12 counts in FBI's Russian meddling probe
Manafort and former associate Rick Gates are first to be charged
Separately, George Papadopoulos, becomes third Trump aide facing charges
Donald Trump's former campaign manager has been indicted on 12 counts including conspiracy against the US and conspiracy to launder money as part of the ongoing investigation into Russian meddling into the 2016 presidential election.
Both men have pleaded not guilty.
Manafort, 68, was photographed leaving his home accompanied by his lawyer on Monday morning and is reported to have turned himself in at the FBI's Washington field office.
"The indictment contains 12 counts: conspiracy against the United States, conspiracy to launder money, unregistered agent of a foreign principal, false and misleading FARA statements, false statements, and seven counts of failure to file reports of foreign bank and financial accounts," the counsel said in a statement.
FARA is an acronym for Foreign Agents Registration Act.
Despite the indictment that includes 2017 activities, Trump says the Manafort charges refer to events before he was part of his campaign.
Separately, George Papadopoulos, has become the third Trump adviser to face criminal charges.
Papadopoulos, an international energy lawyer who was part of Trump's advisory team during the 2016 presidential campaign, has pleaded guilty to making false statements to FBI agents, the federal special counsel said on Monday.
He pleaded guilty on October 5 in a case unsealed on Monday and reached a plea deal with prosecutors. He has since been cooperating with Mueller's probe.
Papadopoulos can be seen in the picture below of Trump meeting with national security advisers, third from left.
Papadopoulos "made material false statements and material omissions" during a January 27 interview with the FBI, according to the statement. He was arrested July 27. Prosecutors agreed to recommend between no prison time to six months under the plea agreement.
Papadopoulos told the FBI an overseas professor had "told him about the Russians possessing 'dirt' on then-candidate Hillary Clinton in the form of 'thousands of emails,' but stated multiple times that he learned that information prior to joining the campaign," according to court documents. In fact, Papadopoulos was contacted after he learned he'd be joining the campaign, and the professor only mentioned the "thousands of emails" after he'd been on the Trump campaign for more than a month.
Manafort served the Trump campaign from June to August of 2016 before resigning amid reports he may have received millions in illegal payments from a pro-Russian political party in Ukraine.
Mueller has been investigating Manafort's financial and real estate dealings and his prior work for that political group, the Party of Regions, which backed former Ukrainian leader Viktor Yanukovich.
Investigators also examined potential money laundering by Manafort and other possible financial crimes, sources have told Reuters.
Gates was a long-time business partner of Manafort and has ties to many of the same Russian and Ukrainian oligarchs. He also served as deputy to Manafort during his brief tenure as Trump's campaign chairman.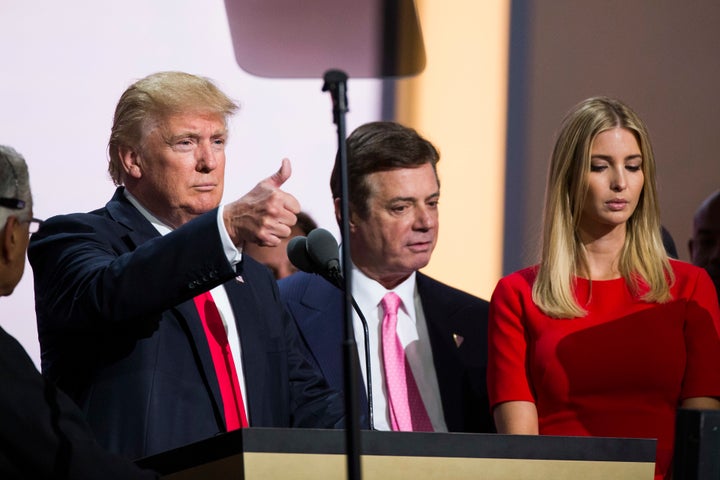 Gates has been charged with being an unregistered agent of a foreign principal, making false and misleading statements and seven counts of failure to file reports of foreign bank and financial accounts.
Manafort "answered their questions fully," their spokesman said.
On June 27, Manafort retroactively registered as a foreign agent thanks to $17.1 million his firm was paid from 2012 to 2014 for lobbying work he did on behalf of a pro-Russian political party in Ukraine.
The President has denied allegations that his campaign colluded with Russians and condemned investigations into the matter as a witch hunt.
The news that the first charges had been filed in the investigation broke on Friday night and Trump appears to have been attempting to deflect from developments over the weekend.
Trump has often tweeted about the Russia probe, repeatedly calling it a "witch hunt".
Trump does not have the power to pardon Manafort as they are state crimes.
Mueller's team is reportedly also looking into a dossier containing explosive, unverified allegations regarding Trump and his associates, compiled by former British spy Christopher Steele for the research firm Fusion GPS.
US intelligence agencies concluded in January that Russia interfered in the election to try to help Trump defeat Democratic candidate Hillary Clinton through a campaign of hacking and releasing embarrassing emails, and disseminating propaganda via social media to discredit her campaign.
Mueller is investigating whether Trump campaign officials colluded with those Russian efforts.
He is also examining other possible crimes, including obstruction of justice, money-laundering and tax evasion.
Trump fired FBI director James Comey, who was leading the agency's investigation into Russian interference in the election, in May.
The Kremlin has denied the allegations.
Fox News, a staunch defender of Trump, appeared to be slow to report the latest developments.
Related