HuffPost may receive a share from purchases made via links on this page. Prices and availability subject to change.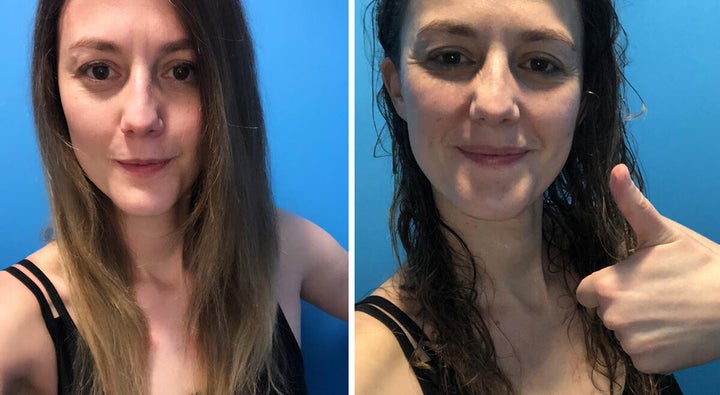 "Sorry, but I'm on my PERIOD" is surely the number one excuse teenage girls give to get off swim class at school. Sometimes it's true, sometimes it's a handy get out (for other things, too). But the ripple effect is real. From an early age, too many women come to believe that periods and swimming don't mix.
It's a shame because if you're someone who finds swimming relaxing – for body and mind – it can also work wonders when you're cramping, bloated or just feeling 'period-bleurgh'. In my experience, submerging yourself in water for that familiar sensation of weightlessness really takes the edge off period pain – and doing exercise while you're menstruating has proven health benefits.
The only dampener is the anxiety your tampon or menstrual cup will leak in the middle of a length – leaving a trail of blood in your slipstream.
Introducing period swimwear. It was only a matter of time given the growing popularity of period pants. My colleagues reviewed a range of those here – so I felt obliged, as our team's resident water baby, to test the swim version.
How does it work?
I'm going to try The Swim One Piece, with its Modifier Swim Technology™, a fancy name for a double layer gusset (yeah, I said the G word), which can hold up to 10ml (or two tampons worth) of menstrual blood, the website claims.
The upper mesh layer fights bacteria and stops smells, apparently, while the bottom layer is "water repellant" – presumably stopping your menstrual blood flowing into the water around you as much as it stops the water getting in.
Modibodi calls this wonder suit "period and pee-friendly" for the beach or pool, which brings to mind "going to Waterloo" (as we used to call it as kids) and the dye our parents told us would show up if you dared wee in the water.
On reflection, it's great that Modibodi have considered the issue of adult incontinence (which affects one in three women) as well as menstruation. The suit promises to keep you protected from "pelvic floor mishaps or light periods and spotting", acting as "extra protection" (ie. with a tampon or cup) on heavier days. I'm going to test it on the medium-flow day two of my period.
Of course, there'll be no need for that mythical dye if my period blood leaks, crimson red, into West Norwood Pool on a Tuesday night...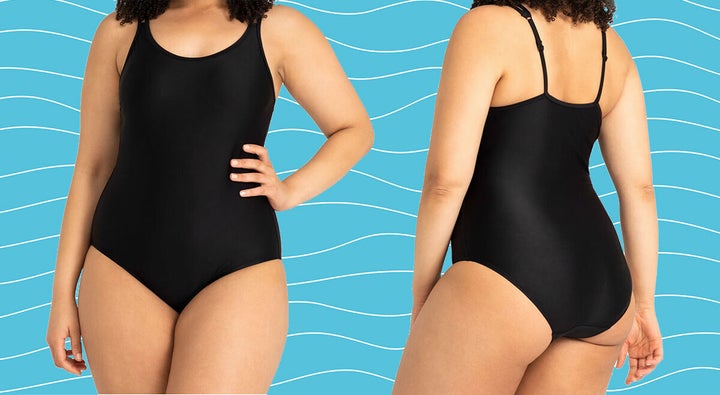 How does it look?
I've always found it hard to find a one-piece that actually suits my body – with my narrow ribcage, medium bust, wider hips and bum, and long torso – so I tend to stick to wearing bikinis even when they're out of fashion. These dimensions also mean I go up a dress size on swimwear – from a 10-12 to a 12-14 – which can leave my top a bit baggy and bottoms a bit tight.
This classic black costume is nice though – the material feels high quality and skims my body, even if it flattens out my curves more than it flatters them. Given the one style is designed to fit all shapes and sizes, it's hardly surprising.
I like the double strap detail, both in terms of aesthetics and the sense it's going to stay put. And the modest leg and back feels about right – I don't know about you but my period week doesn't feel the time for flying-high, Love Island-style or flashing half my butt cheeks.
How does it feel?
I won't lie – when I first put the swimsuit on in the changing cubicle, the double layer under my crotch does feel a bit nappy-like – but it's not noticeable to the eye, except at super close glance when I spy a very fine VGL or "visible gusset line" in the mirror. I'm aware of it but only in a nice secure way that gives me the confidence to slip into the pool at the deep-end.
After one tentative length of breast-stroke, spent praying I'm not trailing scarlet, I peer down between my legs through my goggles. I'm not sure it's what Lady Gaga was singing about to Bradley Cooper in Shallow, but there's definitely no "Oh, oh, oh, oh, whoah!". The coast – or rather the heavily chlorinated water – is clear. Which is just as well when a classic lane shark starts tracking close behind me in his Speedos, threatening to overtake.
Two more lengths, 12 more, then 20 later, I get out and I'm still okay. When I rinse out the costume, I spy a wispy amount of red in the sink. But honestly, there's more mascara down my face (note to self to buy a better eye-makeup remover) than there is any blood down my legs.
Meanwhile, I've had 25 lengths of premium period-pain relief and feel much better for it. It's like I've always said: swimming is good for you. Period.