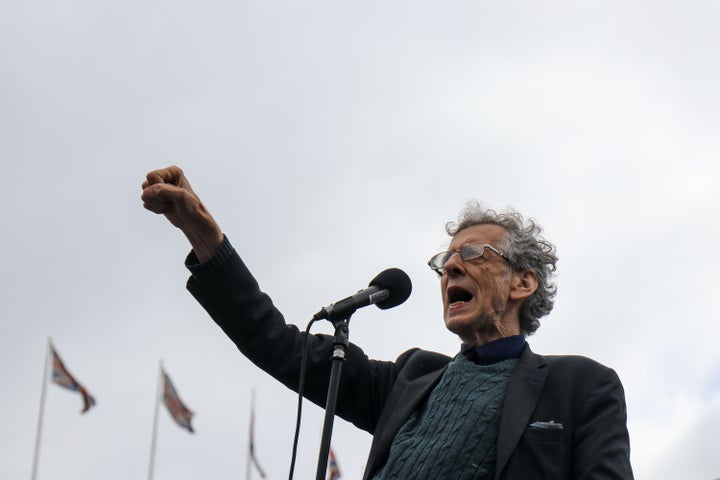 Jeremy Corbyn's brother has been fined £10,000 for breaking newly introduced coronavirus laws.
Piers Corbyn was arrested at an anti-lockdown protest in Trafalgar Square on Saturday where he appeared on stage alongside conspiracy theorist David Icke and X-Factor loser Chico in front of a crowd that numbered in the thousands.
Protesters displayed anti-mask and anti-vaccination placards and attendees and speakers described Covid-19, which has killed more than 40,000 in the UK alone, as a "hoax".
Under new changes to regulations, those attending a gathering of more than 30 people may be committing a criminal offence.
Speaking to HuffPost UK, the 73-year-old climate change denier who set up controversial weather forecasting business Weather Action, confirmed the fine and the arrest.
He added: "There was no justification whatsoever for this fine. The order for my arrest appears to have come from on high, nothing to do with local police. When I asked the police, they said to me it came from on high."
When asked what he meant by "on high", Corbyn said: "Well who controls the Metropolitan Police? It was either the Greater London Authority or the government that indicated that me or somebody had to be arrested because they were clearly annoyed that we were getting so much success and publicity through the mainstream [media] such as [Russian state-backed media channel] Russia Today."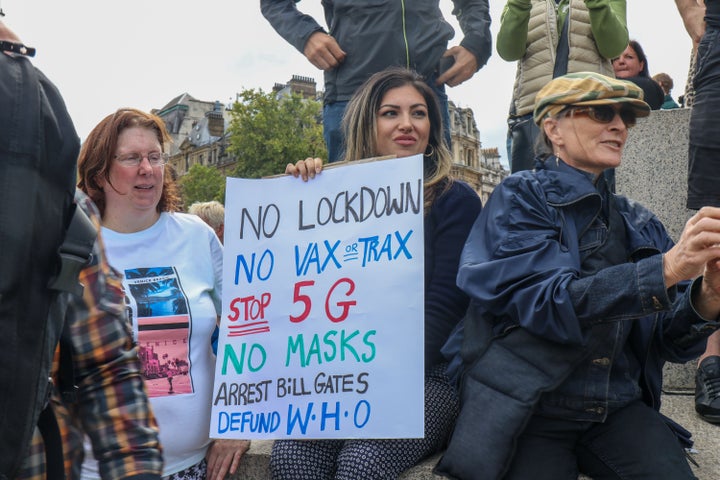 Corbyn also said he would be refusing to pay the fine, saying: "I don't have £10,000 but what will happen is they will send this fixed penalty notice demanding the money through the post and we then refuse to pay.
"Then they will chase us for the money so we'll have a court case or we appeal it and refuse to pay."
More than a thousand protesters are thought to have assembled in central London, describing the virus as a "hoax" and demanding restrictions are brought to an end.
Corbyn told HuffPost UK: "There is no justification in any terms for any of the anti-Covid measures. They are not to control Covid, they are there to control the population."
Face-coverings were near non-existent at the rally, with banners with slogans such as "masks are muzzles" and "stop 5G" – a reference to baseless links between the technology and coronavirus – on display.
On Saturday, the Metropolitan Police said a 73-year-old man had been arrested in Trafalgar Square at 3.25pm on suspicion of breaking the new Health Protection Regulations 2020.
He was informed on Sunday that a fixed penalty notice would be issued for £10,000 for the offence of holding a gathering of more than 30 people in an outdoor place, according to the force.
He has been released from custody, police added.