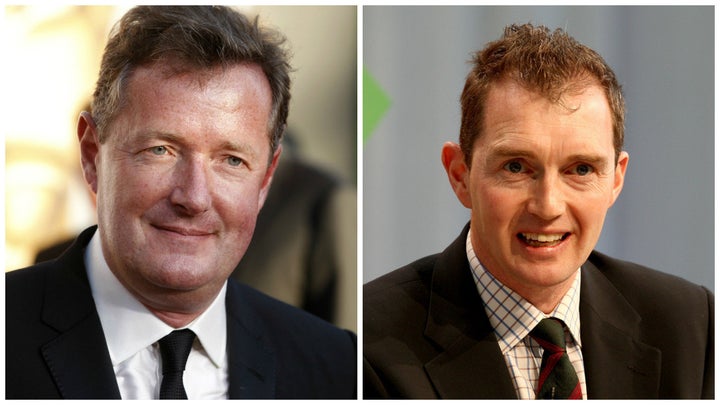 Piers Morgan has been accused of being "worse than a student on work experience on a regional hospital radio station" by a Tory MP who clashed with him over child refugees.
Backbencher David TC Davies clashed with Morgan on Good Morning Britain on Wednesday, after the Davies called for dental checks to confirm the ages of child refugees who looked like they might be older than they claim.
Amid a fiery exchange, Morgan told Davies he was "making a series of sneering, fatuous little points".
He said: "Who are you to decide that these very impoverished people who have been through an absolutely hellish time and are coming to this country in comparatively small numbers and your response is, 'urgh. I don't think they're the right age. Let's check their teeth'."
Now the MP has written to to ITV's director of news and current affairs Michael Jermey, complaining he was "subjected to an emotive monologue from Mr Morgan who refused me any opportunity to respond except for a brief moment at the end".
"I would have thought than a student on work experience on a regional hospital radio station would have done a far better job," Davies signed off his letter.
Davies said he was persuaded to go on the programme "on the basis I would get a fair chance to explain my viewpoint on a sensitive and complex issue".
He wrote: "I appreciate that Mr Morgan has strong views on the issue of refugees, which are doubtless shared by his many celebrity friends in London but in his role as the presenter of a morning news programme, surely should stick to asking questions and to giving people a chance to respond."
Morgan called it the "possibly most juvenile, pitiful thing I have ever seen from an elected official".
Gary Lineker, who has been castigated on Friday for his comments on child refugees, called Davies "your quintessential bully".
After their on-air spat, Morgan and Davies continued their exchange on Twitter after the Wednesday morning show, with Morgan telling Davies "shame on you".
Davies called him a "gobby overpaid TV celebrity who poses as a journalist" in response.