Piers Morgan is being lauded for giving Chris Grayling an "absolute slapping" over the Southern Rail strikes, labelling the Transport Secretary "completely impotent" in his handling of the long-running dispute.
The Good Morning Britain host accused Grayling of being "useless" for not stepping in to resolve the strikes and questioned the point of his position, given the MP said he was "powerless" to resolve the strikes which began Monday.
Grayling said he could not simply "wave a wand" to resolve the dispute which saw Aslef union workers walk out for 48 hours today. A further 24 hours strike is scheduled for Friday.
Around 300,000 passengers usually travel on 2,242 Southern services every weekday, according to the BBC, but they have been told there will be no trains on any route.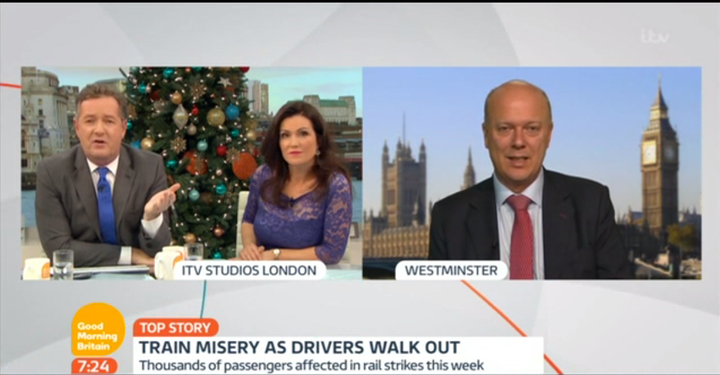 London Mayor Sadiq Khan used the strike to call for Southern Rail, along with Southeastern and Southwest trains, to come under control of Transport for London (TfL).
In a video on Twitter he told commuters they pay "too much for delays, cancellations and disruption. You deserve a better service."
Khan said Southern commuters had been "abandoned" by the Government and said since he came to power the number of days lost to strikes on the Underground had dropped by 92%.
The Mayor said that was because TfL engages with unions. An Underground strike also planned for this week was "thrown out" for this reason, he said
Khan urged commuters to write to Grayling and Prime Minister Theresa May, saying "together we can secure the decent and affordable commute you deserve."
In a later tweet Khan said he had offered to put a senior TfL team in "immediate control" of Southern Rail to end the "chaos for commuters".
Speaking on GMB, Morgan asked Grayling why he didn't sack the striking workers in the same way Ronald Reagan fired thousands of air traffic controllers in the 1980s when they were striking, to which he replied: "I don't have the power that 1980s America did to dismiss them all."
Grayling added: "Because the reality is we have to sort out the dispute so the trains run. Sacking all the drivers isn't going to make the trains run next week. We've got to resolve this dispute we've got to look very hard at how we make sure it can't happen again but right now my priority is to sort it.
"I do not have the power to order striking drivers back to work."
Morgan then hit back: "But you do have the power," adding: "That's not good enough."
Grayling said: "This is a private company and its own workforce and actually I don't have the power to sack them, I don't have the power to terminate contracts... I have to operate within the law."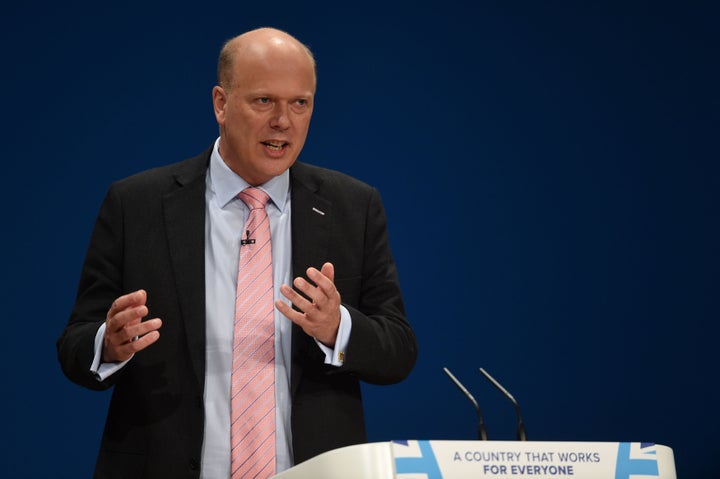 He added: "I cannot simply operate outside the law, however much I might be tempted to, however much people might want me to. Actually as the person who is not their employer, not the employer of the staff, I cannot simply wave a wand and end the dispute, believe me I would do it in a moment if I thought I could but I don't believe I can."
After GMB co-host Susanna Reid told Grayling that the issues with Southern Rail predated the strike action, and was a "management problem" he could resolve, Morgan interjected to label the MP "impotent" in his response to the dispute.
Morgan said: "The problem is your coming across as utterly powerless. What people want to know is, what are you gong to do about it? What's the point in having the brief you have if it renders you completely impotent?"
"I have to obey the law," Grayling replied, before Morgan fired another barb: "What more do they have to do to prove they're incompetent?.
Morgan's "grilling" of Grayling was applauded on social media where the journalist was thanked for holding the transport secretary to account.
Southern Rail passengers have suffered months of disruption in the dispute, which is about whose job it should be to open and close the train doors, but this is the first strike by Aslef drivers.
It will close most Southern routes although there will be a limited Gatwick Express service to and from London Victoria.
Members of the Aslef union are also due to walk out for six consecutive days in January.
Speaking on BBC Radio 4's Today programme this morning Grayling refused to rule out changing legislation so that the terms under which the Southern Rail strikes were held would be deemed illegal. He also refused to rule out removing its licence.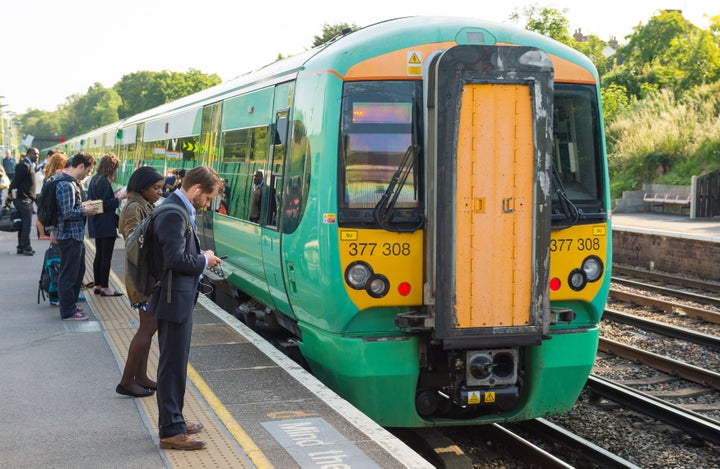 "There's a variety of things we need to work through and I'm not going to set out options today. I'm not ruling anything in, or out," he said.
Grayling said he had stayed out of negotiations until a week ago, when he wrote to Aslef "offering to meet them personally". He had also, on Sunday, made a "number of suggestions to Acas (which) they might offer to resolve the dispute" with Aslef.
He said Aslef had refused to meet with Acas.
Popular in the Community