Piers Morgan slammed Prince William for endorsing trophy hunting during a heated debate with a game hunter on Wednesday.
The former newspaper editor said he was "repulsed" by the multi-million pound industry and the "sickening" pictures that trophy hunters take with their prey.
The 51-year-old raised concerns that Britain's future king endorsed such an activity.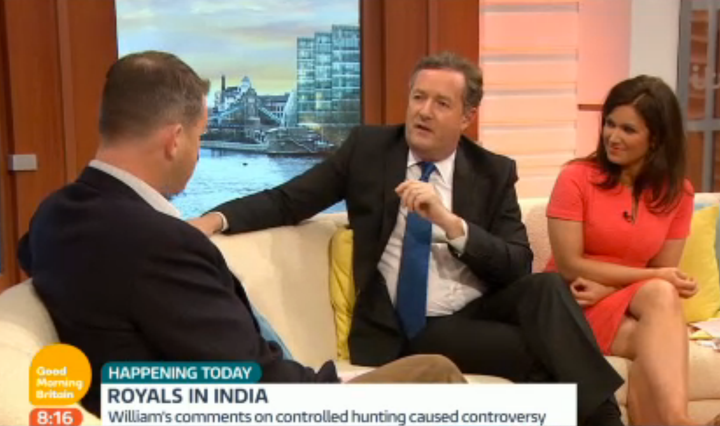 He said: "Let me talk about Cecil the Lion, for example, where they lured this old lion out of the reserve to an illegal area so this American called Walter, a dentist, could blast it dead and put it on his dental wall.
"Now I say that that is completely unacceptable and I don't like our future king, who is supposed to be so aligned to conservation and helping to save animals, actually endorsing that kind of trophy hunting."
Game hunter Diggory Hadoke, who was being interviewed on 'Good Morning Britain', accused Morgan of "stooping to tabloid language" and being unable to "get over" his "emotional distaste" for hunting.
Morgan clarified that trophy hunting was a "very different thing" to hunting.
The journalist said: "There are also far more humane ways of disposing of elderly or dying animals than letting some corporate American come over with his howitzer, blow his brains out and pose for a trophy picture."
The ITV programme showed a photo of Hadoke with a buffalo that he had shot and killed.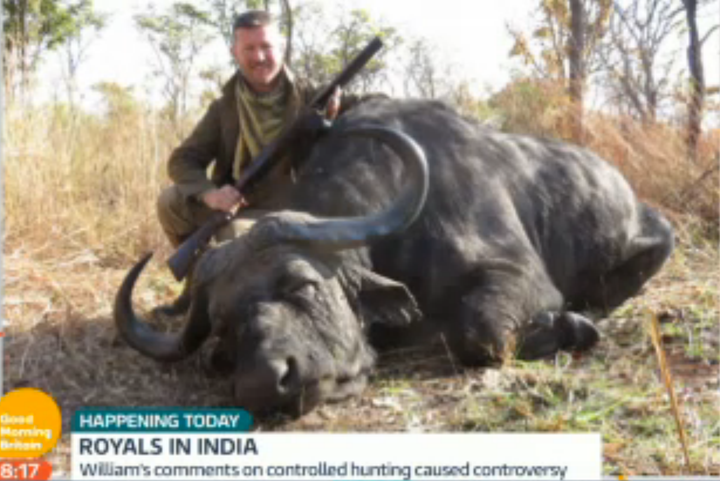 When asked why he would take pride in posing with the animal that he had killed, Hadoke said: "That was me going hunting.
"I looked my prey in the eye, I shot it, I ate it and I took a photograph.
"The photograph was a tiny part of me being on the ground, interacting with animals and the money that was paid by that paid for local jobs, it paid for the game scouts that accompany every hunt, which are looking to track down poachers and this is what is active conservation on the ground.
"And animals in those areas are far more prolific than they are in non-hunting areas."
Although the two ended the interview with a handshake, Morgan and Hadoke's spat continued after the segment was over.
Morgan apologised for not being "more offensive" during the interview.
While game hunter Hadoke criticsed the presenter being unable to have an "adult" discussion.
Morgan received a lot of support for his comments on social media.
While others supported Hadoke, pointing out that eating meat was no different than game hunting.
Morgan followed up the segment with a column in the Daily Mail criticising the Duke of Cambridge, who was photographed in India today feeding a baby rhino and an elephant calf at an Indian animal sanctuary.
He told ITV News: "It's not everyone's cup of tea…but if somebody out there wants to pay money – and it wouldn't be me – but if somebody did, then it is a justifiable means of conserving species that are under serious threat."