Jeremy Corbyn has accused the Government of a "corruption" of the so-called 'living wage' by adopting the name but paying workers less than what is "generally understood" to be enough.
The Labour leader adopted the position of campaigners who argue Chancellor George Osborne has attempted to trick voters with his National Living Wage, pay of at least £7.20 an hour for over-25s.
However, the 'living wage' is something different - a calculation of how much a full-time worker should be paid to support themselves and their family.
Experts think people living outside London need to earn £7.85 an hour to survive, and £9.15 an hour in the capital.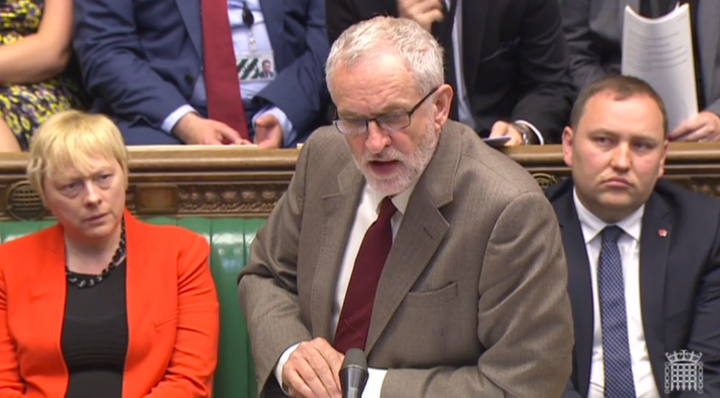 During Prime Minister's Questions, Corbyn attempted to pull David Cameron up when he championed the Government's interpretation of the principle, which was announced before the Budget last year and led to then Work and Pensions Secretary Iain Duncan Smith to punch the air.
The Labour leader said: "The National Minimum Wage was a Labour introduction. The National Living Wage proposed by his Chancellor is frankly a corruption of the very idea of it. It is not, in reality, a proper 'living wage'."
Cameron seemed to relish the opportunity to suggest Corbyn was opposed to the policy. He told MPs: "Let me pull him up on something. He's just described the National Living Wage as a 'corruption'. A £20 pay rise for some of the poorest people in our country.
"I really think he ought to get up and say he supports the National Living Wage, and thank the Government for introducing it."
Corbyn responded: "I support a pay rise, obviously. The point I am making is that it is not a 'living wage' as is generally understood."
The Living Wage Foundation has been campaigning for employers to pay a 'living wage' for 15 years.
This 'living wage' is voluntarily paid by some companies like HSBC, Google and Transport for London.
The Government's National Minimum Wage, introduced in April, is calculated based on median earnings - it ensures that everyone is being paid at least 55% of the median or average wage.
The Government also plans to raise this to at least 60% of median earnings by 2020 - meaning a rise to around £9 per hour by 2020.
Popular in the Community