Coronavirus has changed everything. Make sense of it all with the Waugh Zone, our evening politics briefing. Sign up now.
Ferry company P&O is attempting to cut essential workers' pay despite handing shareholders huge dividends and cashing in on the government's emergency coronavirus wages scheme.
The firm, which operates the Dover to Calais route and is owned by Dubai-based DP World, has also asked for a £150m government bailout to keep afloat, and has used UK funds to furlough some 1,400 workers.
Now the company has told stevedores and other key workers, who are transporting food and medical supplies into the UK during the lockdown, that they may have to take a 20% cut in pay and benefits.
A document from P&O's management seen by HuffPost UK and sent to the GMB union, which represents staff at Dover, tells staff the company is looking to cut £142m of costs by 20% – around £28m.
It says: "This must be found from wage costs, our operating model and the terms and conditions of employment."
Frank Macklin, regional organiser for the union, accused the firm of seizing on the crisis to make "opportunistic" cutbacks.
He says staff will lose pay and travel passes. The firm is also proposing that rights over redundancy and sick pay are stripped back.
P&O has said it needs £257m in aid to avoid collapse and has asked the government for £150m of that.
DP World also owns the ports of Southampton and the London Gateway, as well as numerous terminals around the world. It is reported to have made profits of more than £1bn on revenues of more than £6bn last year and a dividend of £270m is due to be paid to DP World shareholders this week.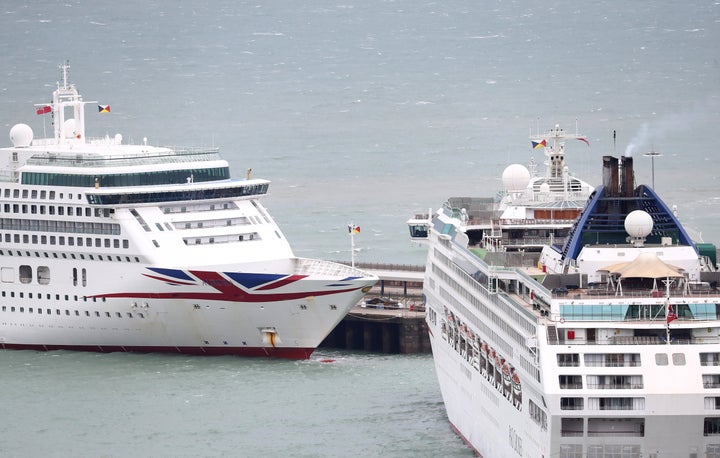 The firm has also confirmed in a Q&A document to union staff that it is pressing ahead with plans to purchase two new super-ferries in 2021 and bought up stores of fuel when the Covid-19 crisis saw oil prices plummet.
Labour and the GMB has said ministers should guarantee that staff pay is not cut as a condition of any bailout to DP World.
The document adds: "Trading conditions will not recover in the foreseeable future – and we urgently need your help to make the business flexible enough to be sustainable in the future.
"The reality is that the cash we have in the bank will only last a matter of weeks unless we take drastic action to save ourselves now."
It adds the company needs to move to "a resilient model to survive this crisis and beyond", saying any loan would have to be repaid and that "every facet of the business, from management to front line operational staff, is being reviewed".
"Ministers should be clear with the company that, if they are going to receive government support, dividends shouldn't be paid – and, crucially, that the pay and terms and conditions shouldn't be reduced"
Gareth Thomas, Labour MP for Harrow, urged the government to be cautious about handing the company money.
He said: "It's extraordinary that P&O's owners are seeking further government support when they are preparing to make huge cuts to the pay and conditions of essential workers, who are keeping food and medical supplies coming into the country to be distributed as soon as possible.
"Ministers should be clear with the company that, if they are going to receive government support, dividends shouldn't be paid – and, crucially, that the pay and terms and conditions shouldn't be reduced."
Macklin added the union, whose representatives are among the staff who have been furloughed, was "keeping a very close eye" on the consultation.
He added: "We take a very dim view of any company that wanted to make opportunist gains off the back of coronavirus to draw down the pay and conditions of good, hardworking, honest key workers.
"The GMB will take every measure that we can to protect our members' terms and conditions and pay.
"We are very disappointing with how the company is behaving and that they are not feeding the trade unions with any information whatsoever.
"We would like to know exactly what the conversations are taking place between the ferry industry and the government.
"The GMB believes that the government are not doing enough to protect the vital infrastructure and to keep these vital trade routes open at this time when we are reliant on ferry and haulage companies to bring food and urgent medical supplies into the country."
P&O has declined to comment on the document.
HuffPost UK has also contacted DP World for comment.
He said: "DP World has never taken a penny out of P&O. Any profits we have made we have reinvested in new vessels. DP World owns many businesses around the world. You cannot just take money out of them to put into a company in another place – it doesn't make sense."