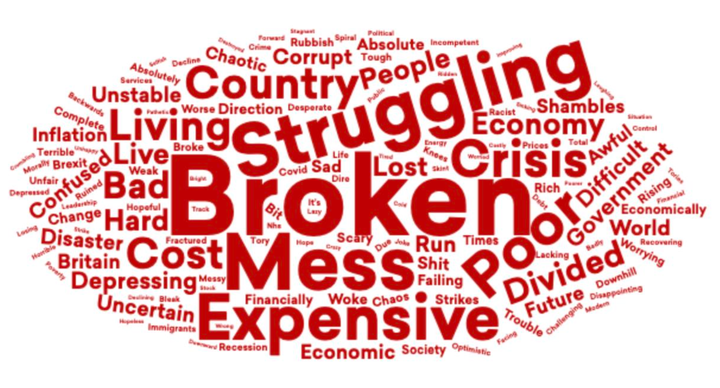 People across the UK view the country as "broken", a "mess", "expensive", "struggling" and in "crisis", according to a new poll.
A survey conducted for the The New Britain Project think-tank by More in Common and shared with HuffPost UK has captured the mood of the nation.
The poll asked 2,017 adults between 12 and 15 May to describe Britain in their own words. And the results were not positive.
Of the words picked, "broken" was the top choice, used by 162 people. In second place was "mess" with 118.
The first term rated as positive rather than negative was "rich", in 56th place with eleven people having chosen it.
Other popular choices included "divided", "depressing", "confused", "bad" and "shit".
The results prove uncomfortable reading for Rishi Sunak who has just over a year before he has to call a general election.
Sunak's seven months in office have been against the backdrop of soaring inflation and rolling strike action.
Labour has held a consistent poll lead for months and the results of the local elections earlier in May suggest Keir Starmer is on course to become prime minister.
The most recent YouGov poll showed Labour on 43%, ahead of the Conservatives on 25% and the Lib Dems on 12%.
The mass exodus of Conservatives includes former deputy prime minister Dominic Raab, former culture secretary Nadine Dorries and former chancellor Sajid Javid.