Pope Francis welcomed 12 Syrian refugees on board his charter plane after an emotional visit to the Greek island of Lesbos on Saturday.
The pontiff will take the refugees back to Italy from Lesbos, which has faced the brunt of Europe's migration crisis.
Some will see his actions as giving Europe a lesson in how to welcome refugees fleeing war-torn states.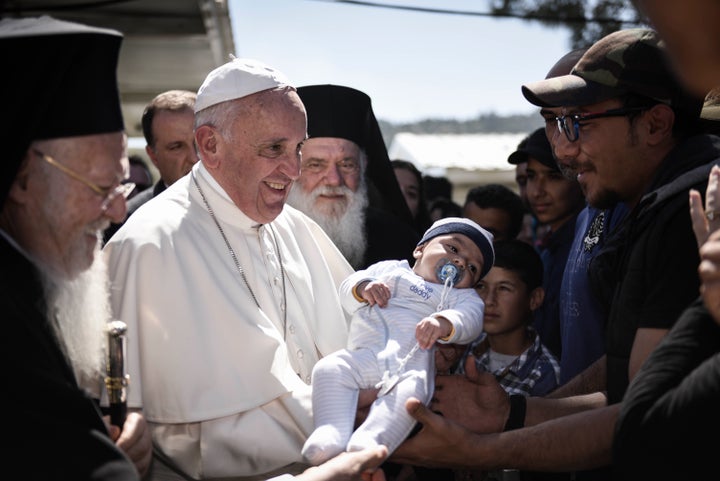 When the pontiff arrived refugees on the island fell to their knees and wept.
The Vatican said Pope Francis wanted to make a "gesture of welcome" at the end of his five-hour visit to Lesbos, where he implored Europe to respond to the migrant crisis on its shores "in a way that is worthy of our common humanity", the Associated Press reports.
The Greek island, which is just a few miles from the Turkish coast, has seen hundreds of thousands of people land on its beaches in the last year.
"Today I renew my heartfelt plea for responsibility and solidarity in the face of this tragic situation," Pope Francis said.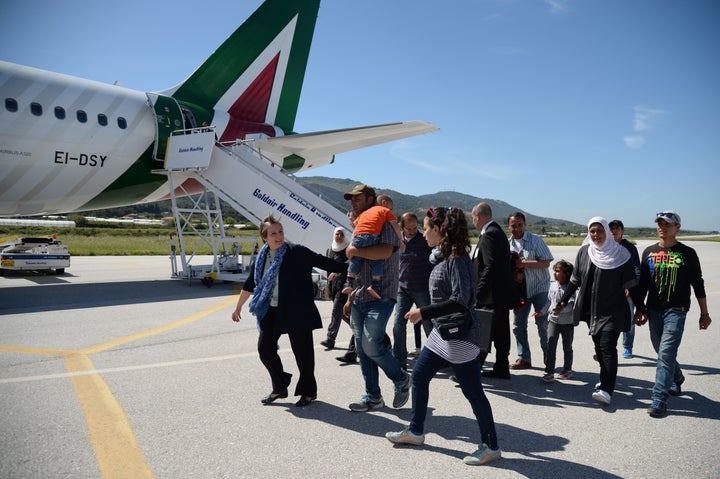 The European Union has implemented a controversial plan to deport refugees from Greece back to Turkey.
Many refugees wept at Pope Francis' feet as he and the two Orthodox leaders approached them at the Moria refugee detention center, where they greeted 250 people individually.
Others chanted "Freedom! Freedom!" as the religious leaders passed by.
The Vatican said the three Syrian families, including six children, who were taken back with Pope Francis will be supported by the Holy See and cared for initially by Italy's Catholic Sant'Egidio Community, which has been active in providing assistance to refugees.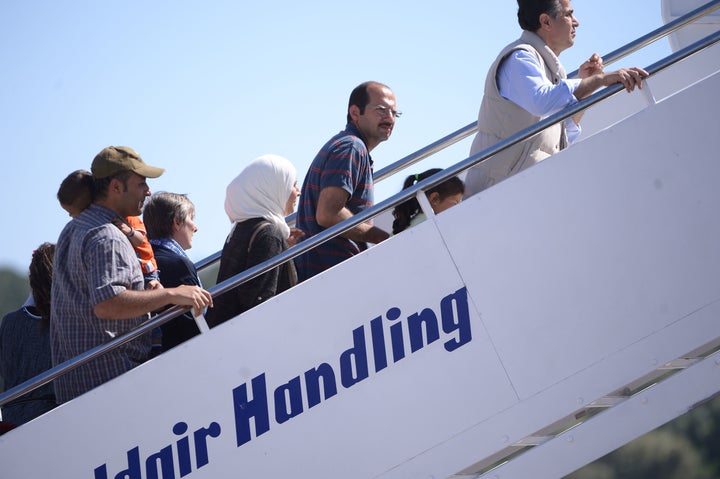 Two of the families come from Damascus and the third from Deir el-Zour, a city close to the Iraqi border that the self-proclaimed Islamic State group has been besieging for months, leading to malnutrition among 200,000 people living in the area.
"Their homes had been bombed," the Vatican said of the three families.
The pontiff said he understood Europe's concern about the recent migrant influx, but added that migrants are first of all human beings "who have faces, names and individual stories" and deserve to have their most basic human rights respected.
"God will repay this generosity," he promised.
In his remarks to the refugees, Francis said they should know that they are not alone and shouldn't lose hope.
"We hope that the world will heed these scenes of tragic and indeed desperate need, and respond in a way worthy of our common humanity," he said.
Human rights groups have denounced the EU-Turkey deportation deal as an abdication of Europe's obligation to grant protection to asylum-seekers.
The "one in, one out" policy will see a Syrian taken directly from Turkey for resettlement in European for every Syrian sent back from Turkey to Greece.
Making sure not to violate the deal, the Vatican said the 12 Syrians coming to Italy with the pope had been in Lesbos prior to March 20, and thus were not subject to possible deportation.