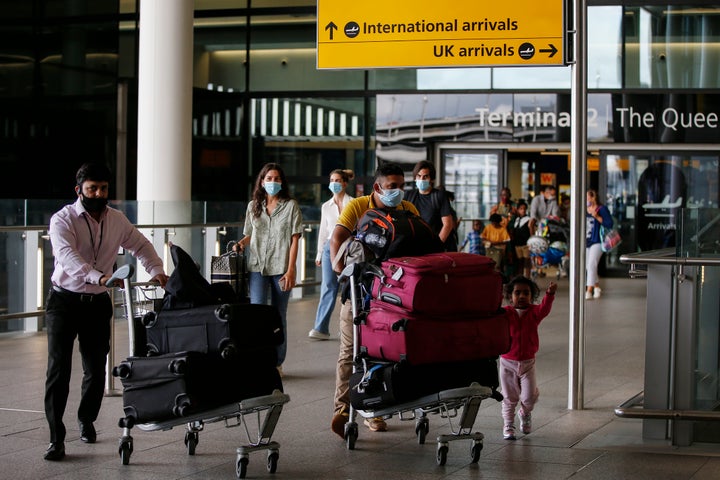 Holidaymakers returning to Wales from Portugal will have to quarantine for 14-days, the Welsh government has announced.
But the UK government decided to hold off introducing the same measures for people returning to England.
There were 23.0 coronavirus cases per 100,000 people in Portugal in the seven days to Wednesday, up from 15.3 a week earlier.
Welsh health minister Vaughan Gething announced on Thursday afternoon mainland Portugal has been added to the Welsh quarantine list, although the Azores and Madeira will remain exempt.
The Greek islands of Mykonos, Zakynthos, Lesvos, Paros and Antiparos and Crete have also been added, along with Gibraltar and French Polynesia.
The new regulations will come into force at 4am on Friday.
Shortly before the Welsh announcement, UK transport secretary Grant Shapps said there would be no changes to the current rules affecting people arriving in England.
"Nonetheless, holidaymakers are reminded 14-day quarantine countries can and do change at very short notice," he tweeted.
And pressure is mounting on Shapps to consider imposing quarantine rules on travellers arriving in England from Greece, amid reports of people returning with coronavirus.
The Scottish Government is already requiring travellers from Greece to self-isolate for 14 days.
Greece was seen as an early success story in dealing with the pandemic as it avoided the high death toll seen in other European countries.
But in early August the Greek government said it was "formally" experiencing a second wave as cases spiked.
Athens has insisted it is doing everything in its power to keep UK holidaymakers safe.
Greek tourism minister, Harry Theoharis, told BBC Radio 4's Today programme on Wednesday the country was "taking specific targeted measures where we see specific concentrations of cases".
"Measures that have been successful and have been working in the past few days," he said.
Many other holiday destinations popular with British tourists, including France and Spain, have also been axed from the list of countries that people can arrive in the UK from without having to quarantine for two weeks.