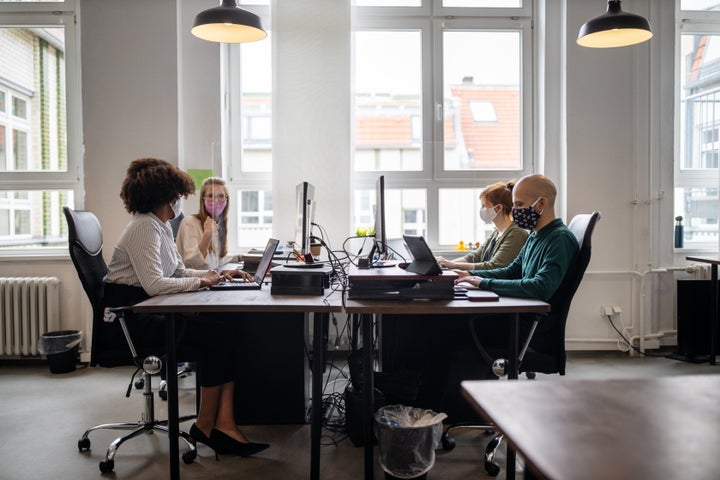 It's time for office workers to go back to work – and no doubt, we're beyond excited to see our "second family", engage in some "proper bants", then slope off early for a "cheeky afternoon in the sun".
That's according to a Dettol advert, anyway, which is causing quite the stir on Twitter. The ad, pictured at Euston tube station by a commuter, seems to assume there's a LOT we miss about the office – and it couldn't be more wrong.
"Hearing an alarm. Putting on a tie. Carrying a handbag. Caffeine-filled air," it opens confidently, rounding up some of those "little things" we're just thrilled to get back to.
Other things we've been missing, apparently, include "receptionists" and "those weird carpets" – as if human employees and office fixtures are one and the same.
Never mind that "taking a lift" and "face-to-face meetings" are a perilous business in this coronavirus age. Dettol gets to the point at the end of this inventory of office life, by reminding us to "disinfect surfaces we use throughout the day" and "Keep Protecting" – not the slogan we asked for, but clearly the slogan we're stuck with.
As you might imagine, Twitter has no truck with these "proper bants" we supposedly live for at work (of which this ad seems an egregious example).
In fact, people had issues with a lot of the list, to be honest.
Many also pointed out the striking similarities to the "Choose Life" speech from Trainspotting – and the thousand posters it spawned on student walls.
Even Trainspotting author Irvine Welsh got involved in the chatback.
Because the thing is, all the supposedly fun aspects of office life catalogued by this disinfectant brand are things we either don't miss (bants, buzzwords and meetings), things that most of us never did anyway (putting on a tie, carrying a handbag, taking the afternoon off) – or they're wholly inanimate objects like carpet and plastic plants. Anyway, back to the office we go. Or don't.
When HuffPost UK contacted Dettol UK for a comment in response to the reaction, they directed us to a tweet by the brand that reads: "More Londoners are on the move again. So we wanted to talk about the things we've missed. And the things we haven't. (And it's clear there are plenty of those!) Whatever you are on the move for. There are little things we can do to help protect each other."