More than 1,500 postal votes have gone missing in Plymouth, which includes the most marginal seat in the region.
The Tories held Plymouth Sutton and Devonport by just 500 votes in 2015 and now hundreds of people have reported not receiving their ballots ahead of Thursday's election.
Plymouth City Council on Tuesday night blamed a "computer problem"
and that it had so far re-issued more than 600 postal votes.
The council said in a statement:
"We have been urgently investigating a problem with some people who had applied for a postal vote not receiving their packs.

"It appears that a computer problem meant 1,510 people who applied for a postal vote did not receive their packs in the post.

"We are still investigating the cause and will find out what happened and why. Our priority is to make sure that anyone affected can place their vote.

"We are issuing replacement postal vote packs to anyone who has contacted us to say they have not received one and have so far issued more than 600. On Tuesday evening and first thing Wednesday morning we are delivering replacement postal vote packs to all those we have identified were missed out and have not yet contacted us."
It added:
"We are sorry for the confusion and any inconvenience caused by this problem. We will continue to do everything possible to ensure people who applied to vote by post can do so."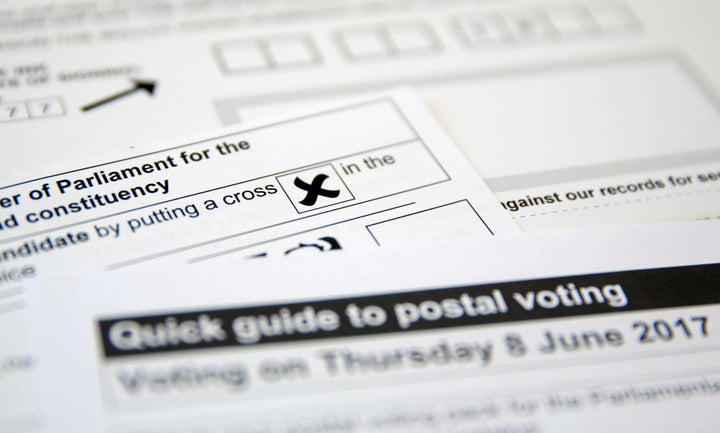 The BBC's Martyn Oates said: "In the case of Plymouth Sutton and Devonport, it's the most marginal seat in the South West and the Tories held onto it with just over 500 votes last time so, clearly, quite aside from the issue of people being entitled to vote and not being able to, in terms of political outcomes it could be quite significant."
The council's area also includes the constituency of Plymouth Moor View, another marginal the Tories won from Labour with just over 1,000 votes.
Leeds University student Georgia Valentine, 19, told The Plymouth Herald: "I applied for a postal vote well within the deadline.
"I was in the last batch of postal votes to be sent out. It was confirmed to have been sent last Wednesday first class but I haven't received it and have now come to learn that there has been a batch lost by Royal Mail last week.
"I rang the council more than 20 times and got no answer. Now they are closed and we are one day closer to the election, which I will not be able to vote in."
In a statement earlier in the day, the council said: "We have issued all postal vote packs in accordance with the regulations and this has been confirmed by our printers. However, we have been contacted by people who have not yet received their packs.
"We are urgently investigating this in conjunction with the Royal Mail."
The council has set up a polling booth at its offices and people who go to collect a replacement postal vote can cast their vote immediately,
Royal Mail has offered same day delivery of replacement ballots to anyone affected.
A Royal Mail spokeswoman told HuffPost UK: "We take our responsibility of delivering election information very seriously and are investigating this matter urgently.
"We are currently working closely with the council to organise specific deliveries so that the individuals affected receive their ballot packs as soon as possible."