Charities are urging women not to fear announcing their pregnancy before the 12 week scan, after Tessa Dunlop spoke out about how damaging the "firmly engrained silence" can be.
The BBC presenter revealed she had suffered a miscarriage when she was "more than three months pregnant".
"All too often beyond the congratulations of a new life conceived, procreation and fertility are subjects infected with accusation and shame," Dunlop wrote in a piece published in the Daily Mail on 3 September.
"The result is an unhelpful silence. Why is so little known about those women who have been in the labour room but come home without a baby?"
Dunlop continued: "And what of the one in five pregnancies which ends in early miscarriage? Where are those women?
"The firmly engrained silence during the challenging first three months of pregnancy ensures that many women suffer their loss alone."
Dunlop urged the public to "drop the old-fashioned taboos surrounding fertility" and many pregnancy charities agree with her.
Jane Brewin, CEO of Tommy's told The Huffington Post UK this taboo can lead women who experience miscarriage to feel like they have to shoulder the grief alone.
"Miscarriage is by far the biggest cause of pregnancy loss in the UK and is also the least understood," she said.
"Despite one in four pregnancies ending in miscarriage, the silence around the subject means that many women who have lost babies harbour unexpressed feelings of failure, isolation and guilt."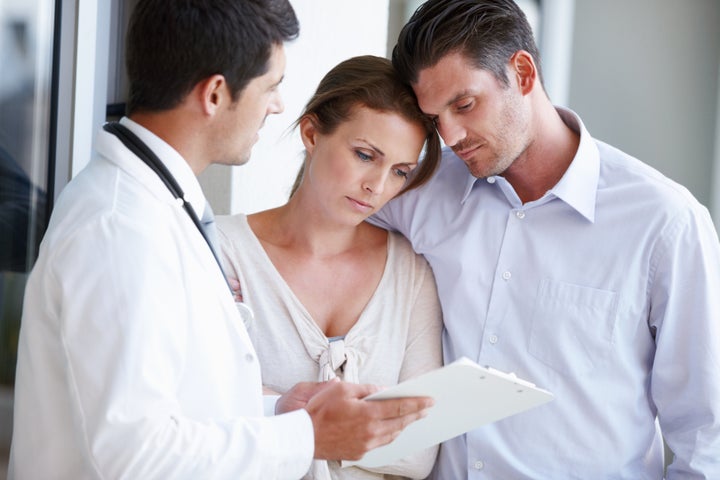 Ruth Bender Atik, national director of The Miscarriage Association offers reassurance that even if you do not feel comfortable announcing your pregnancy to friends or family during the first trimester, there is anonymous support available should you need it.
"It's understandable if women – and their partners – choose not to share their pregnancy news in the first 12 weeks or so," she said.
"They may be conscious of the risk of early miscarriage and prefer to wait until a healthy pregnancy is confirmed on scan. The downside is that if they do miscarry, they may miss out on the support and understanding that others could provide, and this might feel like a very lonely time.
"That's why the Miscarriage Association is here. We can offer support and information over the phone, by email or online – and it's anonymous and confidential. Nobody should have to go through miscarriage alone if they'd rather not."
Brewin added that in November 2015 a Tommy's poll of more than 6,000 women who had experienced miscarriage revealed that two thirds found it hard to talk about.
"Our nationwide #misCOURAGE campaign encourages mums, dads, families, friends and all those who have experienced miscarriage, directly or indirectly to speak up, share their experiences, show suppose and tell stories of losing a pregnancy," said Brewin
If you've experienced a miscarriage the Miscarriage Association and the NCT can put you in touch with others who have lost a baby. If you feel depressed for a long time following your miscarriage, the NCT advises you should ask your GP or hospital doctor to refer you to a counsellor.