Erica McClaugherty Swenson, from Denver, shared a picture of the incredible surprise gift she recieved as her co-workers sent her off on maternity leave.
The photo showed a baby's cot kitted out with pink bedding and ribbons, as well as a sign that read: "Thank heaven for little girls".
"Complete with a cosy couch for breastfeeding and pumping, my boss surprised me yesterday and it brought me to tears.
"This was during a surprise baby shower from my co-workers. So much love and support for this working mummy."
The mother tagged her video production company - Oswego Creative - in the Facebook post.
Erica Swenson (right) and her eldest son
Swenson's story, which was posted to Facebook on 22 April, has been hailed as "amazing" and "phenomenal" by her friends and family on social media.
"What an amazing company," one person wrote. "This needs to go viral so other businesses see how it should be done! Way to step up and stand out - you deserve it sis."
Another wrote: "Dude, this is literally amazing. You don't know what I would've done to have that for my two little peeps."
Swenson later posted a photo on Instagram, showing a wider view of the room she had been given at work.
"Can't wait to meet you little baby 💖 #36weeks," she wrote.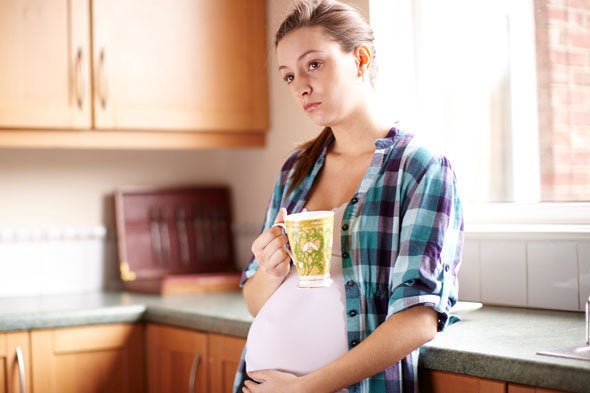 Pregnancy worries and words of comfort