Hostility towards the Labour Party in British newspapers during the general election campaign was more than twice as bad as it was in 2017, an audit of media coverage has revealed.
According to researchers at Loughborough University who analysed stories in 11 leading UK newspapers – including The Sun, The Times, The Telegraph, The Guardian, The Daily Mail and The Mirror – Labour accumulated very high levels of negative coverage during every week of the campaign.
This peaked during the last few days before the polls opened, the study found.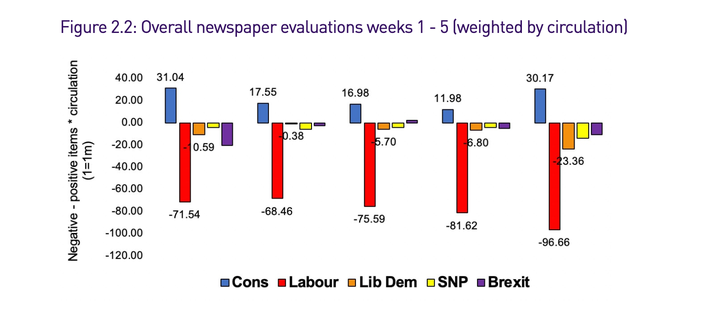 Researchers calculated how each political party fared in the press by scoring stories based on whether they could be considered positive, negative or neutral for the party.
The study found that negative newspaper coverage increased towards every opposition party in the week before the election, while negative coverage about the Conservatives halved.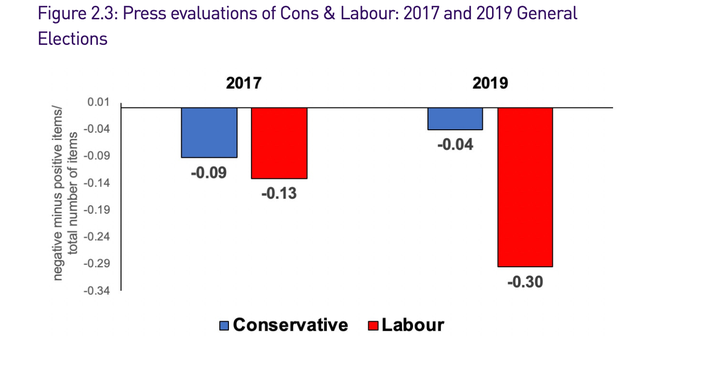 The study also looked at which politicians appeared the most on TV and in the press during the campaign.
According to the university's analysis, prime minister Boris Johnson was the most prominent campaigner, attracting almost a third of coverage (30.2%).
The ranking comes despite the fact that Johnson failed to appear in a number of leaders debates and controversially refused to be interviewed by the BBC's Andrew Neil.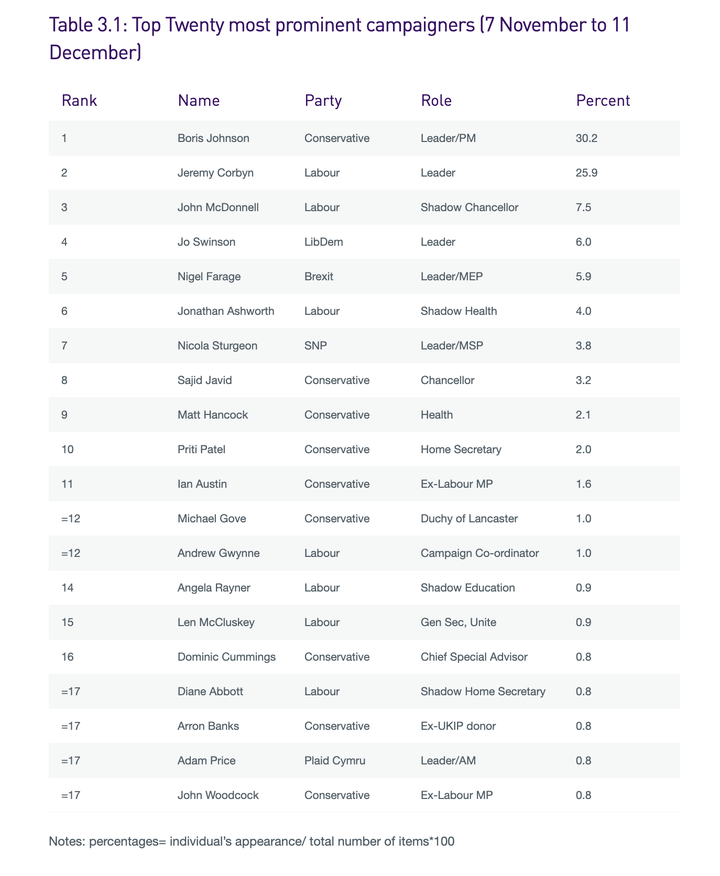 Jeremy Corbyn came in a close second (25.9%), followed by shadow chancellor John McDonnell (7.5%) and then-leader of the Lib Dems Jo Swinson (6%).
Brexit Party leader Nigel Farage came in fifth with 5.9% of coverage, despite the fact he was not standing in the election and his party had (and has) no MPs.
Nicola Sturgeon, leader of the SNP, came in seventh place with 3.8%. There were only five women in the entire top 20.
The DUP, meanwhile, despite having seven MPs and helping prop up the Conservative government in 2017, received just five mentions in thousands of pieces of news coverage. Neither Arlene Foster nor her party were invited to take part in UK-wide television debates, despite the fact smaller parties such as the Brexit Party were invited and empty-chaired if they refused to attend. Other regional parties – the SNP and Plaid Cymru – also took part.