Some children are falling so far behind with schoolwork due to repeated lockdowns, that they face moving to secondary school with just a Year 4 academic ability, one teacher has warned.
Severe differences in how children are being taught during the pandemic, along with the challenges brought by deprivation, are also creating widening gaps in education.
Most children's only lessons remain online, and with each week that passes the questions about how they will ever catch up to their expected academic benchmarks grow louder.
The government has launched the National Tutoring Programme in order to offer one-to-one support for struggling pupils, with ideas such as longer school days and shorter summer holidays recently touted in the media.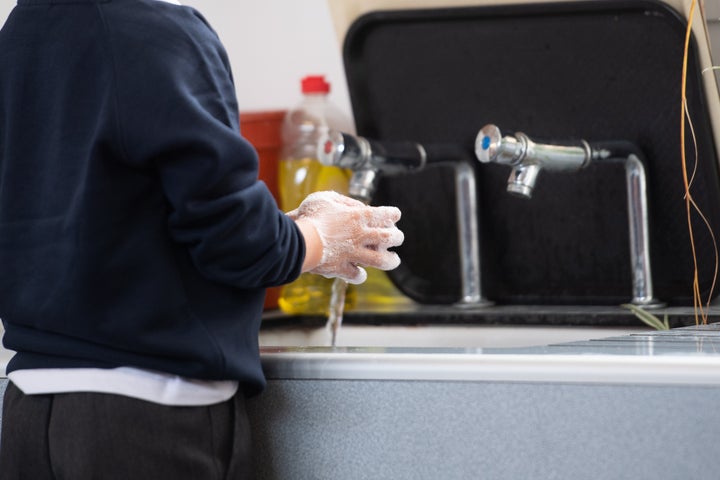 But teachers have told HuffPost UK that it's already impossible for many children to catch up as the government expects they should, and more emphasis should be placed on social activities and therapy to help pupils recover from the trauma of the Covid-19 crisis.
Kate Chisholm, a primary headteacher at one of the most deprived schools in the country in Darlington, said secondary schools would have to bring in a Year 6 curriculum for Year 7 and Year 8 students to plug the gap formed in lockdown.
"Some children going into Year 7 may have fallen back two years. If you imagine putting a Year 4 into a Year 7 – you wouldn't do that, would you?
"Secondary schools are going to have to think carefully about how they work with primary school."
"We're not going to be able to hothouse our children to get them to where they need to be, there aren't enough hours in the day and the way the developmental brain works means you cannot force more into a brain that it can take at any one time. "
A look at parenting forums and Facebook reveals just how disparate the provision in different schools for online lessons is right now.
"His mental health is being affected," one parent wrote. "I have emailed the school but no reply. Phoned but no reply (they have sent an email to say 'don't phone' to all parents: the answerphone was on whole of last lockdown."
"My child is in secondary school but the school are only delivering worksheets and powerpoints etc. during lockdown, which are unmarked," wrote another.
While some pupils are in three or four live lessons a day, others are relying on recorded classes, generic powerpoint presentations and work sheets, sparking a frenzy of discussion between parents on how their school compares with others across the country.
The situation for pupils varies widely between schools, with deprivation levels cited as a key factor by some teachers. For Peter King, headteacher at Mowden Infant and Junior Schools, the pandemic has actually brought about some positive change to some of their systems.
King, whose suburban school has "relatively low levels of deprivation" – also in Darlington – said the Year 6 pupils that moved into secondary school in September 2020 had "transitioned well". Junior schools in the local area have now developed a "more rounded format" to provide secondary with information as opposed to the usual SAT results.
"Some children going into Year 7 may have fallen back two years. If you imagine putting a Year 4 into a Year 7 – you wouldn't do that, would you?"
He said: "In our local authority, Darlington, for which I sit on the strategy group – a small number of heads and LA staff – we were very aware that children were moving up without test results information, for example.
"Therefore we agreed to a more detailed, more rounded format for information transfer to alleviate this. So behind the scenes, Covid actually led to a much better system, one where we had more detailed conversations. We liked it.
"The secondary schools did online, remote open days and so although the children couldn't visit in person beforehand, transition seemed to go well and has been reported on favourably this year as the children have settled in."
But for Kate Chisholm says, the government-led rhetoric of catching pupils up is a false promise.
Suggestions of extending the school day, shortening the summer holidays or bringing in an army of tutors is antithetical to the very way children learn, ignore the trauma young pupils have been put through during the crisis and could lead to major staffing issues.
"Children are children – there's going to be so much more to this recovery than whether or not they can remember stuff that's on an exam," she said.
"Trauma breeds different behaviours from people. Children will need time, not only to be in school and get that buoyancy back, they'll also need time to grieve what they've lost and get the therapy they need to cope with the reality of what's happened."
Chisholm also believes the government is "focusing on the wrong thing".
"Rather than focusing on where children might have been three years ago in the GCSE scheme of things, what they should do is find out what children have been taught and see what they can remember from that, or even more outrageously, maybe even get rid of GSCEs altogether because all children stay in education until they're 18 now anyway.
"They're throwing loads of soundbites out at the moment to see what society picks up on but what they need to do is give us, headteachers, the credibility that we know that what we're doing.
"Why don't they just trust the professionals? Give us time. Get the children back in, see what needs to be done, and stop trying to fix the problem before they know what the problem is. The best thing the government can do is look at schools like mine, which are always playing catch up because of the catchment they come from, and then try to replicate that across the country."
In a statement to HuffPost UK, the Department for Education (DfE) emphasised their focus on catching pupils up on the progress during the pandemic.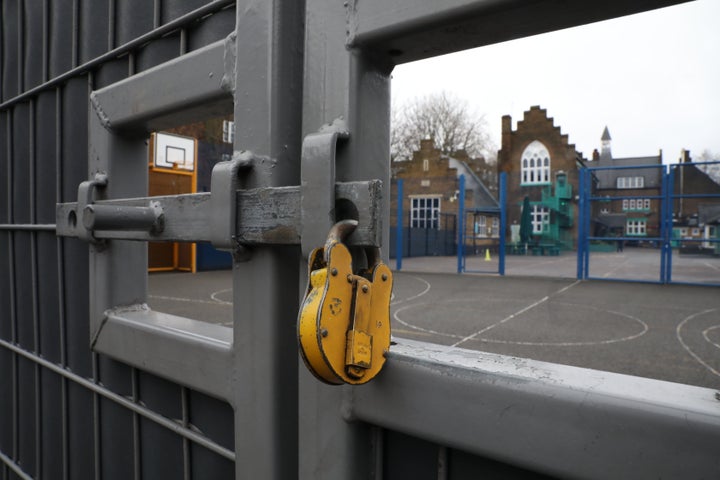 A spokesperson said: "We know the pandemic has had an impact on many children and young people's education and wellbeing. That's why we are working to fully reopen schools as soon as possible.
"We will invest a further £300m in tutoring programmes, building on the existing £1bn Covid Catch Up Fund, but the prime minister has been clear that extended schools closures have had a huge impact on pupils' education, which will take more than a year to make up.
"The government will work with parents, teachers and schools to develop a long-term plan to make sure pupils have the chance to make up their lost education over the course of this parliament – and we have just appointed Sir Kevan Collins to the role of education recovery commissioner, to specifically oversee this issue."
Simon Kidwell, head of Hartford Manor Primary School in Cheshire, told HuffPost UK that around 20% of their pupils were still in school, with more vulnerable pupils brought in to offset issues with accessing home learning.
While the school is working hard to address gaps in the curriculum, Kidwell said it was important to focus on the social opportunities being missed by pupils and the impact that could have on their development.
He said: "They came back in September and you could see there were some gaps in their learning, but we were able to address some of those gaps in the autumn term.
"The things we worry about across the school really is what they've missed out on socially, the fact that they've not been able to do their sports after school, or drama or singing clubs after school.
"I think it's just important that we focus on the whole-child development, whether it's early reading if you're six or you're 11 and you've got all those sports and enriching activities.
"With academic knowledge you can plug those gaps, but it's the social things you learn in primary school. I'd like to see the extra funding [provided by the government] used to address that as well."
For King, the progress gaps for pupils in his cohort are not as pronounced as they are in other schools.
He said: "The whole thing about children falling behind is very difficult to quantify. Academic gaps are difficult enough to measure at this age, and we found that children didn't return after the first lockdown with huge learning deficits in the main.
"We are ringing parents every day and keeping them on track, but parents are really struggling with persevering through these barriers.""
"Learning is a cyclical, revisited thing so very little gets completely lost. Social gaps are harder still to quantify. Again, it's only our experience, but we found that by trying to keep school as normal after the first lockdown, children quickly readjusted to being back in.
"Yes we had a couple of cases of anxiety but not impossibly so. A slightly more relaxed curriculum and the sharing of rationales for doing things a bit differently, and we found that children did alright. They were pleased to be back and because the north east had mini-lockdowns last term too, school was a nice place to go."
But for Chisholm, whose school sits within a severely deprived area of the same town, new laptops and up to five live lessons a day aren't enough to close the attainment gap for her pupils.
While around 100 children each day are still in school under provisions for vulnerable or key worker pupils, teachers are still calling struggling parents day in, day out, to help them deal with the strain of home learning.
"We really won't know what the impact of that online teaching will be until we actually get them all back in school and baseline them again, but there will be a gap – I have absolutely no doubt in that," said Chisholm.
"One of the main struggles we have from parents is they say they don't understand the work we're setting the children a lot of the time, and they're very wary of trying to give the children too much advice because they're frightened they're going to get it wrong for the kids.
"Without being disrespectful to our cohort, we've had lots of a parents telling us they can't get the kids to do what we're asking them to do.
"If they haven't got the greatest control of their children, as with around 60% of our cohort, we've got children accessing the work but on their terms. The parent's resilience to keep the children on track for a whole day of learning, I think they're finding that really difficult.
"If you're in a severe area of deprivation there are always factors like parental mental health, all sorts of things going on in the backgrounds, which is why children in deprived areas need to be in schools to get a different perspective on life that they wouldn't normally get."
She continued: "Parents are doing the best they can, but their levels of learning are quite a lot less than, say, parents in more affluent areas because of the place they find themselves in. A lot of my parents didn't finish school, and we have a proportion of parents who are completely illiterate.
"We've given them devices and packs of works, but it's a case of them saying 'I can't do it' and just cutting off. We are ringing parents every day and keeping them on track, but parents are really struggling with persevering through these barriers."
Dom Lee, a Year 6 teacher at a school in south London with a much higher number of pupils on free school meals than the national average, told HuffPost UK that issues with accessing laptops for the poorest pupils had continued into the most recent lockdown.
He said: "The biggest gap is in reading and writing, you could really see that. The online provision both in our school and across others was a bit more patchy in the first one.
"It's been quite stressful because the DfE's big push was towards live lessons, which our school has now moved to, but when they're sharing one device between maybe four children, there are still issues with children just getting on.
"A lot of our work at the start of this lockdown was just procuring laptops, as well as getting them online and communicating with parents. Some of our parents only had an old phone, which isn't ideal for any quality learning.
"Resources have been a problem too – we've had to open the school up and invite parents in to collect things like exercise books, pens and pencils, really the basic things you'd need to support online learning which our children just didn't have any access to."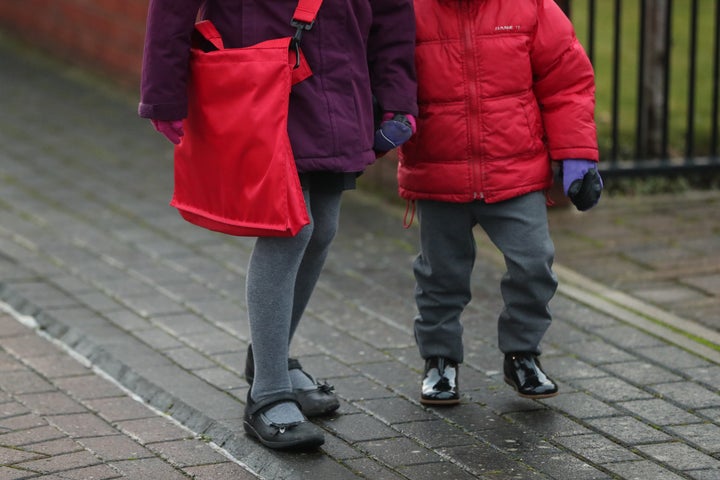 Meanwhile, James Bowen, director of policy at the National Association of Headteachers, points to a more holistic mode of recovery than suggested by the government, highlighting the ways in which different pupils have been impacted.
He said: "Whilst all children will have been affected by lockdown, we need to remember that they will have been affected in different ways and each to a different extent. It is for this reason we need to avoid superficially appealing, but overly simplistic short-term responses.
"Despite schools working tirelessly to provide remote education, we know that children's learning will have been disrupted as a result of multiple lockdowns. School leaders are equally concerned about the impact on pupils' social and emotional development.
"Rather than jumping to quick fixes focused purely on academic 'catch-up', we need to trust schools to put in place a long-term approach based on what they know about the needs of their pupils.
"None of this will be a quick or easy job. It will take a considerable long-term investment of time, money, energy and resources, which the government must recognise and provide. There already exists a wealth of knowledge within the profession about how to narrow achievement gaps. We need to draw on this expertise in order to come up with a sustainable, long-term plan."