The interview, which appeared in charity magazine CALMzine, follows his brother Prince Harry's landmark interview this weekend, where he revealed he sought counselling to come to terms with the death of their mother Diana, Princess of Wales.
William told CALMzine: "We will all go through tough times in our lives, but men especially feel the need to pretend that everything is OK, and that admitting this to their friends will make them appear weak. I can assure you this is actually a sign of strength."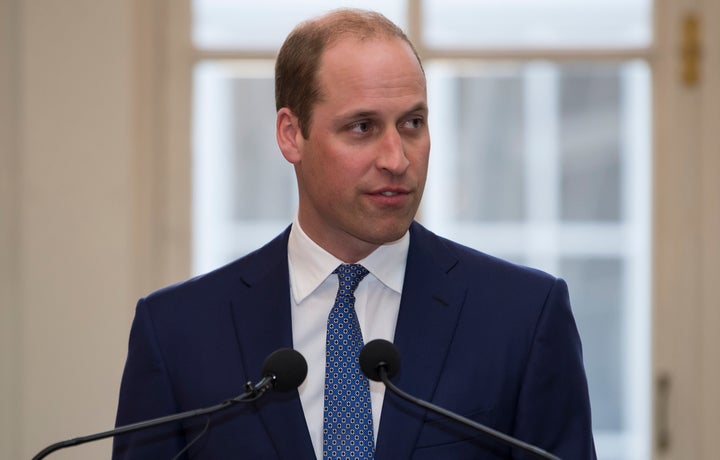 He praised other men in the public eye for speaking out about their mental health, including Professor Green, Andrew 'Freddie' Flintoff, Rio Ferdinand and Stormzy.
He added: "The recent interview by Stormzy about his depression was incredibly powerful and will help young men feel that it's a sign of strength to talk about and look after your mind as well as your body.
"There may be a time and a place for the 'stiff upper lip', but not at the expense of your health."
William and Harry were both interviewed exclusively for the magazine's 'Marathon Issue'ahead of the 2017 Virgin Money London Marathon, where the royal brothers will champion their campaign Heads Together, which brings together various charities working in mental health.
Suicide is the single biggest killer of men under 45, a statistic that William describes in the interview as "absolutely appalling".
CALM research also shows men are much less likely than women to talk to anyone about going through depression. Prince Harry explains that this is partly due to the fact that "men especially feel the need to pretend that everything is OK".
In the interview, William revealed his desire to end mental health stigma for future generations: "Catherine and I are clear we want both George and Charlotte to grow up feeling able to talk about their emotions and feelings.
"Over the past year we have visited a number of schools together where we have been amazed listening to children talk about some quite difficult subjects in a clear and emotionally articulate way, something most adults would struggle with.
"Seeing this has really given me hope things are changing and there is a generation coming up who find it normal to talk openly about emotions."