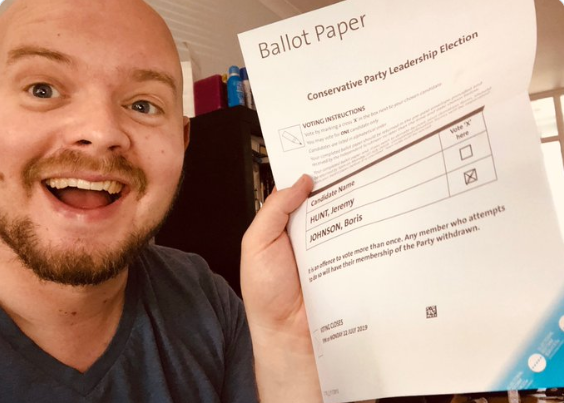 Home Secretary Priti Patel's top aide was escorted from a Commons bar by police, HuffPost UK has been told.
James Starkie, the minister's special advisor and chief of staff, was asked to leave Strangers bar in Westminster amid claims he was swearing at other patrons and causing a disturbance.
Witnesses told HuffPost UK the ex-Vote Leave press officer appeared to have been drinking and had been calling people "c****s" and saying they should "f*** off".
One witness claimed that when cops turned up Starkie, who also worked on Foreign Secretary Dominic Raab's failed leadership campaign, got angry and punched the door.
He was then escorted from the parliamentary estate by security staff.
It comes as the Conservatives put a zero tolerance stance on law and order at the heart of their general election campaign.
The witness said: "He kept saying 'I haven't done anything wrong, I haven't done anything wrong' when he was asked him to leave.
"Then another drinker said 'yes, you have, you keep calling everyone a c*** and it isn't acceptable'.
"It was then that he punched the door. There was about ten police officers waiting outside for him."
Police at the scene confirmed to HuffPost UK that police told a man to leave the bar popular with MPs and Westminster staff.
He is believed to have apologised to the bar staff before leaving and it is understood he would have been happy to say sorry to others offended in the bar.
A spokesman for parliament said: "We can confirm there was an incident with an individual in Strangers bar. The individual was asked to leave, and was escorted from the estate by parliamentary security."