Thousands of pro-EU supporters have marched to Parliament where they are chanting anti-Brexit slogans after gathering in London's Trafalgar Square where a scheduled rally was earlier cancelled.
Pictures emerged on social media soon after 6pm showing crowds of people holding pro-EU banners aloft at Trafalgar Square despite steady showers. Hours later they were seen chanting pro-EU slogans at Westminster.
More than 50,000 people had been expected to attend the London Stays rally which aimed to show the world that "London stands with Europe".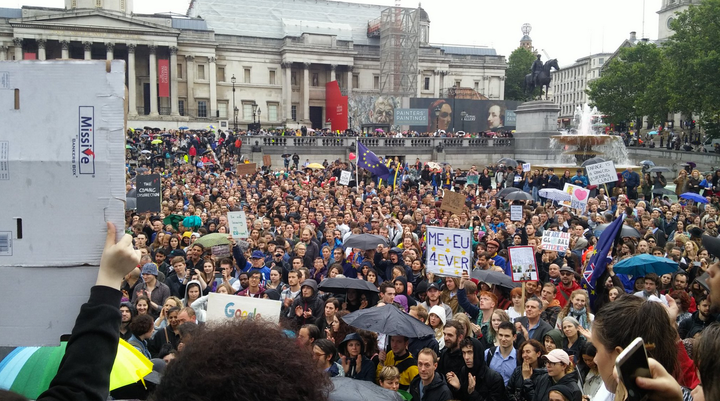 Organisers however, later cancelled the event citing safety concerns.
According to the Evening Standard, City Hall said the protest had been blocked because the number of people who were planning to attend exceeded Trafalgar Square's safe limit by 40,000.
A Facebook post from the group said: "It started with the idea of bring 20 friends together in London Fields Park in east London, and now we have over 50,000 people who want to stand together in London.
"We've tried all we can to ensure this could go ahead. However logistically it's not possible to ensure a safe event.
"Trafalgar Square can hold 10,000 people – and that's with security barriers, stewards, road closures, and a full contingency plan.
"Considering the speed with which this event has picked up, arranging everything required in time is simply not possible.
"Given this, with a heavy heart, it's too dangerous for the attendees for the event to go ahead."
Organiser Jessica Rodgers added that the group were considering ideas for future pro-Remain events.