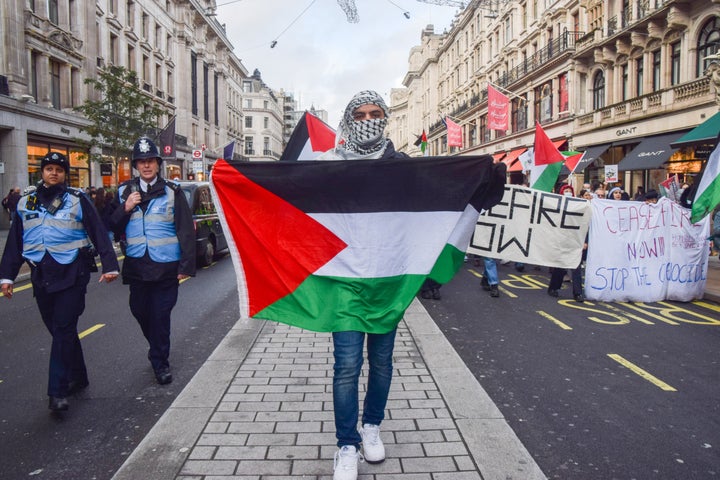 The pro-Palestinian protest scheduled to take place this Saturday has triggered significant backlash from the government, and warnings from police – but could anyone actually ban the march?
What is the march for?
Tel Aviv immediately declared war in response, putting the Hamas-run Palestinian territory of Gaza under complete siege, launching a series of air strikes following by a ground invasion.
Demonstrators have been protesting against the war in Israel and in favour of a ceasefire all around the world since the conflict began a year ago.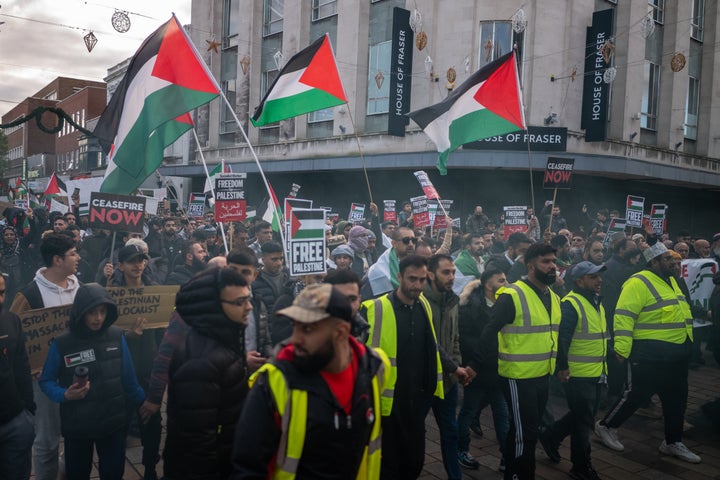 Why is this particular protest controversial?
While this is far from the first UK march calling for a ceasefire, this one is proving to be controversial because it is scheduled to go ahead at the weekend, during Armistice Day.
There have been some arrests at each London march, but police have described them as "largely peaceful".
Home secretary Suella Braverman has also slammed some of the protest chants, including "jihad jihad" and "from the river to the sea, Palestine will be free", which she denounces as antisemitic. Organisers claim they are calls for liberation, not for further violence.
More than 70,000 people are expected to attend the weekend's demonstration in central London, when veterans will be gathering at the Cenotaph to honour those who fought for Britain and died.
That's why the government has been discouraging this particular protest, with PM Rishi Sunak claiming it would be "provocative" and "disrespectful" to hold it on November 11.
The Metropolitan Police's Deputy assistant commissioner Ade Adelekan, who leads public order policing in London, also released a statement about the marches on Monday, saying: "The risk of violence and disorder linked to breakaway groups is growing.
"This is of concern ahead of a significant and busy weekend in the capital.
"Our message to organisers is clear: please, we ask you to urgently reconsider. It is not appropriate to hold any protests in London this weekend."
Braverman responded to the Met's statement, backing the officers. She said: "The hate marchers need to understand that decent British people have had enough of these displays of thuggish intimidation and extremism."
How have the protesters responded to the backlash?
Protesters had already promised to avoid the Whitehall area, near the Cenotaph, and pointed out that the protest is not currently scheduled to start until 12.45pm – almost two hours after the traditional two-minute's silence for the war dead.
So Palestine Solidarity Campaign criticised the Met's statement when it came out.
The group said it was "deeply concerned" by the force's comment, and claimed it was "categorically not true that the police told us it was not appropriate to protest this week."
In a statement signed by five other campaign groups, it added: "The idea that it is acceptable for Israel to keep bombing and killing Palestinians in Gaza, including over 4,000 children, but not for people to protest peacefully against these crimes is grotesque."
Who has the power to stop the march?
Legally, a march can be banned under Section 13 of the Public Order Act 1986, which permits the banning of a procession when there is a risk of "serious public disorder, serious criminal damage or serious disruption to the life of the community".
It's down the Metropolitan Police to prove there is enough of a risk of a disorder before officers go to the home secretary to sign off on such a ban.
It's only been used once in modern history, to stop the English Defence League marching in Tower Hamlets, London, in 2011.
Section 12 of the Public Order Act shows the same elements could be introducing for public processions – for instance, restricting the route or stopping it taking place in an area.
Then, there's the Police Crime and Sentencing Act 2022, which is another route officers could use to clamp down on protesters. It meant prison sentences for anyone caught damaging memorials or statues were increased to 10 years, or they could be charged a maximum £5,000 fine.
The Public Order Act 2023 also means officers can also prevent protesters who appear to be "locking on," or "tunnelling".
More than 100 people have already been arrested since the protests began a– 26 under the Public Order, and Anti-social Behaviour, Crime and Policing Act.
But, how likely is a ban?
Well, the government won't force the matter, as it is not in their hands.
Braverman has said she doesn't want to "undermine" the policing process – as the force is operational independence of the government – although Sunak has reminded police they have powers to "ensure protests do not disrupt Remembrance activity".
And, in reply to the prime minister last week, Metropolitan Police commissioner Sir Mark Rowley did not make any promises to stop it at all.
He said: "Officers recognise the profound importance of remembrance events and are committed to playing their role, as they do each year, to ensure they take place without disruption and that our communities can pay their respects."
An official ban would not necessarily stop a protest taking place, either. Groups could still informally gather.
The Met is already currently planning to put more than 1,600 officers on duty for Saturday.