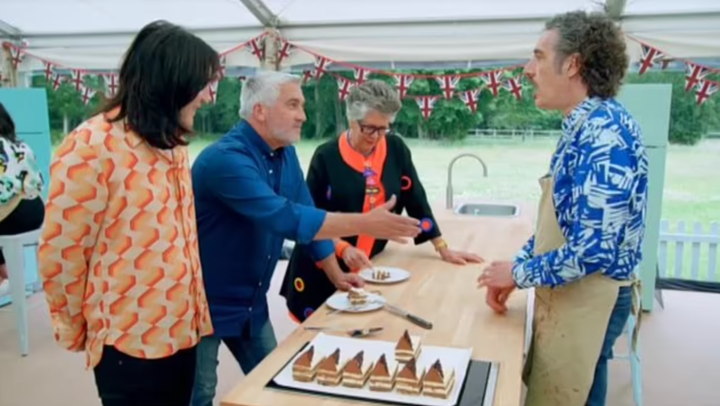 Warning: this article contains spoilers for the GBBO 2021 semi-final.
It was a heart-wrenching moment when Jürgen Krauss, possibly the best-loved contestant in Great British Bake Off history, presented his semi-final signature bake to the judges.
Paul Hollywood declared "I like it, but I don't love it" and declined to give Jürgen one of his famed "Hollywood handshakes", when the other three contestants each received one.
Jürgen looked towards Prue for redemption and thankfully, she loved the bake. But alas, it seems her opinion wasn't enough.
"It's a pity I'm not the one who gives out handshakes," lamented Prue – while women watching the TV screamed in unison: "Why not!?"
Paul's handshakes started as a bit of fun, where, back in the Mary Berry days of season three, he whipped out his palm to congratulate contestant Ryan Chong for some stellar sweet dough.
But the shakes have since morphed into something so much more – a symbol of success that's almost as coveted as the "star baker" title.
In what was a close-knit episode – with the contestants almost impossible to separate – many on social media have speculated that Paul's lack of handshake was the final nail in the coffin for Jürgen, who was voted off ahead of the final.
Women have also questiond why Paul's handshake holds so much power – and suggested it's just another example of a man's opinion being held in higher esteem than a woman's.
Of course, we mustn't forget that this is a light-hearted baking show, and the contestants clearly do adore being recognised for their hard work with Hollywood's extended hand.
Still, the unequal power dynamic between Paul and Prue is increasingly hard to ignore – and reminds us of every time an experienced woman has been overlooked in the workplace in favour of a confident man.
We'd like to petition for Prue to have her own handshake – the 'Prue Pat', as some on social media have called it. Or, as others have suggested, she could bestow her signature necklace on successful bakers like a medal, instead.
Now, that's a prize we'd truly appreciate.