The "R-rate" of Covid-19 has jumped again to between 1.3 and 1.6, the government's scientific advisers have found.
The reproduction number, or R value, tracks coronavirus transmission across the UK, with any value above 1.0 indicating that the pandemic is growing.
Last week, the R number was between 1.2 and 1.5.
An number between 1.3 and 1.6 means that "on average every 10 people infected will infect between 13 and 16 other people".
The Scientific Advisory Group for Emergencies (SAGE) growth rate of the virus is between 5% and 9%.
A spokesman said it is "highly likely" the virus was still growing exponentially, adding: "While there are some early indications suggesting that the growth of the epidemic might be slowing, SAGE urges caution and believes it is too early to draw firm conclusions.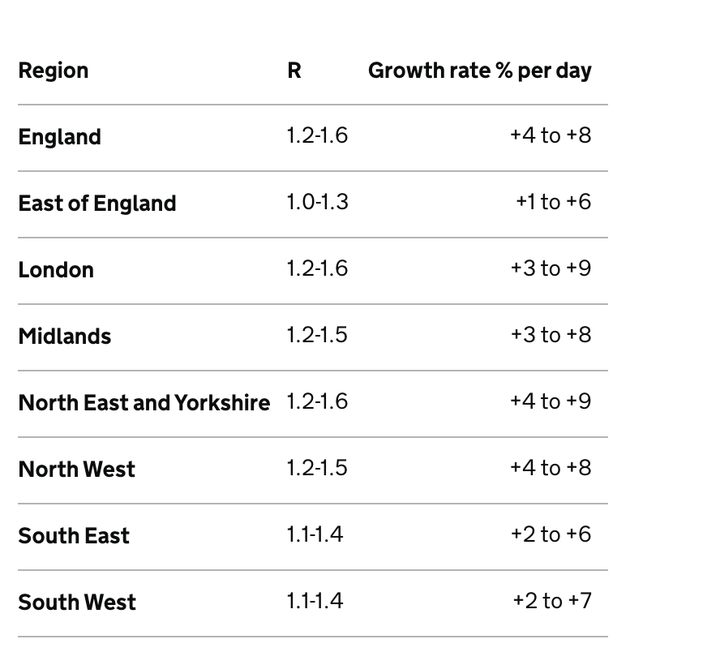 "More data are needed to accurately assess any recent changes in transmission and it is still highly likely that the epidemic is growing exponentially across the country."
The R value is estimated to be at its highest, and as high as 1.6, in the North East and London, followed closely by the North West.
"Over the next few weeks, it will be important that we understand this in the UK and do not become complacent," the spokesman for SAGE added.
It comes as Boris Johnson imposed more restrictions this week to tackle the virus, with a third of the UK population now under some form of lockdown.