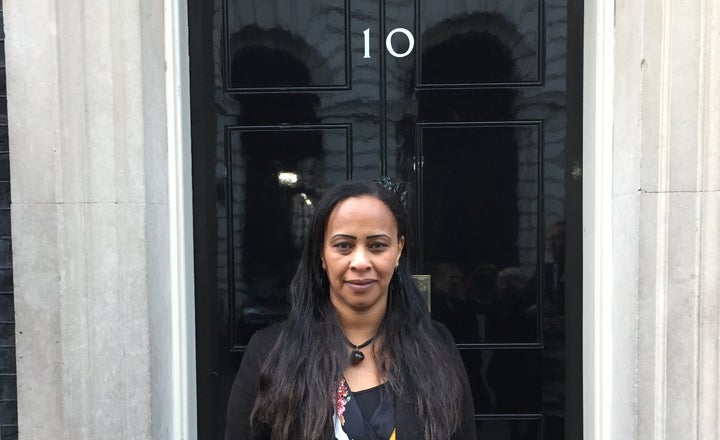 When I arrived at the door of Number 10 Downing Street, ready for an event hosted by the Prime Minister, I felt proud of myself.
I felt I was there to represent all the people who come to the UK seeking safety, who want a chance to rebuild their lives and contribute to a country they now call home.
The event was held to celebrate the work of the Jo Cox Loneliness Commission, which was set up to tackle loneliness and social isolation, highlighting the experiences of groups including new parents, children, older people, disabled people and refugees.
I met the Prime Minister, Theresa May, with Stephen Hale, chief executive of the charity Refugee Action. We spoke to her about the importance of making English lessons accessible for all refugees and people seeking asylum. Supporting people to learn English is vital to combatting loneliness and isolation, and unlocking refugees' potential to work and volunteer.
When I saw the Prime Minister, I had the voices of many refugee women that I have worked with going through my head. I felt an overwhelming sense of responsibility to express the hopes and dreams of those who cannot easily express themselves yet.
"I had hoped she would give all refugees the chance to learn English so they can start to rebuild their lives and fully contribute to life in Britain."
They cannot express themselves because they don't speak English. And this is exactly why I was there. I explained to the Prime Minister that refugees feel learning English is key to communicating, to working and contributing positively to their community. Mrs May agreed. She said that learning English in this country is a very important thing.
I had hoped she would give all refugees the chance to learn English so they can start to rebuild their lives and fully contribute to life in Britain.
I was working as a lawyer before I fled my home country Sudan. When I arrived to the UK six years ago, I spoke some English but I needed to improve my language in order to get a post-graduate degree in UK law. I spent two whole years trying to access English for speakers of other languages (ESOL) classes at a local college, but I failed. I felt frustrated, but I was determined not to give up and began to teach myself, for my sake and for the sake of my four children.
Because of this, I feel it is important for me to help others, especially women, by standing up for their rights.
I run a group for Sudanese women in Leeds, some are refugees and others are seeking asylum. The majority do not speak English and have no access to ESOL lessons. They are vulnerable, they are strangers to this country and most of them have children they need to support.
At the group, we hold conversational English lessons through volunteers to help women feel more confident. We try to help them access information about services, including health, education and benefits. We also try to help them manage their day-to-day chores, such as paying bills and communicating with their children's schools, that have become such a burden to these women simply because they don't speak the language.
A lot of the women say they do not want to leave the house because it is so hard for them. Sometimes, they cannot even do their own shopping or help their children with their homework. Some say they feel so ashamed they don't speak the language that they avoid going to their children's school and meeting their teachers. Many end up isolating themselves in inadvertently.
But they all have great aspirations and dreams. They want to study, get jobs, become independent and make friends. Many have good qualifications and they are clever people, but because they can't speak the language, they end up living in poverty and on benefits instead. This crushes their self-esteem.
If they are given a chance to learn English, they will be able to give back to this country, through paying their taxes and sharing their expertise. Refugees have a lot to offer society. It is their right to learn the language.
Studying English closes the gap between 'us' and 'them' – it connects people and breaks many barriers. It can help refugees achieve many things.
Refugees have been forced to flee their own countries due to war and persecution, coming here offers them hope for a new start and a better life. I say to the Government, give them a chance to thrive - let refugees learn.