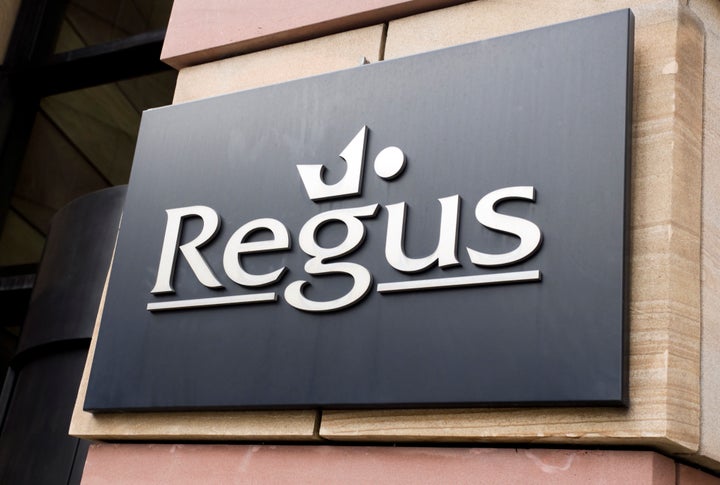 Workspace provider Regus has been accused of placing employees' health at risk by making them attend work even as UK authorities battle to contain the coronavirus outbreak.
Regus, a global office space provider owned by International Workplace Group (IWG), has been asking employees to report to work in offices which have been deserted by clients responding to national lockdown.
In a letter circulated to employees dated March 24, the company stated: "This letter is to confirm that IWG team members are still needed to report to work.
"As a global organisation, we service a considerable volume and breadth of customers across our network of over 3,000 business centres, many of which operate services that are considered an essential business."
On Wednesday, the Trades Union Congress (TUC) called on the government to take further steps to protect workers who are still going into work.
Unions are concerned that many workers who can't work from home are being exposed to unnecessary Covid-19 risk because their employers are not putting adequate safety measures in place, it has emerged.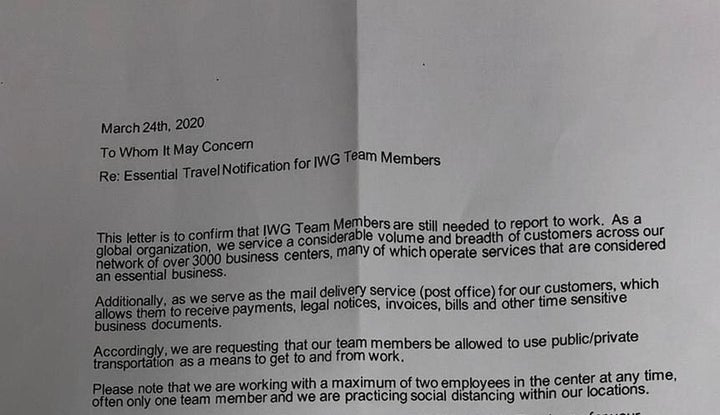 It comes days after HuffPost UK reported that the organisation had come under fire for charging rent on deserted offices to start-up businesses that had shut in line with government guidance, sparking concerns that it was putting "profit before welfare" amid a global health crisis.
While critics of Regus argue that it is a "non-essential" business and should close, a company spokesperson pointed out office spaces had not been listed in the government guidance on businesses that should cease operating.
One current employee, though, told HuffPost UK: "We're not an essential service. We have maybe three or four essential spaces in London with an ambulance service in one, post office in another, those kinds of key workers in some – but that's not the whole network. We don't need a centre manager in every single one of those offices.
"It's ridiculous." There are 124 Regus offices in London.
In an astonishing email circulated to clients, seen by HuffPost UK, a representative of the global firm encouraged remaining workers in one office space to make the most of the empty car park in light of a number of businesses working remotely.
They wrote: "A lot of clients are working from home so we are quite quiet at the moment. The car park is practically empty! Make the most of it, when this is all over I'm sure it'll once again be impossible to park!"
The email signs off with the line "look after yourselves" giving rise to fears that Regus is approaching the coronavirus in a cavalier manner that is unbecoming of a corporate entity.
When asked about this, an IWG spokesperson told HuffPost UK that the email was not approved and believed to have been sent by a junior team member who was "trying to be helpful".
Social media is awash with what appear to be complaints from disgruntled clients and staff members alike.
Just days ago, a group claiming to be employees created an online pressure group – called Regus Employees – claiming they have been "forced to work and risk their lives despite not being 'key workers'."
An IWG employee, who has asked to be anonymous, told HuffPost UK that morale is low among staff members and poor treatment is part of the workspace firm's culture.
"It's known that we are treated badly but after you've worked a company of Regus' stature for a little while, you can go and work anywhere," the employee said.
"All of these recent stories about Regus don't surprise anybody. Everybody who works for Regus thinks it's completely normal behaviour for the company because this is how they operate."
The employee claimed a colleague was being made to go to work even though there was no one else in the office and they were the only person on the premises.
"The person has to get on public transport every day, go into the office that's empty, go home again – risking their health in the process," the team member added.
The frustrated worker, who plans to leave Regus in the near future, also described scenarios in which other staff members are being advised to take unpaid leave or holiday if they wish to quarantine.
"Everybody's in a position where they know how ruthless Regus is and many people won't talk because they're scared of losing their job – which is a normal occurrence on a daily basis, not just this coronavirus thing.
"Pretty much on a daily basis you're made to feel that your job is on the line if you don't comply with whatever they feel like telling you to comply with. That's just how it is."
With this said, the employee is not optimistic that speaking out will bring about accountability for the company.
"It won't put a dent in their reputation because people still need offices and WeWork – it is a main competitor – has not got the capacity that Regus has. This will not make a difference whatsoever.
"But I would say that this is a new low for them."
The IWG spokesperson said: "We are sorry to hear of any employee who does not feel happy at the company and would encourage them to raise any concerns via their line manager or our Employee Assistance Programme.
"We have over 12,000 employees globally and they are our greatest asset. We are so proud of all their efforts during these very difficult times."
In correspondence seen by HuffPost UK last week, Regus informed a customer that its current priority is "ensuring continuity of service wherever possible including meeting our obligations to our landlords", adding: "Therefore is it is important that we do not have a gap in payments during this time."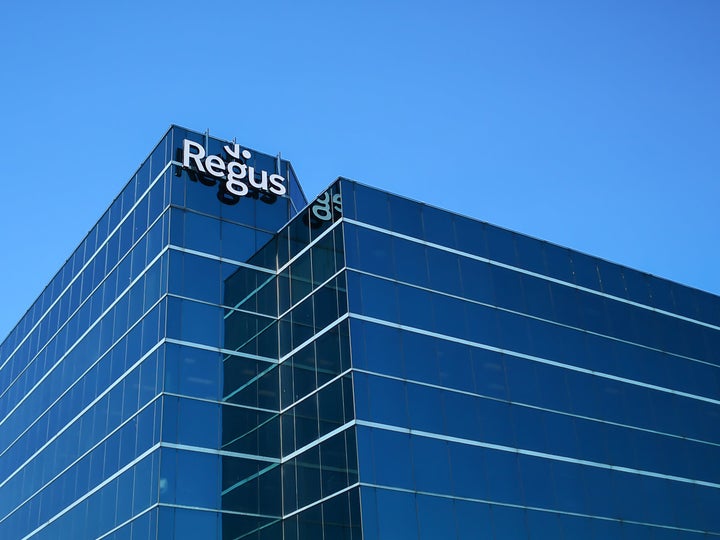 Following our report about clients' disgruntlement with Regus' ongoing rent charges published last week, HuffPost UK understands that the organisation has since changed its policy and is now offering 50% off the next two months' rent if customers agree to add three months onto the end of their leases.
Reacting to this move, a client told HuffPost UK that Regus is "using a global health crisis as a sales technique".
Meanwhile, the organisation has also caved in to pressure to furlough some of its own employees. Prior to this, it was alleged that the company had been forcing those who are most at risk of contracting coronavirus to attend work.
HuffPost UK heard details of a heavily pregnant employee who was told she had to work from one of Regus's offices despite her job being possible to do from home.
It was said she is having to bring her maternity leave forward to avoid going into the office.
Another case involved a man who suffered from asthma, and lived with several underlying health conditions, allegedly being asked to work.
A spokesperson said: "we are not forcing anyone to work from our locations and have communicated extensively to our teams that, should they have any conditions that put them in the high-risk category, they should stay at home."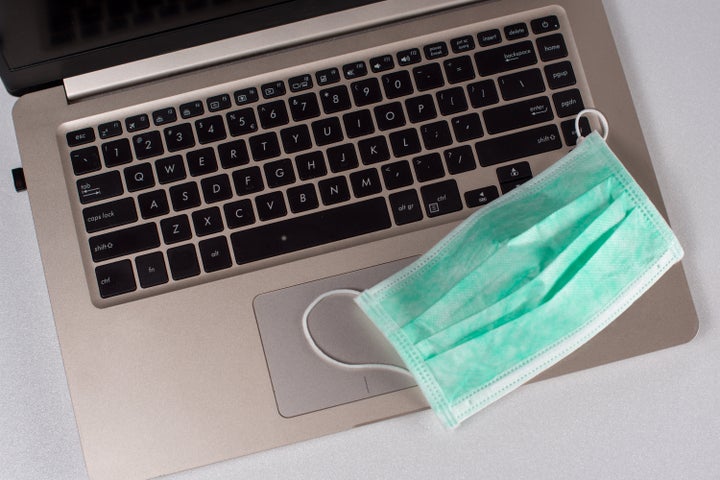 In correspondence seen by HuffPost UK, the workspace firm refused to ramp up its hygiene efforts, suggesting this measure would not make a difference to the transmission of Covid–19.
"Reminder: standard cleaning on a day to day basis will not be upgraded or enhanced. This does not prevent the spread of Covid-19," it read.
Deep cleans will only be carried out in offices where there has been a confirmed case of coronavirus, the company also advised.
"Several weeks ago, at the beginning of the outbreak, we set out a number of additional measures to ensure the safety of our customers and team members. For instance, we asked all our teams to increase cleaning in the centres and bulk ordered as many additional supplies as we possibly could," a spokesperson said.
The prime minister put Britain on lockdown on March 23 as he outlined strict new measures to curb the spread of Covid-19, ordering people only to leave the house for a few specific reasons.
An IWG spokesperson claimed the company was not "forcing" anyone to work from its locations – but a small number of team members have instead volunteered to do so.
"We are not forcing anyone to work from our locations," the spokesperson told HuffPost UK.
"We do have a small number of team members who have volunteered to enter our locations for essential services only, such as mail forwarding, telecoms and internet maintenance.
"These services are vital for our customers who are working from home."
The spokesperson added that working team members are entitled to a £350 stipend to their monthly salaries, so that they don't have to take public transport to work.
"We remain committed to serving our customers and their businesses in the safest and most considerate way possible during these challenging times. We do so with their, and our employees', health and wellbeing as our highest priority."