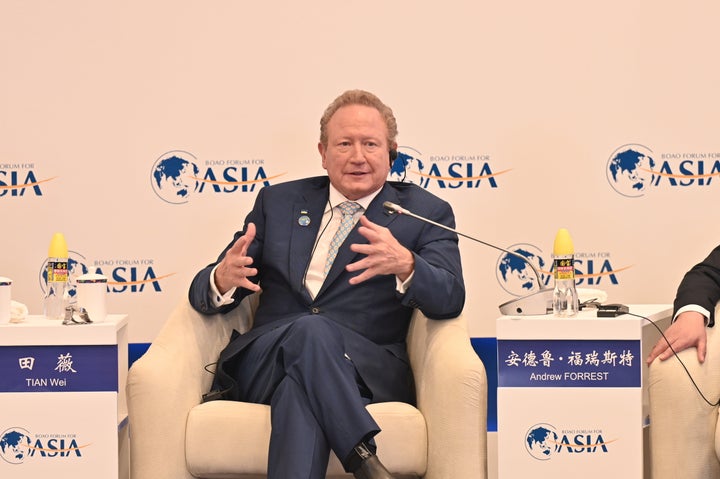 An Australian billionaire has threatened to take his money out of the UK after accusing Rishi Sunak of "denying global warming".
Andrew Forrest, a major investor in green technologies, accused the prime minister of being on a "clickbait cycle" after the government announced it was issuing hundreds of new licenses to drill for oil and gas in the North Sea.
The PM said the move would make the UK less reliant on importing energy from abroad, and insisted it would not prevent the government from achieving net zero by 2050.
Sunak also announced that the government was backing a carbon capture scheme (CCS) to help it hit its green targets.
Responding to the announcements, Forrest told Politico: "I'm investing hundreds of millions of pounds in Britain to build up your technology and to build up your expertise.
"That's at the cutting edge of battery technology, battery intelligence, everything the world needs which will make Britain relevant."
But he added: "I cannot invest in a country which is basically denying global warming and putting its faith in a failed 'wait for the next idiot to come along' solution called CCS."
In a separate interview with Bloomberg, Forrest said: "If I see this country steering itself over a cliff backing fossil fuel, I'm going to start pulling out.
"I'll push my investments over to north America. I'll of course say the same thing to other countries. I must invest where I know I have proper leadership, not leadership which is on a clickbait cycle."
He accused the PM of being "on the wrong side of history" and said the Conservatives would be punished at the next general election.
But speaking in Aberdeenshire this morning, Sunak defended the government's plans.
He said: "It's really important for everybody to recognise that even in 2050 when we are at net zero, it is forecast that around a quarter of our energy needs will still come from oil and gas.
"What is important is that we get that oil and gas in the best possible way and that means getting it from here at home – better for our energy security, better for jobs but also better for the climate because if we're going to need it, it's far better to have it here at home rather than from halfway round the world."