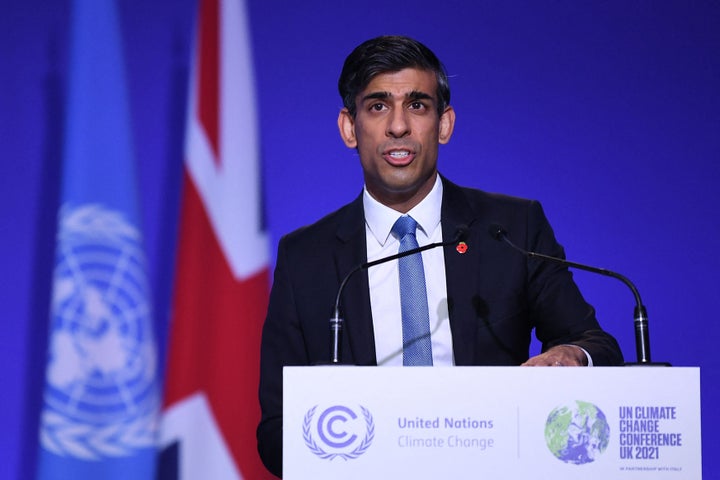 Rishi Sunak appeared unable to answer questions put to him by youth climate activists while he was on his way to a photo call at COP26 on Wednesday – he then reportedly banned the youths from his talk, according to the protesters.
In a clip posted on Twitter by climate activist Fatima-Zahra Ibrahim, a protester can be seen walking alongside the chancellor as he approaches the photoshoot area.
They repeatedly ask: "Can you let me know why you're giving tax breaks to fossil fuel companies?"
Sunak briefly claims, "we're not...we've stopped with the..." but his words become incomprehensible and he soon carries on walking in silence.
She went on to claim: "Not only did he refuse to answer us, he then banned us – the only young people in the room – from his talk.
"Is he that scared of young people asking him questions?"
In his March 2021 budget, Sunak also announced a "super deduction" tax relief measure which means companies which invest in certain capital assets would be able to cut their tax bill – a gesture widely seen as a tax cut to fossil fuel companies.
Another person was heard towards the end of the social media video pointing out: "There's not much in that suitcase is there? Where's the climate finance Rishi?"
The chancellor's plans to use finance to help reduce CO2 emissions have already been criticised.
Sunak took centre stage on Wednesday when he announced 450 firms would be aligning themselves with the Paris Agreement, meaning they would do what they could to ensure the climate increases by only 1.5 degrees Celsius.
In his speech, the chancellor said that the UK would "go further and become the first net zero aligned financial centre", so financial institutions would have to publish plans explaining how they would decarbonise.
However, these 450 companies – which control around 40% of global assets, totalling $130 trillion (£95 trillion) – are all part of the Glasgow Financial Alliance for Net Zero which sets its own rules on what counts as net zero.
The chancellor has not introduced any mandatory net-zero commitments or a ban on investments in carbon intensive activities.