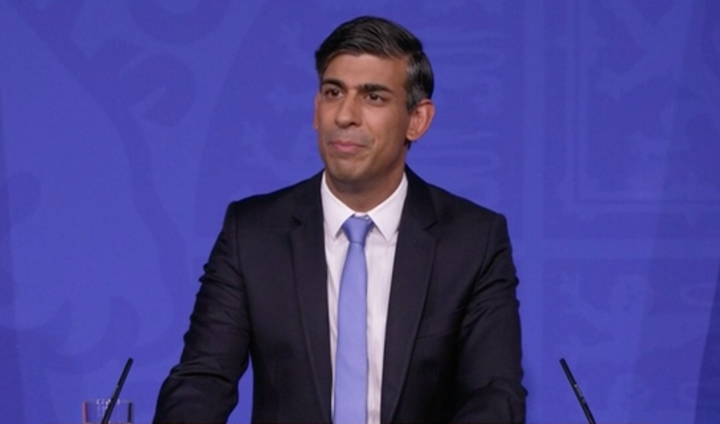 Rishi Sunak has confirmed he will weaken policies designed to tackle climate change, despite an outcry from several senior Tories.
Speaking at a hastily arranged press conference on Wednesday afternoon, the prime minister said the current plans imposed "unacceptable" costs on people.
The ban on the sale of new petrol and diesel cars, which was due to begin in 2030, will be pushed back to 2035.
And the transition from gas boilers to heat pumps in homes will be postponed until 2035 and will not be compulsory.
Sunak said while he was committed to achieving net zero by 2050, there needed to be a more "pragmatic, proportionate and realistic" approach.
"It cannot be right for Westminster to impose such significant costs on working people," he said.
"If we continue down this path we risk losing the consent of the British people and the resulting backlash would not just be against specific policies but against the wider mission itself."
The decision to water down green targets has angered many Tories, including Boris Johnson.
The former prime minister warned Sunak that businesses need "certainty about our net zero commitments".
"We cannot afford to falter now or in any way lose our ambition for this country," the former prime minister said in a statement.
Lord Goldsmith said Sunak was wrong if he thought voters wanted "environmental destruction" and demanded an general election "now".
Car giant Ford also hit out at Sunak for the decision to push back the ban on new petrol cars.
"Our business needs three things from the UK government, ambition, commitment, and consistency," the company's UK chief Lisa Brankin said.
News of the plan by Downing Street to leaked to the BBC on Tuesday evening, forcing Sunak to bring forward the announcement to today.
Sunak began a review of the government's green policies after opposition to the expansion of London's Ulez zone was credited with the Tory victory at the Uxbridge by-election.