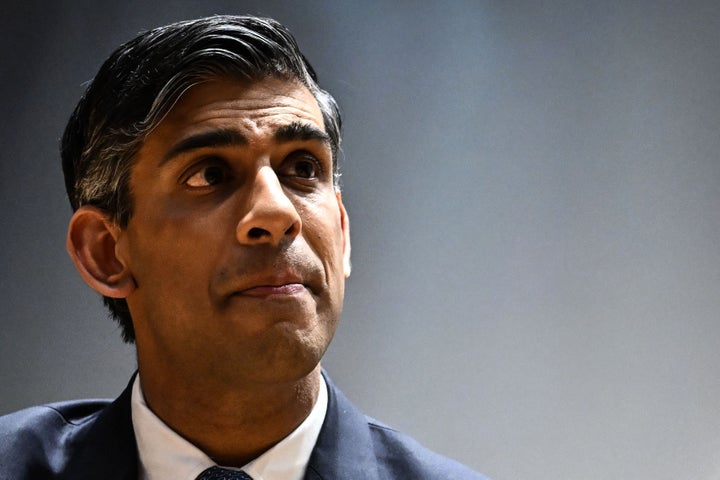 Rishi Sunak is failing on the five key pledges he made to voters at the start of the year, according to a new poll.
The Ipsos UK survey of more than 2,000 voters showed the public believes Keir Starmer would be doing a better job if he was in Downing Street.
In January, the prime minister said his government would halve inflation, cut NHS waiting lists, grow the economy, cut national debt and stop the small boats carrying asylum seekers across the Channel.
Since then, NHS waiting lists have hit a record high, inflation remains higher than predicted, the economy continues to flatline and the small boat are still crossing from France.
The poll found that more than half of people think the government is doing a bad job on almost all those priorities.
In a further blow for the PM, it also found that the public tended to think Sunak was doing a worse job on the areas that were most important to them.
The public's top priority, according to the poll, was easing the cost of living, with 59% listing it as important, followed by ensuring people can get NHS treatment more quickly on 54% and reducing NHS waiting lists on 51%.
Some 60% said the government was doing a bad job on easing the cost of living, while 62% thought it was not delivering on cutting waiting lists.
On growing the economy, 50% said the government was doing a bad job.
And on each of Sunak's priorities, the public was more likely to think a Labour government would do a better job than the Tories.
The findings were revealed as Sunak prepares to give an update on the progress the government is making on stopping the boats.
Ipsos director of politics Keiran Pedley said: "There is not a lot of good news in these numbers for the prime minister. Of his five pledges, the public tend to think his Government are doing worst in the areas that are most important to them.
"Meanwhile, when asked about the next general election, the public tend to prefer outcomes resulting in a Labour government.
"Rishi Sunak will hope his government can make significant progress in his key policy pledges as the year progresses, in order to give the Conservatives a chance to turn their political fortunes around."