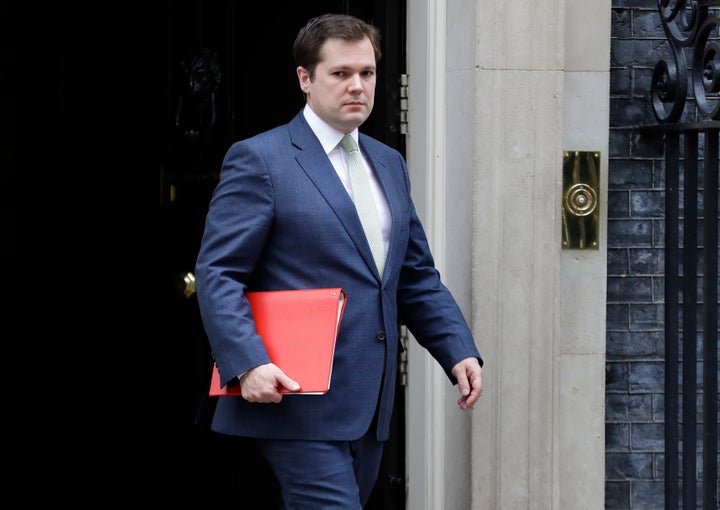 Coronavirus has changed everything. Make sense of it all with the Waugh Zone, our evening politics briefing. Sign up now.
Housing secretary Robert Jenrick has dodged questions from MPs over his decision to "unlawfully" approve a £1bn housing scheme linked to Tory donor Richard Desmond.
As first reported by the Daily Mail on Wednesday, figures from the Electoral Commission revealed Desmond gave the Tories £12,000 two weeks after Jenrick approved the scheme.
But an attempt to force Jenrick to explain his actions to parliament today failed when he avoided Labour's demand that he answer questions in the Commons.
Jenrick instead sent Chris Pincher, a junior minister in the ministry of housing, communities and local government, to face MPs.
Steve Reed, Labour's shadow communities secretary, demanded " full transparency" from Jenrick and asked why he had avoided the grilling.
It was previously revealed Jenrick gave the green lightto the project just weeks after he was lobbied by Desmond at a Conservative Party fundraising dinner.
The Mail on Sunday reported that Desmond sat next to Jenrick at the bash in November last year.
Pincher told MPs today Jenrick had "no relationship" with Desmond. "We have no knowledge of those political donations when we are making planning decisions," he said.
Jenrick handed Desmond's £1bn project a last-minute reprieve after the local council and the independent planning inspectorate both decided it should be refused.
They had said it lacked enough affordable housing and conflicted with local conservation policy.
Desmond is the former owner of the Daily Express and Daily Star newspapers.
The housing secretary's green light came the day before Tower Hamlets Council approved a new rate for its Community Infrastructure Levy (CIL) – a move that would have increased the property owner's financial liability to the authority by between £30m and £50m.
In March Tower Hamlets council began legal action alleging that the timing of the decision appeared to show bias.
Jenrick accepted his decision letter was "unlawful by reason of apparent bias" and confirmed it was deliberately issued before the new CIL policy could be adopted.
He agreed planning permission should be quashed and decided by a different minister.
HuffPost UK reported last week that police are "assessing" an allegation about Jenrick's decision. The Labour Party has already called for the Cabinet Office to examine the case.
Asked about the donation Desmond made in January, a Conservative Party spokesperson said: "Government policy is in no way influenced by party donations – they are entirely separate.
"Donations to the Conservative Party are properly and transparently declared to the Electoral Commission, published by them, and comply fully with the law."