Rochelle Humes appealed to the internet for advice when she noticed a dark line running down the middle of her pregnant bump.
The 27-year-old, who is already mum to three-year-old Alaia-Mai with her husband Marvin Humes, shared a snap of her bump on Instagram.
"Okay what is this line down my tummy and does it have a purpose?" she wrote in the caption. "Or is it a pointless little trail?"
Mums were quick to comfort the celebrity mum, assuring her it happened to them, too.
"I had this with both my babies," one mum wrote. "I still have it now and my little lady is almost six months! I don't want it to fade, every time I look at it, it's a beautiful reminder of my bump."
Another wrote: "Aww no don't worry I had one too - it's called a linea nigra and it'll fade after you've given birth, it's like a pigmentation in the skin."
Michelle Lyne from the Royal College of Midwives (RCM) confirmed what it was and told The Huffington Post UK: "It is called the linea nigra (dark line) and runs up the mid line of the abdomen from the pubic bone to above belly button.
"It is where the muscles meet in the abdomen and it is just pigmentation (skin colour change) which happens during pregnancy because of the hormones.
"It has little meaning, we just note it. It normally disappears after the pregnancy."
The former JLS singer has recently spoken out to praise his wife for being a "trooper" during her second pregnancy.
"She's done so well, pregnancy is not a joke," he told Daily Mail on 17 February. "The body needs to go through so much in the period. It's the most natural experience. This second one has gone a lot faster.
'You're a lot more relaxed - sometimes too relaxed. Last time we were organised five months in but we're still prepping now. She's done incredibly well and I'm so happy. It's such a whirlwind time for all women."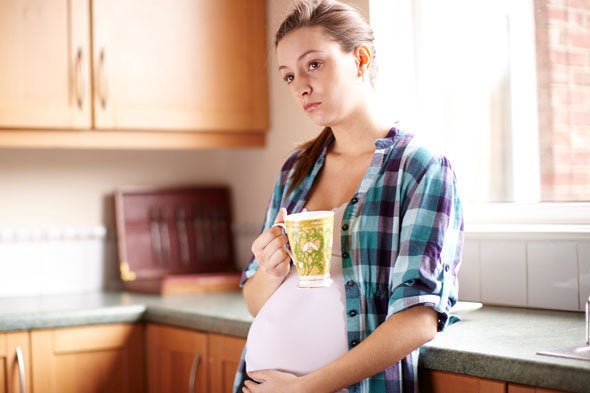 Pregnancy worries and words of comfort