For most football fans the FA Cup final rarely cuts the mustard as an excuse to miss your own brother's wedding but what if you're supposed to be presenting the trophy?
The Duke of Cambridge has been President of England's Football Association since May 2006 and is always on hand to offer a few words of congratulations and the all-important silverware to the winners.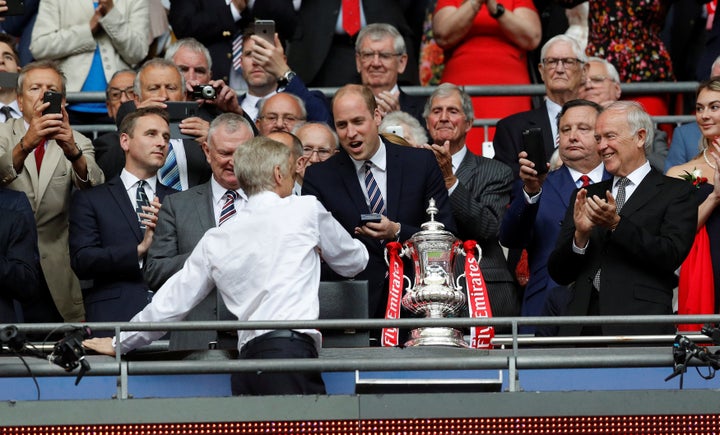 Harry and Meghan will tie the knot at St George's Chapel, Windsor Castle, and so far there's been no official nod as to which event Prince William will attend although the smart money is on the wedding.
The FA is keeping it cordial.
The Royal Family will pay for the wedding, including the church service, the music, the flowers and the reception, Buckingham Palace said.
Markle, 36, has shown off a three-stone yellow-gold engagement ring, designed by Harry, 33, himself with a diamond from Botswana plus two diamonds taken from the personal collection of his later mother, Princess Diana.
It is believed the actress will be the first royal fiancée to open presents with the Queen – an honour the Duchess of Cambridge did not enjoy until she was married to Harry's older brother William.
Markle and Prince Harry got engaged on November 27 and a few days later a proud Harry introduced his bride-to-be to the nation during a series of official events in Nottingham. The couple will marry in May next year at St George's Chapel in Windsor Castle.
Buckingham Palace has said the Queen and other members of the royal family will join the congregation for the morning service at St Mary Magdalene Church on 25 December.
A Kensington Palace spokesman said: "You can expect to see the Duke and Duchess of Cambridge, Prince Harry and Ms Markle at Sandringham on Christmas Day."