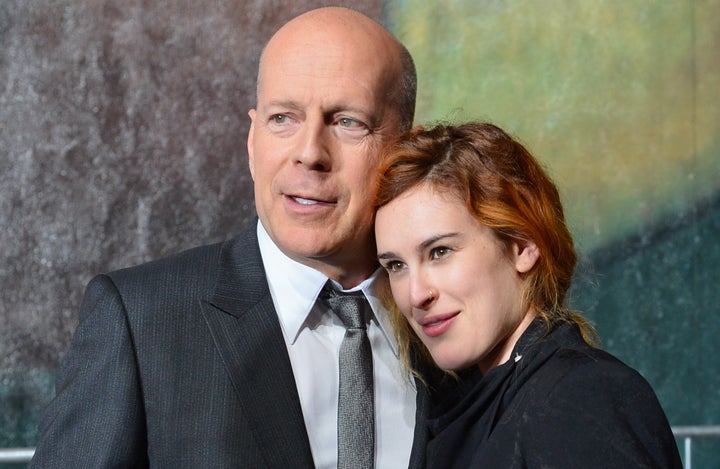 Bruce Willis' daughter Rumer has shared an emotional Instagram post as she opened up about the difficulties of her father's condition.
On Monday evening, Rumer posted a throwback snap of herself and her dad taken when she was a young girl, admitting she was "really missing my papa".
"Seeing my father hold my daughter today was something I will treasure for the rest of my life," she told her followers. "His sweetness and love for her was so pure and beautiful.
"Papa I'm so lucky to have you and so is Lou. Thank you for being the silliest, most loving, coolest Daddio a girl could ask for. Best Girl Dad in the game."
Bruce's family chose to go public with his diagnosis in February in a statement which read: "Our family wanted to start by expressing our deepest gratitude for the incredible outpouring of love, support and wonderful stories we have all received since sharing Bruce's original diagnosis.
"In the spirit of that, we wanted to give you an update about our beloved husband, father and friend since we now have a deeper understanding of what he is experiencing.
"Since we announced Bruce's diagnosis of aphasia in spring 2022, Bruce's condition has progressed and we now have a more specific diagnosis: frontotemporal dementia (known as FTD). Unfortunately, challenges with communication are just one symptom of the disease Bruce faces. While this is painful, it is a relief to finally have a clear diagnosis."
This statement was attributed to his wife, Emma Heming Willis, and daughters Rumer, Scout, Tallulah, Mabel and Evelyn, as well as his ex-wife Demi Moore.
During a recent interview, Tallulah spoke about why the family decided to go public with his diagnosis, stating: "On one hand it's who we are as a family, but also it's really important for us to spread awareness about FTD."
"If we can take something that we're struggling with as a family – and individually – to help other people, to turn it around, to make something beautiful about it, that's really special for us," she added.