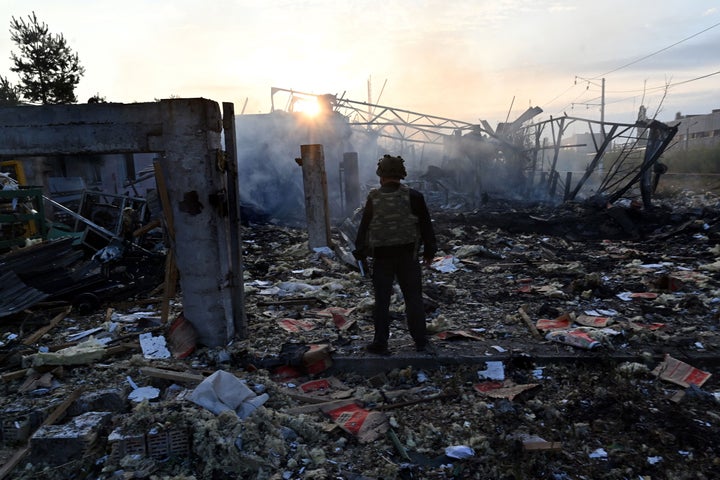 A senior Russian official just issued a significant reminder of service personnel's duties, in a move the UK has described as an "admission of the stark situation" on the frontline.
In its daily update, the Ministry of Defence (MoD) explained how the Russian State Duma Defence Committee Chair and former general, Andrei Kartapolov, has had to point out the rules of their service to the Russian ranks.
The MoD said Kartapolov had "reiterated that mobilised personnel were obliged to serve for the duration of the 'special military operation'" – that's the name Russia has used for the war in Ukraine ever since its invasion.
Russian president Vladimir Putin has repeatedly hinted that he expects the war to go on for a long time, too.
The UK intelligence officers added: "In a new admission of the stark situation at the front, he also said that it was not possible for personnel to be rotated out of the operational zone during their service."
As the MoD noted, it's now been a year since Putin announced the "partial mobilisation" of 300,000 reservists to serve in the war.
However, the New York Times reported in August that Russia's military casualties are approaching 300,000 – with as many as 120,000 deaths and between 170,000 and 180,000 injuries.
It also claimed that Ukrainian deaths were closer to 70,000, with 100,000 to 120,000 wounded.
Russia's high casualty rate is hard to prove as Moscow does not release data around its personnel.
But, the MoD suggested the Russian forces are clearly struggling.
It alleged: "The absence of regular unit rotations out of combat duty is highly likely one of the most important factors contributing to low Russian morale, and the Russian Army's failure to conduct higher-level training since the invasion.
"The lack of such training is highly likely contributing to Russia's difficulties in conducting successful complex offensive operations."
This update comes shortly after Russia released another huge wave of missiles across Ukraine, targeting six cities on the International Day of Peace.
The attack also coincided with the Ukrainian president Volodymyr Zelenskyy presented a Ukrainian "peace formula" at the UN general assembly.