The Russian Embassy has warned its citizens to be aware of the 'killer clown' craze sweeping the UK after Boris Johnson urged the public to march on the embassy over the country's role in the Syrian conflict.
The embassy put out an information alert on Wednesday, highlighting the rise in the number of attacks by people in clown suits.
The purpose of the clowns' antics is to "cause fear and bewilderment", the embassy said.

The alert was also posted on the Russian Embassy's Twitter account.
Theresa May's official spokesman said they did not "feel the need to regularly be monitoring the Russian Embassy Twitter account".
Others suggested that a picture of the foreign secretary should have accompanied the warning.
The foreign secretary told the House of Commons on Tuesday: "There is no commensurate horror, it seems to me, amongst some of those anti-war protest groups.
"I would certainly like to see demonstrations outside the Russian Embassy.
"Where is the Stop The War Coalition at the moment? Where are they?""
The Russian Embassy hit back at Johnson, questioning whether this was a new form of "British diplomacy".
On Wednesday, the Kremlin accused Johnson of trying to whip up "hysteria".
Russian defence ministry spokesman major general Igor Konashenkov said Johnson's accusations were "a storm in a glass of muddy London water" and insisted none of his country's aircraft were in the area at the time of the attack.
He said the "Russophobic hysteria of certain members of the British establishment is no longer impressive", the RT website reported, while the Embassy in London claimed MPs were on the "wrong side of history" over the Syria conflict.
Police forces across the UK have received calls from "intimidated or frightened" people who have been chased by clowns in a trend which first hit headlines in the US in August.
The student, known only as Kenny, was arrested on suspicion of a public order offence in connection with the incidents at the weekend.
The university student was later forced to apologise after his prank backfired.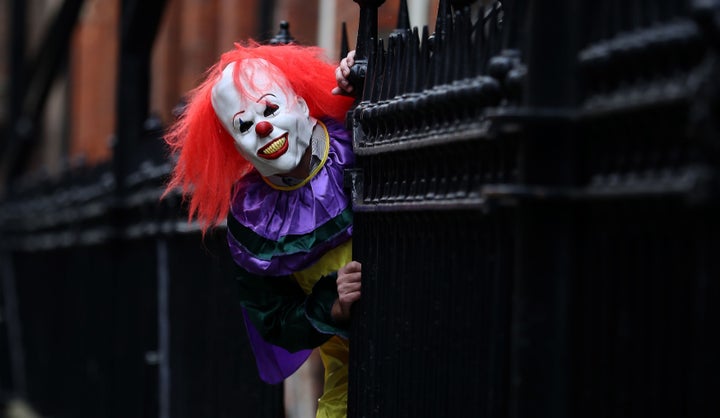 University of East Anglia Freshers were left shaken after a man dressed in a creepy clown costume chased them on their way home, while a student at the University of Kent claims he was pursued by a group dressed as clowns in a Ford Fiesta.
On Tuesday Zippos Circus distanced itself from the red-nosed comics after saying it was "nervous that the scary clown sightings" would affect ticket sales for its show.
Police in London, Manchester, Suffolk, North Yorkshire, Norwich, Sheffield and Scotland have also been inundated with reports of people dressed as clowns chasing unsuspecting bystanders.